#actingtogether Virtual volunteering – help causes you care about from home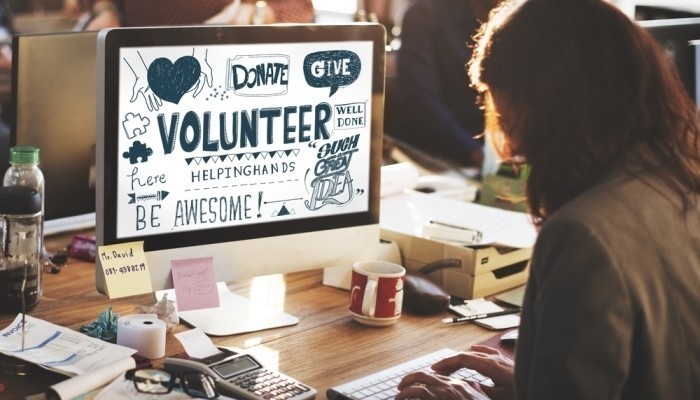 Economies around the world have been hit hard by COVID-19, no one more so than charities, non-profits or small businesses. With the long term impact of the pandemic still becoming clean, people who are able may be asking themselves what they can do to help the situation. Well, this post is your answer! We at the SGO wanted to give you some options of what you can do volunteering-wise for nonprofits and small businesses near you.
Be reassured by the fact that virtual volunteering isn't simply something that has been set up in haste because of the situation, it has existed in some form since the 1990s. When people think of the word volunteering, they think of going somewhere to do something, like helping out at a homeless shelter or picking up someone's shopping for them. However, volunteering can also include donating your virtual time and skills. Instead of being present to volunteer, many people have found their place in the world of virtual volunteering.
Some of the options for how you can volunteer with either local businesses or charities are:
Website design or support
Data entry
Email marketing or management
Fundraising phone calls and outreach
Social media promotion and management
App development
Volunteer tracking
Copywriting, blogging, or editing
Graphic design, photography
Marketing or branding assistance
Video creation
Virtual assistance, staff support
This list is obviously not comprehensive and has some options that are skill-specific, but you can still do your bit even if you have never designed a website before. Each small business or charity might need a different type of help, so maybe your strengths lie in something not listed here. One option of things that you can do is chose a charity or business that you would like to help out and ask if they have anything specific they want virtual help with. Maybe have a list of a few different places to reach out to because that is one of the perks of virtual volunteering, you have more opportunity to volunteer for multiple causes and organisations.
There are lots of benefits to virtual volunteering, like you have more time to volunteering because you don't have to account for any travel time. You are also a lot more flexible when it comes to scheduling, location, and level of involvement so it's more adaptable to you whilst still helping out the business. It is also a unique outlet for skills or passions that aren't met by physical volunteering and also offers people with disabilities more opportunities to get involved. Volunteering is something that looks good on a CV, so virtual volunteering adds another string to your bow when it comes time to job-hunt.
During the COVID-19 pandemic, virtual volunteering is currently one of the only ways to volunteer risk-free. To that end, during the early stages of the pandemic the NHS set up a GoodSAM website in order for people to volunteer by making phone calls to vulnerable people among other things. The programme paused recruitment for the NHS Volunteer Responders scheme because they had such a large number of applicants wanting to get involved. If you missed out on this and are still interested in getting involved, why not check out this website for Adopting a Grandparent.
If you're interested in finding places where you can virtually volunteer, then look no further than here. Below we have listed just some places that you can look for online volunteering opportunities – so happy helping!
The UN Volunteers (UNV) programme offers dozens of online opportunities across the world that are focused on striving to boost sustainable human development. If you're interested in combining your interest in the SDGs and virtual volunteering then you have likely found a good fit with this platform. The website itself is very easy to navigate, making signing yourself up incredibly easy if you find something that you think would be a good fit for you. Have a look at what's available to help out with here.
Help from Home is an organisation that aims to bring together volunteers and micro-volunteer projects, doing exactly what it says on the tin. The programme is intended to encourage more participation in projects that require no long-term commitment and helps people to use their spare time more effectively. Another user-friendly website, this programme can be accessed here and offers projects that tend to range from a few minutes to half an hour.
At VolunteerMatch, they don't deal exclusively with online volunteering but are an extremely popular organisation that help connect people with volunteer opportunities in their area. Therefore, not only is this website good for virtual volunteering, it will also help you to progress to face-to-face volunteering if that's the direction that you want to go in. You can access their website here and their virtual volunteering page specifically here.
Catchafire identifies as a community that strives to promote the social good sector. They put a significant value on getting results, so work exclusively with non-profits that have a 'demonstrable impact' in society. Based in the US, it's unlikely that you will be able to do any of the physical volunteering options, so just refine your results to being only 'online' or 'virtual'. One thing to be aware of, they have '1hr phone calls' so if you don't want an exorbitant phone bill, maybe avoid signing up for those. Catchafire's website can be found here.
Those at Missing Maps map uncharted territory in some of the most vulnerable areas on earth so that crisis teams can respond more efficiently if there is every a natural or humanitarian disaster there. This may be an option more for the cartographers but the organisation offer tutorials for beginners so anyone can learn how to map and get involved. Head to their website here if you want to see how you can help get some of the world's most vulnerable on the map.
Ultimately, there are lots of options s out there and you are bound to find something if you look for it. Volunteering is about helping out those who need it, so don't let your circumstances hold you back if you're interested.