Where has this year gone?
I can't believe I am in the final week of my SGO role. The year has gone so fast and there was so much I would've liked to have done if it hadn't been for corona and lockdown.
I had intended on organising events across the uni and charity clothes/homeware collections for this final term. I also wanted to continue to raise awareness of different issues around sustainability and mental health on campus. It is a shame none of this could happen but that being said I have enjoyed working for the sustainability department albeit mostly online this term and from home.
Working from home for me has presented a few challenges such as getting easily distracted but overall I have found it ok. I do prefer working from the office and talking about different sustainability issues as a team. I miss learning from each other about different sustainability topics and also the history we are discovering in our home. Before I began working as an SGO I had no idea how broad the umbrella of sustainability was. I mean I knew the bog standard definitions from when I did my GCSE's 7 years ago but I had never really comprehended the extent mental health and mindfulness were also included along with the environment. I also didn't have the historical knowledge I now have of our university campus, such as its former glory as a maonastry and how we are respecting its past by growing hops and keeping bees.
One of my key roles as an SGO this year has been to manage the instagram account. I have really enjoyed this as it has been a chance to use some of my knowledge from my marketing degree and has allowed me to practice these skills on social media. I had free rein to control the account and I am pleased with the overall uni poster board aesthetic it now has. The following has almost tripled this year, and we are engaging with other departments, sports and societies in a new way, which I am also proud of.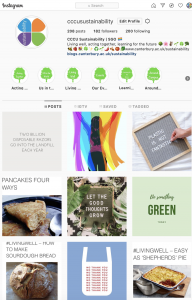 I am also finding managing the instagram account rewarding in that I am exposed to more sustainability accounts and charity organisations than I am normally. It is profound to be able to see so many global and local issues and solutions in just a few seconds and to not only see but connect and share with our following.
Additionally, I am proud of what I have achieved through my blog posts. Before working in the SGO, I had no experience writing online and for an audience. My writing style and technique has evolved throughout this role and not only have I learnt so much through writing pieces, but I have also shared my passion for cooking through posting my own recipes. I hope these are used and adapted by students and that they can be more aware of the benefits of eating a range of vitamins and how they can still save money by doing so. Hearing feedback and reading comments on some of my posts has been very rewarding and I love learning from others and sharing ideas.
My advice for future SGOs is to just go for it, and to not worry about where they are starting in terms of sustainability. I can admit I wasn't the best when it came to recycling at the start of this job. I was conscious of my impact on the environment and I had strong opinions on caring for animals (I am pescatarian and have been for 11 years on and off) but I wasn't as active in making a positive impact as I am now. Through this job I can genuinely say I have grown. My uni house has grown too, and even my family. We all now recycle and actually think about our impact so I am grateful for this role in that sense. I also feel my voice is stronger and whereas before I may not have had all the knowledge to actively discuss these issues, now I feel I do. I would also say to future SGOs to write what they feel comfortable with and what they have a passion for. I love cooking, mindfulness and learning about the history of Canterbury so these were the main topics I focused on when blogging. It is also nice that the team has many different interests as it expands our minds, account and platform.
I am sad to see the end of my time in the SGO and I want to say a huge thank you to Felicity and my team for being a positive impact on my final year in Canterbury. But I also want to publicly thank Felicity again for allowing me to continue working in the office despite my masters not working out. It meant a lot to me as I was uncertain what direction I would go in and it gave me time to figure it out. It also allowed me to do more for sustainability at our uni such as working with Jamie Harris on providing female hygiene products in the girls toilets at the SU as well as putting forward mindfulness and mental health ideas for the new CCCU app.