Being the hardcore arts and crafts enthusiast that I am, I always say: "Why buy Christmas decorations, when you can make your own, and make them look exactly how you want them to look?" The possibility to re-use everyday materials that would otherwise end up in a bin is an added bonus, and together with the finished product, they bring a deserved feeling of satisfaction. I have three fun DIY projects for you that are cute, easy to make and will definitely bring that Christmas spirit to you and your home.
So, turn on your favourite carols and let's get crafty…
1. Christmas wreath
You will need:
Toilet paper rolls (I used 8)
Paint (of your choice)
Paint brush (I found a sponge applicator/brush worked the best)
Glue (PVC proved to not be strong enough, so try using hot glue gun if possible.)
Ruler, pencil, scissors
Red beads for decoration (I used 18. Of course, the decoration is up to you.)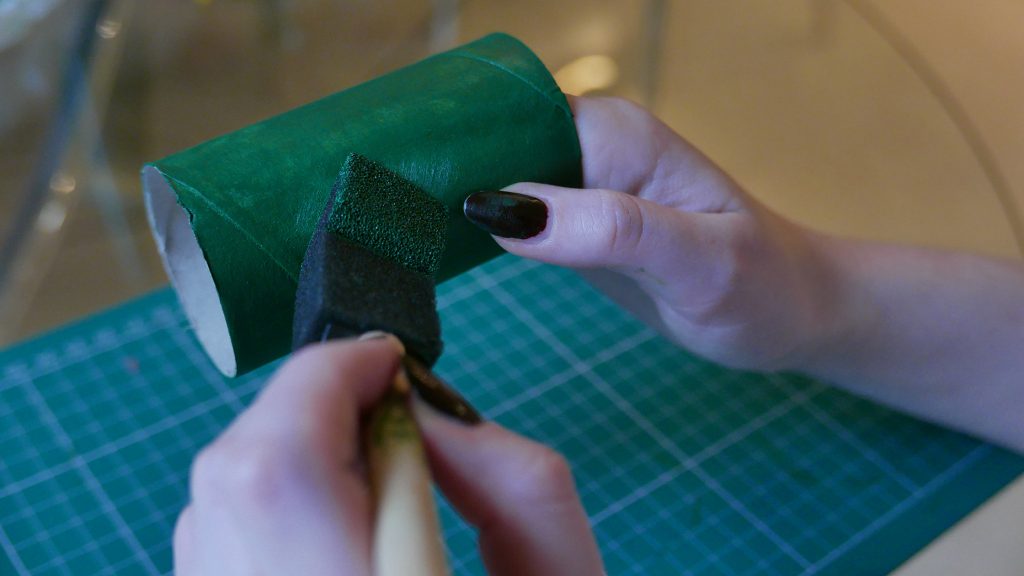 Start with painting the rolls, and don't forget to paint the inside too. Let them dry and use another coat if you´d like a more opaque coverage. I used green paint but feel free to use any other colour you prefer. I recommend acrylic paint, as it covers well and does not transfer after drying but using for example water colours can bring out the texture of the roll. You can keep that chic organic look by not using any paint at all!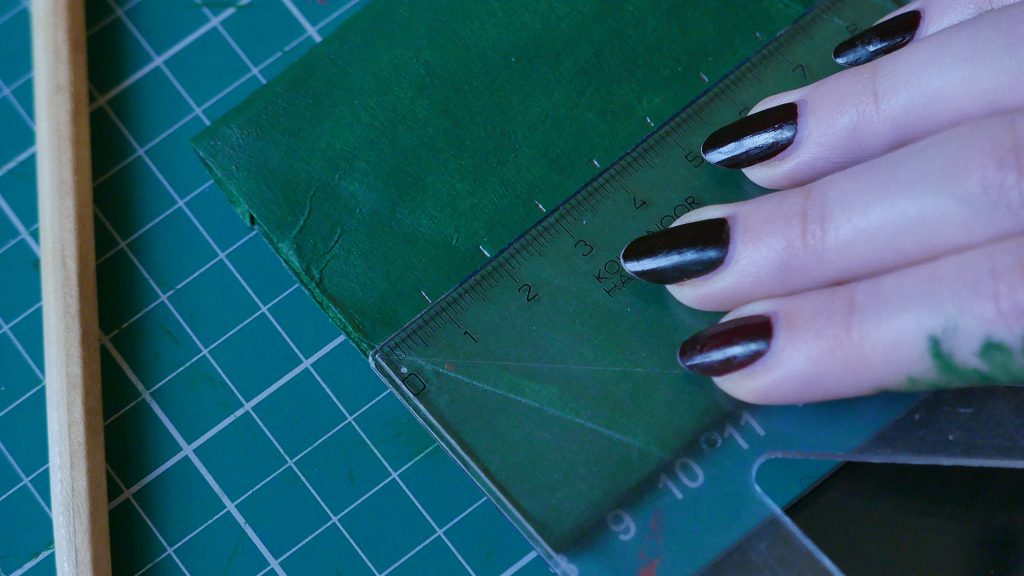 Once dry, press the roll flat and mark around 1cm wide strips. As different toilet rolls can be loner than others, find what measurement works the best to divide the roll into equal strips. Cut the strips and repeat on all your rolls. Press on the folded edges of the strips to reveal the petal like shapes. It is easy now to touch up any spots you missed with the paint on the inside of the rolls and the edges.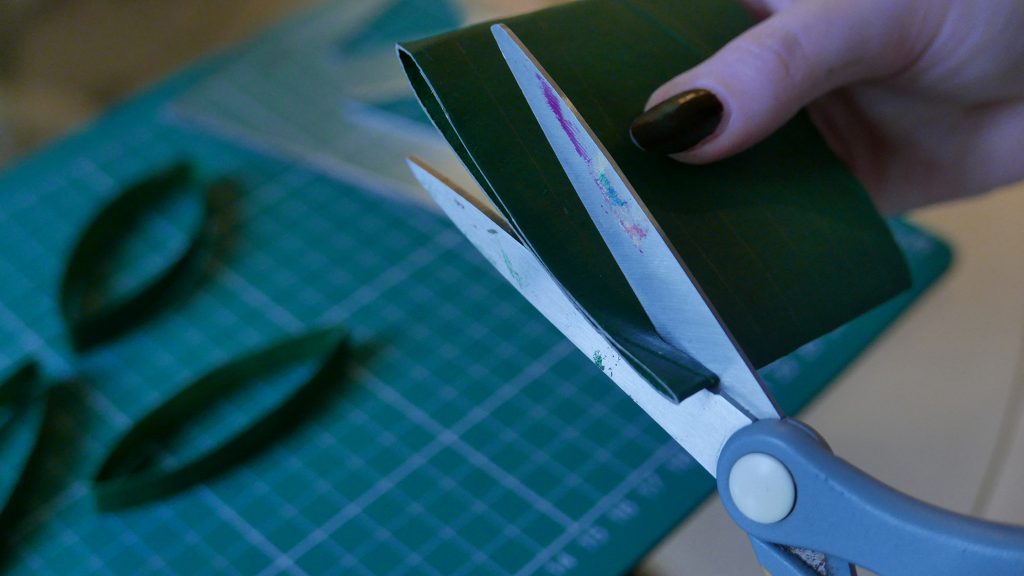 Assemble and glue 5 of these petals into a flower-like shape, see the following photo for reference. I used 14  flowers, so I needed 70 petals in total. I'd recommend this as ideal to make your wreath look nice, but if you have rolls to spare, you can try to make it even bigger. Once you have all the flowers you want, assemble them into two individual wreaths – one bigger made from 8 flowers, and one smaller made from 6 flowers. Play around with the exact placement and glue the flowers together. Now you are ready to simply glue the smaller wreath on top of the bigger one and voilà – your wreath is ready to be decorated. I used red and pink beads, sticking tree of then in the centre of each of the top wreath flowers. You can use ribbons or even some fresh berries from outside! Hang the wreath on your door or use it as a table centrepiece.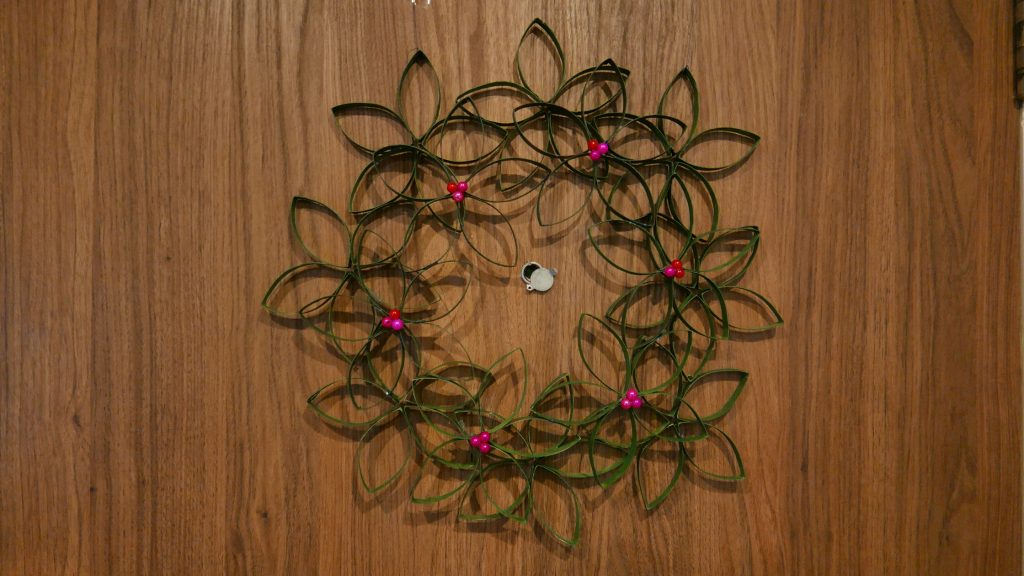 2. Paper snowflakes
You will need:
Leftover paper (flyers, leaflets, magazines, newspapers are all great for this)
Glue (PVC worked well for me)
Paint or colour markers of your choice
Pencil or marker to roll the paper on
Scissors
Thread or a string to hang the ornaments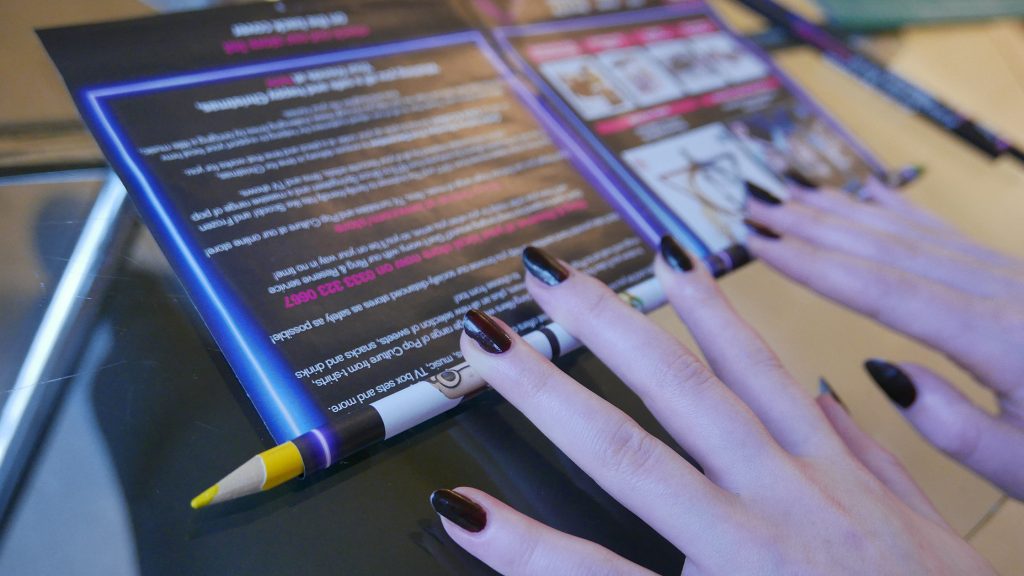 Roll a sheet of paper onto a pencil or a marker. Carefully tuck one edge of the paper under the pencil and roll it to the other side and glue the edge down on the roll. Take the pencil out and repeat on more sheets. The number of rolls really depends on how you design the snowflakes, how big you want them and how wide is your paper. A little tip: My paper was too wide, so I had to tape two pencils together. It is important to have a long enough paper so that you can roll the pencil at least 5 or 6 times to make it sturdy. The width of the pencil/marker determines the size of your roll. The smaller the width, the more intricate the ornament. As I like intricacy, I went for a regular pencil.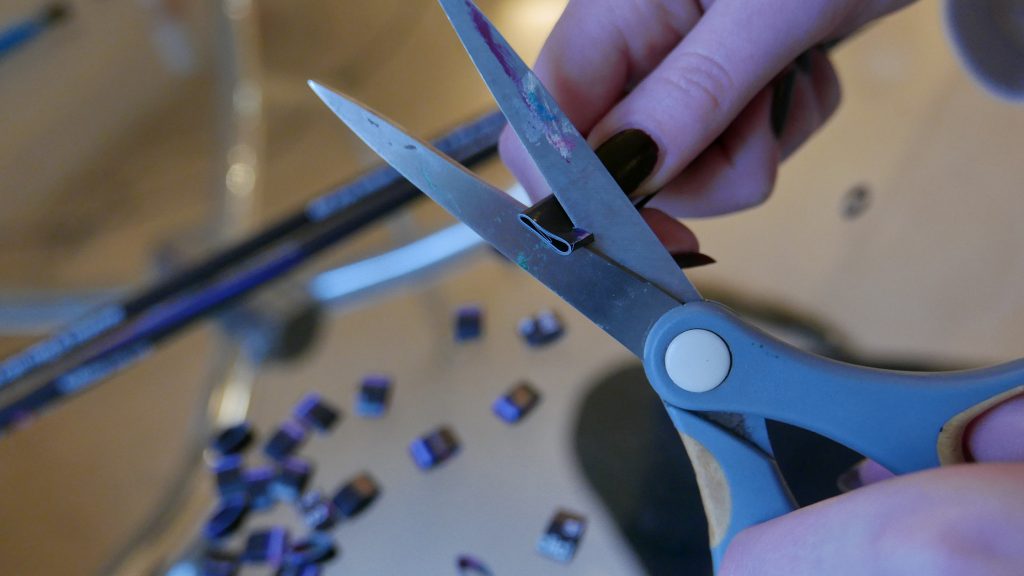 Cut the rolls into small pieces. You can use a ruler for precision, but I just went with my instinct. You can notice that the pieces look like smaller versions of the petals from the above DIY. And the assembly works on a similar principle too. This time you can be really creative and come up with any snowflake, or even non-snowflake design. If you want to be poetic, you can make each snowflake original. See the photo below for some inspiration. Once you glue the snowflakes into the desired shapes paint them with the colour of your choice. I recommend using acrylic paint as it covers glossy paper well. I like to use white paint as a base as it re-enforces the snowflake, hides the pictures and textures of the paper, and makes other colours and markers pop on top of it. Similarly, you can just use more layers of the paint of your choice. Don´t forget to paint the inside. I used white paint as a base and then used a golden paint marker. Once the paint dries, you can loop a thread through each shape, if you'd like to hang them.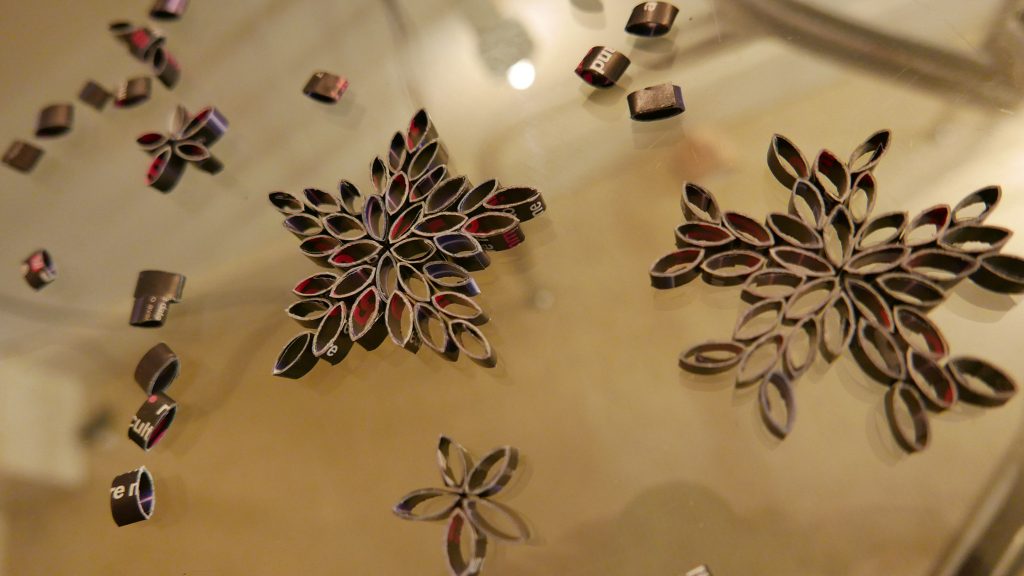 3. Pom pom Christmas tree
You will need:
Green wool (or any other colour, it is all up to you)
Stiff paper for the base cone and to make a pom pom
Hot glue gun
Scissors
Decorations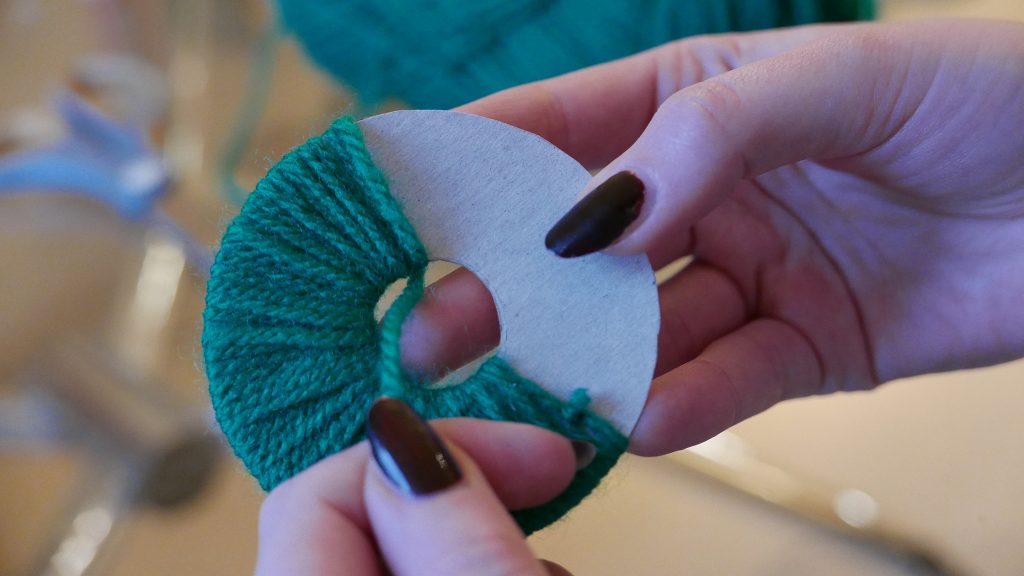 If you don't want to spend hours making this in one go, you can start pre-making some pom poms next time you watch a film for example. You can find many helpful videos on YouTube, if you don't know how to make pom poms. To imitate a Christmas tree, I am using a dark green wool that I wanted to use up. Maybe you will find some wool at home too, so you don't have to buy it. The amount of pom poms you'll need depends on how big you want your tree to be, so start with just a few, you can always make more. Google a pattern to make a cone, decide what size you want it to be and trace it on the stiff paper and make your cone. You can use a morning cereal box, or like me, an old sturdy paper bag.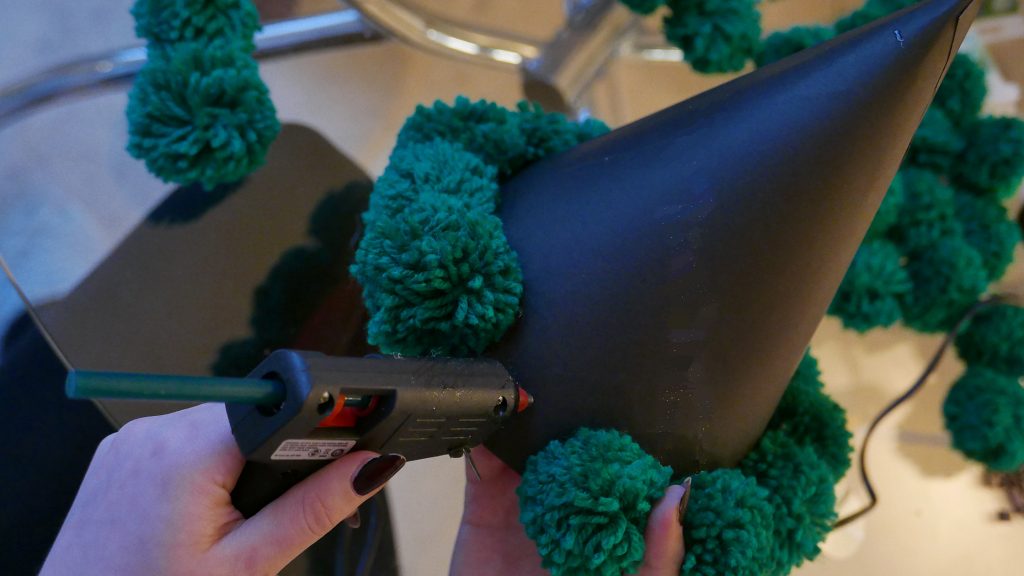 Use the hot glue gun to stick the pom poms to the cone. Start from the bottom and go around in circles to form the tree. Finish with a single pom pom on the very top. This is when you'll see how many pom poms you actually need. Once the whole cone is covered, check for any bold spots that might need filling in. Look at the overall shape of the Christmas tree and adjust it to your liking by sticking some pom poms together, refitting them, or by adding more. All that is left to do is to decorate the tree! I used some silver and golden beads and I made some small golden decorations following the second DIY in this article.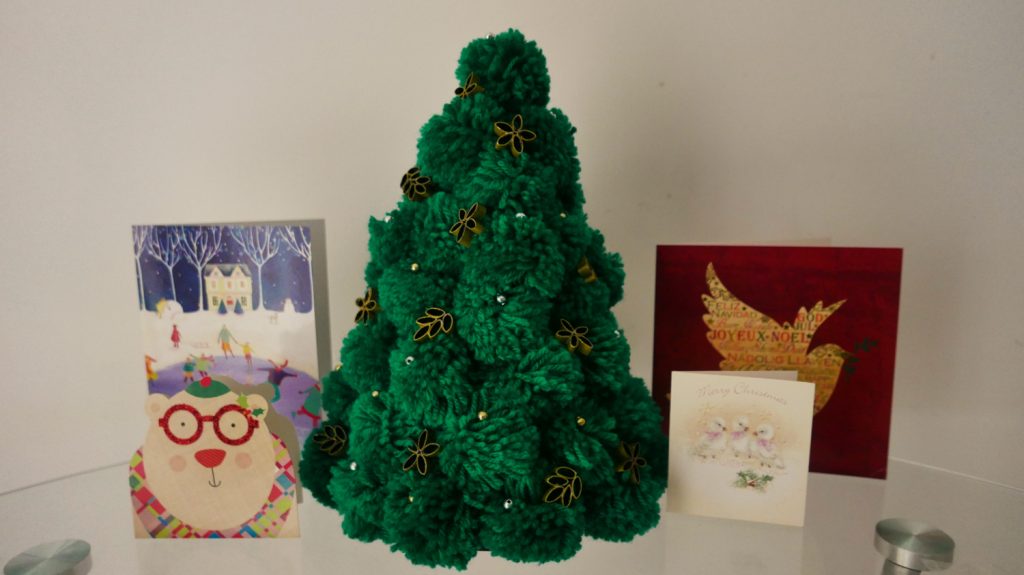 I hope that you like these crafty projects and that you will give them a try! If yes, be sure to send us some photos or tag us @cccusustainability and @cccuscn so we can see your wonderful creations on social media. And of course, share any of your own sustainable DIYs with the community.
The Student Green Office and the whole Sustainability team would like to wish you the most wonderful Christmas and a successful step into the New Year 2021. We are looking forward to writing more blogpost, organising interactive events, and working towards more sustainable future on our campus and beyond!
by Mirka Karaskova, SGO Project Officer #actingtogether