Sum Tyms Bytin Sum Tyms Bit is an online 'sum poasyum' or programme of talks, screenings and creative responses inspired by the novel, Riddley Walker, the 1980 cult novel by Russell Hoban. To book your place at the events on 24 October 2020, please click here. The full schedule can be found here.
Riddley Walker is the Canterbury Festival Read for 2020. It will also be the inspiration for the SaveAs Writers' International Writing Competition 2020.
Set in post-apocalyptic East Kent and written in a futuristic Kentish dialect, Riddley Walker continues to exert a powerful influence over contemporary readers, writers and critics. Canterbury is at the heart of Riddley's world – so where better to host a virtual celebration of its legacy from?
In a world alive to the climate crisis, a viral pandemic, species loss and social injustices, Hoban's warning to the future is provocative and salutary. What have we learned in the four decades since the book was written? What must we preserve, or change, before it's too late?
Riddley Walker is the story of a boy who discovers that a new version of an old weapon might be being recreated. Civilisation has been slowly rebuilt over two thousand years, so that technology has reached the level of the iron age – but all this risked being destroyed.
The heart of the novel is a strange language, evolved or devolved English, corrupted proper names, slang, new coinages – in a word, riddleyspeak – that we are forced to learn as we read the novel:
On my naming day when I come 12 I gone front spear and kilt a wyld boar he parbly ben the las wyld pig on the Bundel Downs any how there hadnt ben none for a long time befor him nor I aint looking to see none agen. He dint make the groun shake nor nothing like that when he come on to my spear he wernt all that big plus he lookit poorly. He done the reqwyrt he ternt and stood and clattert his teef and made his rush and there we wer then. Him on 1 end of the spear kicking his life out and me on the other end watching him dy. I said, "Your tern now my tern later." The other spears gone in then and he wer dead and the steam coming up off him in the rain and we all yelt, "Offert!"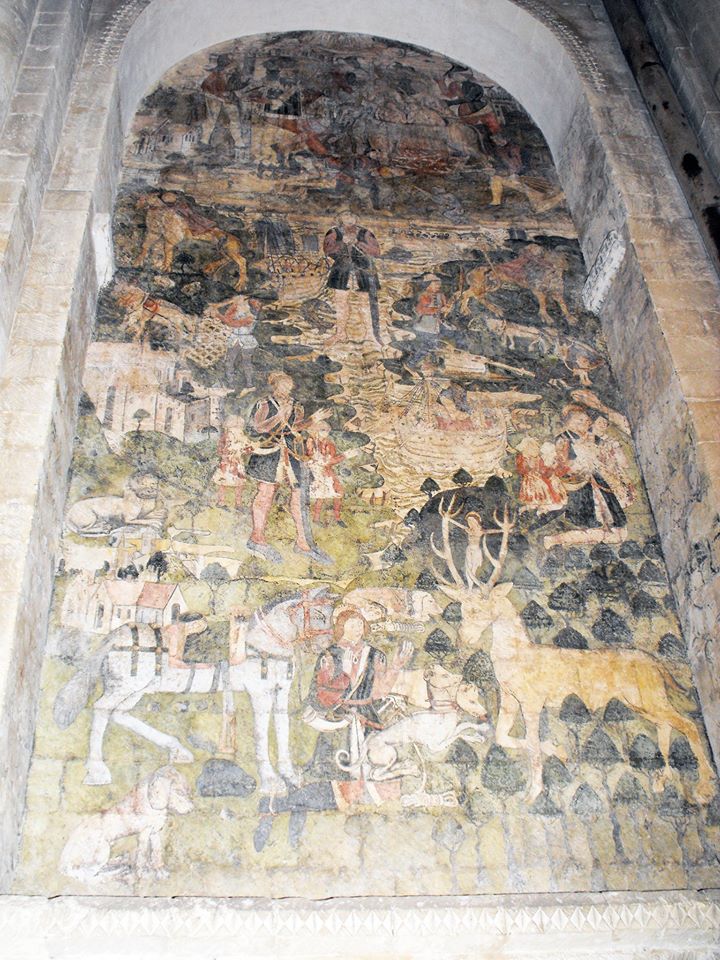 Hoban began writing the book on 14 March 1974, the day he visited Canterbury Cathedral for the first time and saw a reconstruction of a fifteenth-century wall painting of The Legend of St Eustace, featuring a vision of Christ on the antlers of a stag. Hoban imagines Eustace as part of the myth central to Riddley's society – a mangled version of memories of nuclear weapons, in which Eusa split the Addom to gain the secret of the 1 Big 1. It took Hoban more than five years to complete the manuscript.
Hoban was born in Pennsylvania in 1925 and worked in advertising and illustration until he became a full-time writer in 1967, beginning with books for children. In 1969, he moved to England. His first adult novel was The Lion of Boaz-Jachin and Jachin-Boaz (1973), followed by Kleinzeit (1974) and Turtle Diary (1975), before his breakthrough with Riddley Walker. The novel won the 1982 John W. Campbell Memorial Award for Best Science Fiction Novel and a Ditmar at the 1983 Australian SF Convention, as well as being nominated for a Nebula Award in 1981. He went on to write many more novels, before dying in 2011 in London.
Sum Tyms Bytin Sum Tyms Bit is a collaboration created by Canterbury Christ Church University, The University of Kent and Feral Practice, in association with The Canterbury Festival. The events are being coordinated by Dr Sonia Overall, Fiona MacDonald, Dr Andrew M. Butler and Dr Paul March-Russell.