The pandemic has meant that we are taking our day with Riddley Walker online – to request the link to view these events, please click here. This will be sent to you shortly before the Sum Poasyum. The full schedule can be found here.
SESSION THREE – 14.00 24 OCTOBER 2020
14.00 Feral Practice and Esi Eshun – conversation and Q&A (20 mins)
Artists Feral Practice and Esi Eshun discuss the film Sum Tyms Bytin Sum Tyms Bit and Esi Eshun's audio piece Colonial Riddley. Addressing some of the ways in which the novel forecasts the hubris of the Anthropocene, they explore the degree to which power is located away from the domain of the human, and how the multiple failings and erasures of Enlightenment and extractivist thinking assume deep relevance for today's interwoven crises.
Feral Practice works with humans and nonhumans to create art projects and interdisciplinary events that develop ethical and imaginative connection across species boundaries. They draw together artistic, curatorial and pedagogic processes, working with outdoor, gallery and educational settings. Recent exhibitions and performances include at The Bluecoat, Tate St Ives, Whitechapel Gallery, Invisible Dust, Taipei Biennale, Aalto University Helsinki, Whitstable Biennale, UNESCO Paris, PEER and Furtherfield.
Esi Eshun is a London based multidisciplinary artist and independent researcher who works primarily with text, sound and performance to investigate some of the socio-economic, psychological and philosophical contradictions of colonialism and its continuing geopolitical and ecological significances. Her solo and collaborative projects have been presented across a variety of platforms in the UK and internationally, most recently at the 2019 Sharjah Architecture Triennial and the 2020 Berlin Film Festival.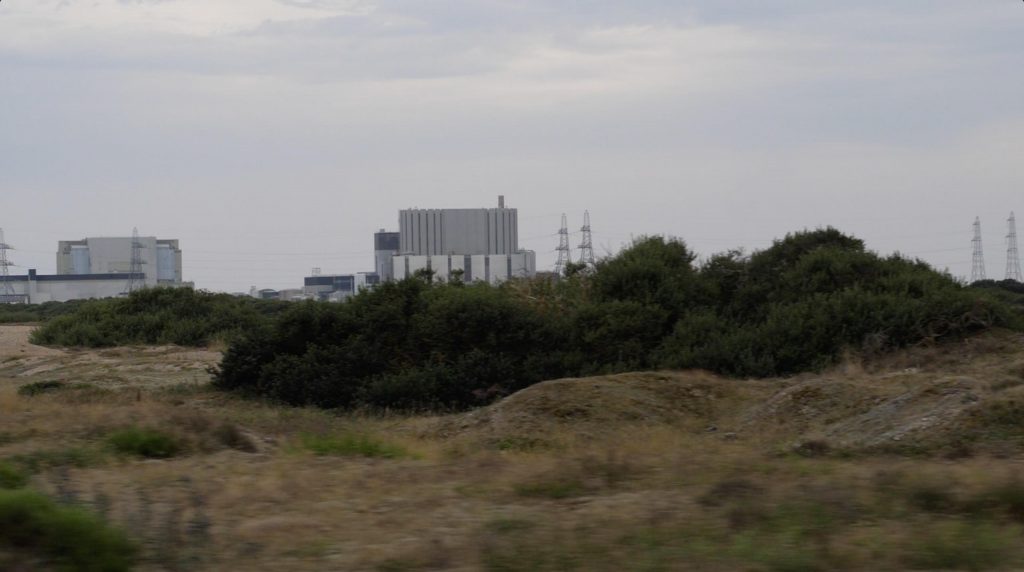 c.14.20 Sara Trillo – 'Lomea' (20 mins)
For Sum Poasyum, Trillo will be making a presentation about her ongoing project 'Lomea', for which she has been making artefacts and writing about a fictitious island in the English Channel facing immersion by the sea. (The island is located opposite Good Shoar). The work deals with themes of environment, isolation, jeopardy, and resilience. Her narration reflects on daily existence, discusses long-standing family ties to the land, considers island histories and mythologies, speculates on recently excavated artefacts, and contemplates coastal erosion and impending inundation. Her approach to constructing sculptural pieces for 'Lomea' has been informed to a large extent by Riddley Walker, which she read in her early twenties and which has remained a powerful force in her consciousness ever since. In the spirit of the book, she has tried to make improvised tools and objects from predominantly found and scavenged media, mixing materials and methodologies of the prehistoric landscape with contemporary man-made substances and pollutants such as bitumen and plastics.
Sara Trillo studied painting at art school in Norwich but her practice now operates within the expanded field, combining research, walking and making. She explores hidden spaces, heterotopias and ancient settlements, making expeditions to find elusive littoral places within increasingly urbanised, pre-dominantly local, landscapes. Recent projects include production residencies in Arnis, Germany 2018, and at Eastside Projects, Birmingham 2019, and recent commissions include reviving an ancient rural rush-bearing tradition for Art in Romney Marsh 2019, excavating a reeded boat on Margate sands for MargateNOW 2019, and a current installation 'Hortus Conclusus' for 'Terra Nexus' at Proposition Studios, London. See an in-depth CV at: https://www.saratrillo.co.uk/cv
c.14.40 Amy Cutler – Walking my Riddels (live performance)
For the Riddley Walker 'sum poasyum', Cutler will present a live film/music performance of landscapes as a series of deconstructed riddles. Her performance draws on the sing-song chants of Riddley's futuristic Kent, as well as other forms of keepsakes and lullabies in the landscape. Inspired by Nicholas Howe's observation in Writing the Map of Anglo-Saxon England – that ræding the landscape meant not just to read, but also both to pose, and to solve, landscape-as-riddle – this performance will draw on Cutler's recent fieldwork in Lud's Chapel, a mossy chasm in Staffordshire.
As a work-in-progress performance in honour of Riddley, this builds on her previous sound-work with speculative geography – including the tracks 'a childish attempt to read the immense ineffable riddle of the world' and 'riddles of the firmament', both on Örö Tape (Fieldtrips of the Damned) (2020), or more recently the species-coded pastorals of Forgerons et Alchimistes (2020). Rather than a futuristic landscape, though, this returns to the speculative medievalism of books such as Ishiguro's The Buried Giant,with its 'troubled land of mist and rain'. Using materials including a recently acquired Kodak CAROUSEL projector, the performance will explore the link between geography and language repetitions. It will be a first live attempt to work through visual materials from Cutler's Lud's Chapel project, as well as her forthcoming album from Crow Versus Crow, the end (also ends) of (the) earth and variants (2020), which is a series of collaborative interpretations and radio covers of the Old English riddle 'Erthe Toc of Erthe'.
Dr Amy Cutler is an experimental geographer, filmmaker and sound artist who works on landscape myths and pathetic fallacy. www.amycutler.net
*
These events are part of Sum Tyms Bytin Sum Tyms Bit – a programme of talks, creative responses and interventions inspired by Russell Hoban's cult novel Riddley Walker, on the 40th anniversary of publication.
Riddley Walker, first published in 1980, is the Festival Read for 2020. Set in post-apocalyptic East Kent, written in a futuristic Kentish dialect, and with Canterbury at its heart, where better to host a celebration of Riddley Walker's legacy?
Sum Tyms Bytin Sum Tyms Bit is a collaboration between Dr Andrew M. Butler, Dr Sonia Overall, Dr Paul March-Russell, and Feral Practice, with the support of Canterbury Christ Church University and The University of Kent. With thanks to The Russell Hoban Estate, The Arthur C. Clarke Award, The Science Fiction Foundation, The Canterbury Festival and Festival CHAT 2020. Russell Hoban's illustrations are used with the kind permission of the Beinecke Library, Yale University.