Sum Poasyum!
Sum Tyms Bytin Sum Tyms Bit was an online 'sum poasyum' or programme of talks, screenings and creative responses inspired by the novel, Riddley Walker, the 1980 cult novel by Russell Hoban.
The events took place on 24 October 2020. Recordings are now available.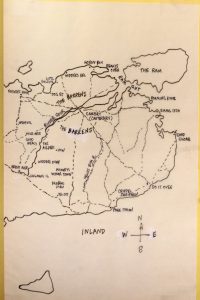 Hoban began writing the book on 14 March 1974, the day he visited Canterbury Cathedral for the first time and saw a reconstruction of a fifteenth-century wall painting of The Legend of St Eustace, featuring a vision of Christ on the antlers of a stag. Hoban imagines Eustace as part of the myth central to Riddley's society – a mangled version of memories of nuclear weapons, in which Eusa split the Addom to gain the secret of the 1 Big 1. It took Hoban more than five years to complete the manuscript.
Set in post-apocalyptic East Kent and written in a futuristic Kentish dialect, Riddley Walker continues to exert a powerful influence over contemporary readers, writers and critics. Canterbury is at the heart of Riddley's world – so where better to host a virtual celebration of its legacy from?
Riddley Walker is the Canterbury Festival Read for 2020. It was also the inspiration for the SaveAs Writers' International Writing Competition 2020.
Further events are planned for the Spring…
Schedule:
SATURDAY 24 OCTOBER 2020
The pandemic has meant that we are taking our day with Riddley Walker online – to request the link to view these events, please click here. This will be sent to you shortly before the Sum Poasyum.
11.45 BREAK
Kent Animal Humanities Network [Chair: Kaori Nagai] (45 mins including Q&A)
12.45 LUNCH BREAK – Why not watch the Feral Practice film or Esi Eshun's film? (link to follow)
14.00 Feral Practice and Esi Eshun – conversation and Q&A (20 mins)
c.14.20 Sara Trillo – 'Lomea' (20 mins)
c.14.40 Amy Cutler – 'Walking my Riddels' (live performance) (30 mins)
15.15 BREAK: Why not watch to the invited responses to Riddley Walker on YouTube?
15.45 Dominic Power, interview with Paul March-Russell (30 mins)
c.16.15 Festival Read Book Club (30 mins)
c.16.45 Sign-off and Thanks (5-10 mins)
CLOSE AT 17.00
Evening Event
Sunday 25 October 2020 (Twitter)
10.00 Distance Drift: future archaeology walk with Sonia Overall
***
These events are part of Sum Tyms Bytin Sum Tyms Bit – a programme of talks, creative responses and interventions inspired by Russell Hoban's cult novel Riddley Walker, on the 40th anniversary of publication.
Sum Tyms Bytin Sum Tyms Bit is a collaboration between Dr Andrew M. Butler, Dr Sonia Overall, Dr Paul March-Russell, and Feral Practice, with the support of Canterbury Christ Church University and The University of Kent. With thanks to The Russell Hoban Estate, The Arthur C. Clarke Award, The Science Fiction Foundation, The Canterbury Festival and Festival CHAT 2020. Russell Hoban's illustrations are used with the kind permission of the Beinecke Library, Yale University.