POSTApocalypse: SaveAs Writers competition longlists announced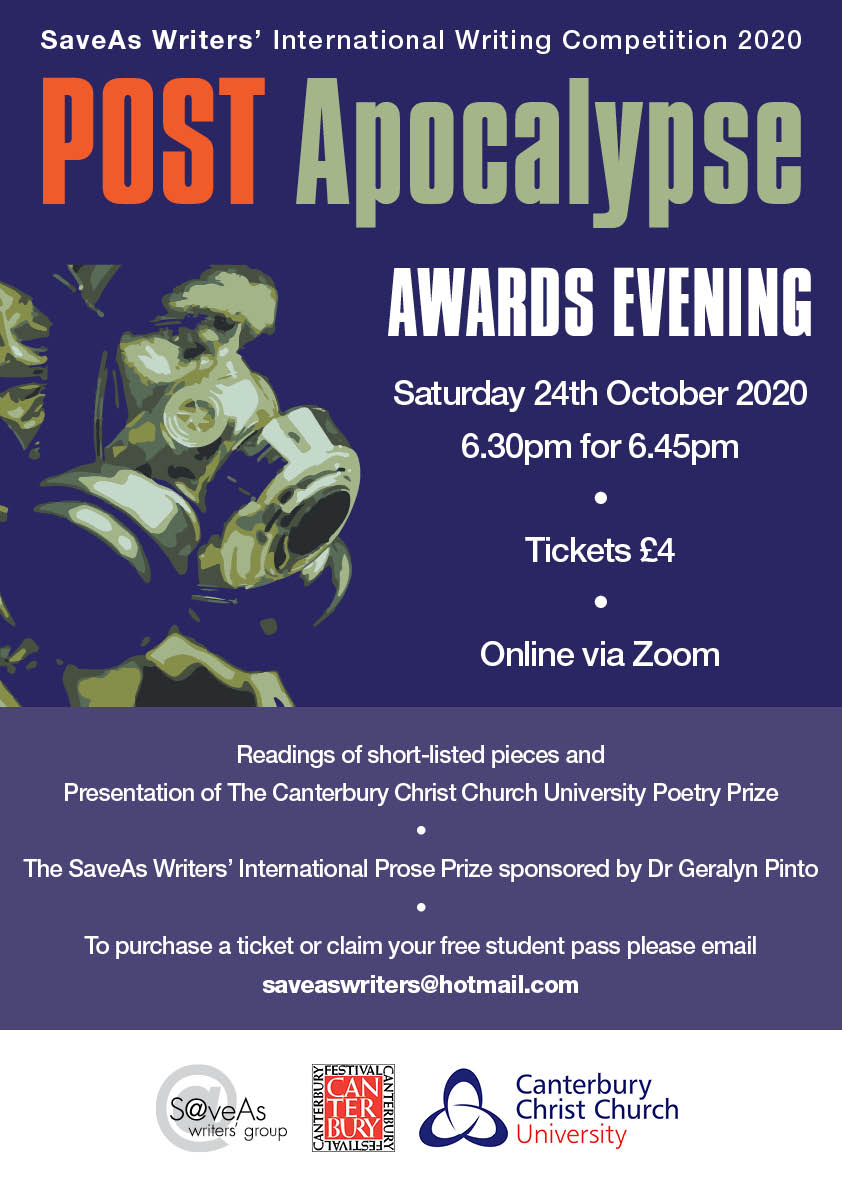 This year's SaveAs Writers International prose and poetry competitions took on a post-apocalyptic theme in honour of our Riddley Walker celebrations. Entries were received from around the globe, with longlisted writers from the UK, Ireland, Australia, France and the USA.
The winners will be announced at an Awards Evening on Saturday 24th October, which will take place online. Shortlisted writers will be invited to read their entries and judges will discuss the work. To book a ticket (£4) or request a free student pass, email saveaswriters@hotmail.com.
The longlists are as follows:
The 2020 SaveAs International Prose Prize, sponsored by Geraldine Pinto
Judge: Sonia Overall
'The Full World' by Joanna Backhouse
'Colour Blind' by Nick Barton
'There is Life at this Level' by Tabitha Bast
'Children of the Hum' by Penny Blackburn
'A Heartbeat Away' by Eamon Harrigan
'The Cult of Kurt Russell' by David Kerekes
'Winged Victory' by Malcolm King  
'The Book of Mavis' by Frances Knight
'Touch' by Gillian Laker
'The Wipe' by Anthony Levings
'Not John' by Jon Ricketson
'White Time' by Michele Sheldon
'A Belly Full' by Abby Walker
The Canterbury Christ Church University Poetry Prize
Judge: Dorothy Lehane
'Apocalypse' by Sheila Aldous
'tinnitus' by Linda Burnett
'Christmas 2049' and 'Dancing Shadows' by Jao Corti
'Dreamtime in Real-time' by Robin Daglish
'Aftermath' by Patrick Deeley  
'Lost' by Nicola Geddes
'Echo-voicif' by Jennifer Harrison  
'Broken Faces 1914-18' and 'Immaculate' by Christopher James
'On Significant Endings' by Mike Ferguson
'Natural Selection' and 'Quality of Longing' by Robert Keeler
'Black Swan' by Clifford Liles
'Sef' by Ron Ogilvie
'At the Museum' by Sharon Phillips
'Boggy Groun' by Greta Ross
'Age of Bronze', 'Praise the dames of dolor' and 'Refugium' by Mara Adamitz Scrupe
'The Angels of Ararat' and 'Simmering Signatures' by Derek Sellen
'An Inconceivable Act (I & II)' by Sarah Stretton
'Jarrow' by Catherine Thick
'How do you spell Apocalpse?', 'Like Swallows' and 'Risking my Life for Lapsang Suchong' by Maggie Wade
'The Lost Istanbul Street Map in Store' by Alan Woods