Your University Accommodation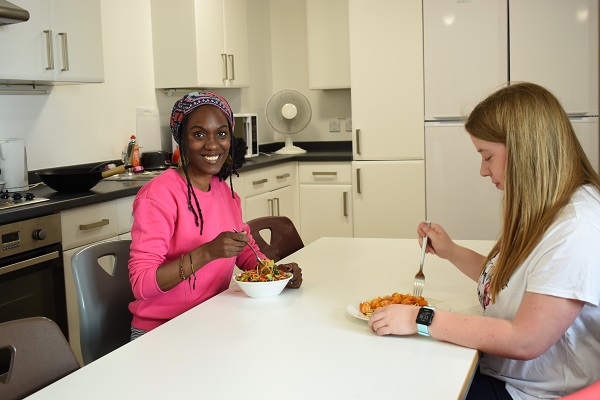 Coming to stay in our University accommodation? We want it to become like a home from home for you…
If you have already applied for CCCU Accommodation you have made a good choice! If you have an unconditional offer from us you may have already received your accommodation offer, but if you haven't, don't panic – offers are continually being sent out in order of application, so you will receive your offer soon.
If you have a conditional offer from us you will also soon be allocated your rooms, but the offer will not be confirmed until you have your exam results.
Accepting Your Accommodation Offer
In order to accept your offer you need to :
Pay an initial £115 pre-payment online. This payment will be automatically be taken off your first payment.
Email us the address details of your guarantor .
If you have any questions about the deadlines and what you need to do please email accommodation@canterbury.ac.uk who will be happy to help.
Once you have completed the above you can sit back and relax! And we will get in contact with details about moving in nearer the time.
Still want to apply for University Accommodation?
It is not too late to apply for CCCU Accommodation and there are plenty of reason why it makes sense:
It is a great way to make friends and meet new people – with many featuring communal living and dining areas. They say you will make friends for life at University but being Uni housemates is friendship on whole different level!
There is lots of choice with different types of accommodation – so you can find the place that best suits you.
Location, Location, Location – most of our accommodation is close to or within walking distance of our campuses.
Lots of support every step of the way – University Accommodation is an opportunity to move away from home and ease yourself into independent living. Our Student Accommodation Champions are there to help signpost you to any support you need, give advice and help you settle in.
All your bills are included, plus high-speed wireless and free contents insurance. Psssst – there's no Council Tax worries either! All this makes budgeting so much easier J
If you have not yet had a look at the different types of accommodation that we have to offer, find out more here.
Which Accommodation is right for you?
When deciding which Accommodation you would like to choose think of the following things:
Budget – do you know what your Student Loan will cover? What budget do you think you can afford?
Location – do you want to be right next to the Library for those late night study sessions or do you prefer a little walk so you feel you are living as part of the City.
Facilities – how important is an ensuite to you?  Most think this is a must have but those students who share houses find actually it was not as important as they first thought and the opportunity for communal living was really fun.
Ready to apply?
Ready to make your decision? Find out more on how to apply for accommodation at CCCU.
If you have been thinking of applying for accommodation at the University you should think about doing so sooner than later. All student accommodation is allocated on a first-come, first-served basis, so if you have a preference you should think about applying soon.  The deadline for accommodation applications for September starters is 31st July 2019 but you do not wait until then.