Your Students' Union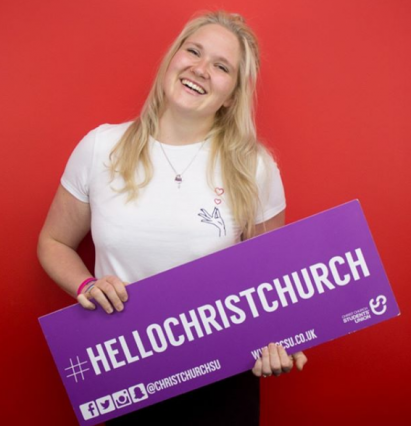 Christ Church Students' Union is a charity run by students for students, providing support and representation for every student across all our campuses. In becoming a student at Christ Church you are automatically a member of the Students' Union. It is completely free so make the most of it!
The Students' Union is led by a student council made up of full-time officers, known as Sabbatical Officers (Sabbs), and part-time officers. It is backed up by a Board of Trustees and over 600 elected Student Representatives whose job it is to represent you through the various committees and working groups that shape your student experience.
Make sure you look out for Phil, Jamie, Chloe and Becky – they are your Sabbs and they are always keen to hear your views.

You can get free, independent and impartial advice from your Students' Union to help you with academic issues and University life in general. There's a lots also to do outside of your studies that will help you meet new people and get connected. The Union offers extra-curricular activities, with over 100 clubs and societies to try as well as trips, experiences, volunteering and fundraising to get involved with, helping you to have fun, meet people, develop employability skills and succeed in your time at Christ Church.
Freshers' Fayre – 18 and 19 September,10am – 4pm, Canterbury and Medway
Freshers' Fayre promotes all the best aspects of Students' Union life at Christ Church where you can discover sports clubs, societies, volunteering and student representation opportunities as well as bag lots of freebies!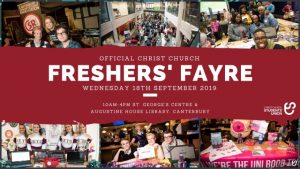 Freshers' Welcome
Check out the full Fresher's Programme – from tea parties to games nights, petting zoo to fun run, treasure hunt to shopping trip there is something for everyone both at Canterbury and Medway. They have activities during the daytime and evenings so there's little chance of getting bored!
For further information on what you can get involved with, go to the Students' Union Webpages