With the long break, returning to study and stepping up a level, may feel a little daunting.  To get yourself in shape for uni, why not try the new Learning Skills Hub.
What is it?
The Learning Skills team has been incredibly busy over the summer creating a new Learning Skills hub designed especially for CCCU students.  It contains a series of short modules on topics such as academic writing, referencing and time management which you can dip into at any time to develop your learning skills.
It is a self-directed, self-paced study tool with opportunities to test your skills, consolidate your learning and expand your knowledge, so there is no pressure to cram all the content into welcome week, as the resource is available all year round.
Why use it?
Studying at university is like learning to ride a bike, sometimes you wobble and fall off or you choose the wrong gear. That's why we've created the hub to provide you with the extra support and guidance you need.
The modules are scaffolded with advice and activities to help you at each stage. You can find it via the Student Support tab on your Blackboard.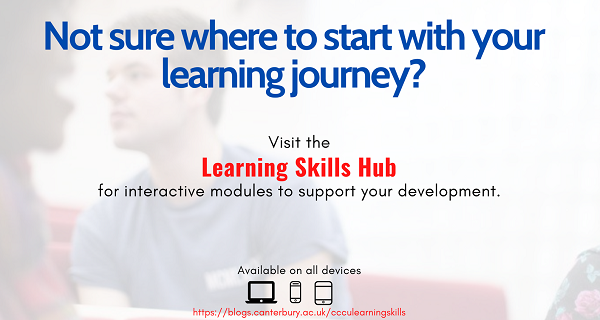 Just starting?
There are a whole host of differences between sixth form and university study or you may be a bit rusty having taken a break from studying for some time. It is important to orientate yourself so that you understand the expectations around critical writing, referencing standards and other academic activities before you start your course.
The modules are split by year, but you may find them useful at any level of study. You will also find hints and tips for starting your journey into Year 1 to help you prepare.
Continuing students
For second year students, the hub provides modules which enable you to brush up on your old skills and develop new ones. Maybe you want to write with greater criticality or improve your proof-reading skills, or just expand your knowledge of the academic resources available to you. You'll also find hints and tips on how to transition into your new study level.
And if you are a third-year student, you may have a long project or dissertation to prepare that requires developing additional organisational, writing or research skills.
Postgraduates
The hub also provides supportive material for postgraduate students who may wish to hone their organisation skills, structure a complex bibliography or manage the huge number of references in their research dissertation or project.
You can also find out how to keep up to date with your subject, structure a systematic literature review or prepare a paper for publishing.
Ongoing support
And if your first assignment doesn't go to plan, you can return to modules to top up or refresh your knowledge.
You will also be able to locate contact details for your Faculty Learning Developer and Learning & Research Librarian, who you may meet for a virtual workshop soon.