Your Canterbury Campus is changing!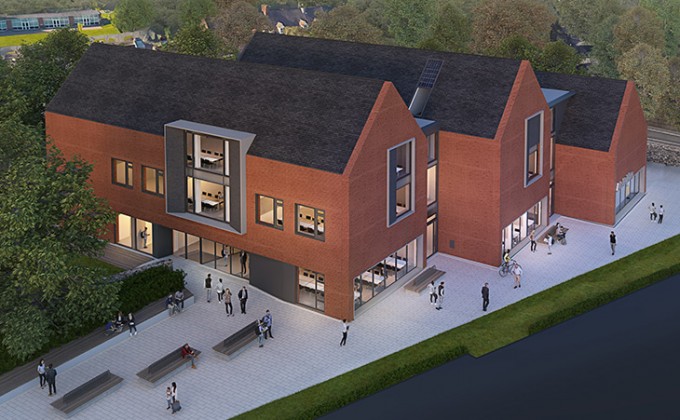 When you return to University next academic year you will notice lots of changes on the Canterbury Campus, as we continue to improve your learning environment and realise our exciting Estate Masterplan to create a vibrant, modern and innovative campus.
We know that space, whether physical or virtual can have a significant impact on your learning. At Christ Church we want our spaces to be inspirational, practical and accessible so they support your studies and deliver an outstanding student experience.
Arts Building
The new arts building is due for completion by the start of the new Semester. The bold design and latest digital facilities will support our students to become the next generation of artistic professionals. A hub for creative collaboration, it will include a sociable space perfect for exhibitions and intimate gigs as well as modern specialist facilities including rehearsal and performance rooms, recording and sound studios, dark rooms and Mac labs.  Check out what it will look like via our web pages .
Science, Engineering, Technology and Health Building
Our new multi-million pound facility for Science, Engineering, Technology and Health opens in 2020.  In order to make way for the new building, the former Estates Office, Chaplaincy building, 'White building' Portakabins and student accommodation at Davidson, Lang and Temple will be demolished over the summer.  The Chaplaincy will have a new home within the Chapel itself and we will keep you updated about when they are ready to welcome students.
New Informal Learning Spaces on North Holmes Road
The bookshop area in Laud is being redesigned to incorporate new informal learning spaces for students.
The new spaces, delivered alongside enhanced bookshop services, will enable you to study on your own or in groups before, in-between or after your teaching, in a way that is convenient to you.  We hope it will be a relaxed environment for you to continue your learning on campus, share ideas and have discussions.
Augustine House
We have already improved your informal learning space on the Ground Floor at Augustine House with more computers, more docking stations making it easier to bring your own laptop and new pods for group working. The plan for the new academic year is to continue to enhance your student experience at Augustine House – so watch this space for further developments.
Naming of the New Buildings
Don't forget that the Vice Chancellor is inviting nominations from students and staff to name the new buildings – this could be your chance to make your mark on Christ Church forever! For details on how to submit your ideas please click here
Keeping Up-to-date
To see how the campus is changing and get behind the scenes previews follow us on our @Canterburyccuni Instagram.