World Mental Health Day 2018 Canterbury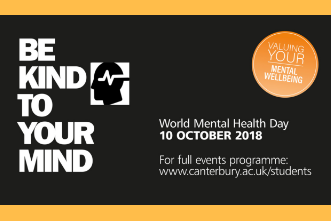 Canterbury Christ Church University, working with the Students' Union, is celebrating World Mental Health Day on 10 October with a week's worth of events for students and staff to promote a positive environment that supports good mental health for all.
The five ways of wellbeing will be covered with a range of activities to help you – connect with friends and colleagues, take time out to notice your surroundings, learn something new, get active, and give to others.
This year we are also working with the University of Kent on a range of joint initiatives to demonstrate how both universities together take mental health seriously.
Tuesday 9 October
Mental Health in Film and Poetry, Gulbenkian, University of Kent
5pm poetry open mic Café Open Foyer, Gulbenkian
Opportunity for individuals to come and read their poems, or poetry that has a meaning to them.
6pm for 6.15pm start – showing of short films from University WMHD competition.
(Please note the above events are free).
7 pm Film screening The miseducation of Cameron Post
8.55 – 9.20 pm Panel discussion. Chair: Professor Doug MacInnes, Rev David Stroud, Welfare Office UKC, LGBT Officer UKC
Don't forget there is also our Chooseday Chill at Augustine House 5-7pm – a chance for students to take time out over some comforting tea and toast; relax with some friends over some board games; catch a film or unwind with some sports activities.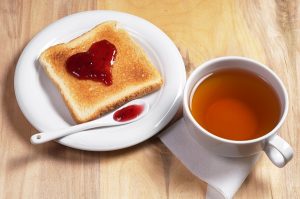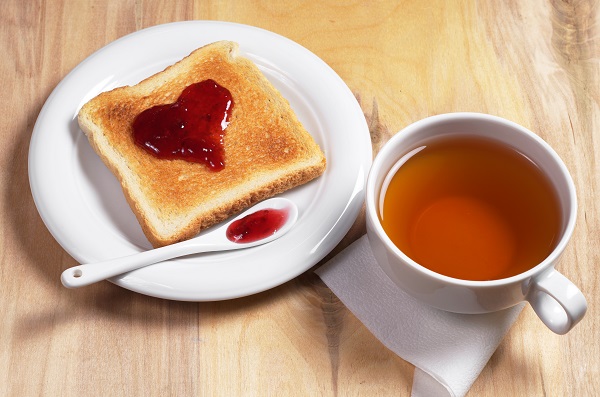 Wednesday 10 October
Looking after your Mental Wellbeing, Old Sessions House and Augustine House, 10am – 4pm
Find out what support and networks are available both in and outside of the University with a range of information stalls on hand including our own Student Support, Health and Wellbeing Team as well as organisations such as Samaritans, Rethink, Red Zebra, Livewell Kent and others.
Sex, Drugs and Mental Health, Laud Touchdown, 10am -4pm
Join our CCCU Public Health students for a range of fun activities that will help us explore how young people are impacted by the changing world we live in. Have a go at some beer goggles, take part in some alcohol awareness games, decorate a pebble and much more….
Students' Union Fun on the Lawn, Anselm Lawn, 10am – 4pm
Looking after your wellbeing is about spending time with your mates and keeping up with the fun stuff. Sometimes it is good to act your shoe size and not your age! So why not relive the joys of your childhood and have a go on the Students' Union Bouncy Castle! The SU will also have a range of other fun activities for you to have a go at, let off some steam and get active.
Hatter's Tea Party, Lg47, 10.00am – 4pm,
Did someone say tea party? Come and join the Hatter's tea party and meet his friends, learn how to de-stigmatise mental health conditions and find out how to support your friends and work colleagues. Today is the perfect time to talk, challenge stereotypes, and explore the language we use around mental health.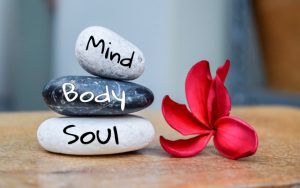 An Introduction to Mindfulness, 11am Augustine House AH1.21 and 1pm Lg25
In this one hour session, learn about mindfulness and how regular use of the technique can reduce stress and improve your wellbeing, your life, your work and your studies.
Gravity Ball, 11am  CCCU Sports Centre
Join us for a FREE Gravity Ball Game  – a great way to get activity and meet new people. Join the sports team in Touchdown at 11am and walk over to the Sports Centre together.
CCCU Creatives and Language Drop In Session  Lg25, 1-2pm
From trying a craft to learning some words in a different language (Italian and Spanish) this is your opportunity to give something new a go or rediscover an old interest, because we know if you keep learning it is not just good for the mind but good for the soul.
Bite Size Mental Health Talks, Powell Lecture Theatre, 1.30pm – 4pm
Join us for a range of short insightful talks and presentations to give you a snapshot of the range of topics around mental health.
Library
From 8-13 October we will be taking part in the National Library Week celebrations which is all about how libraries are a great place for your wellbeing.
During the day they will be hosting the University Chorus rehearsal between 5.30-7pm in Augustine Hall to bring the joy of singing into the library. Everybody is very welcome to join in (no-audition) or just listen in, enjoy the music and have fun.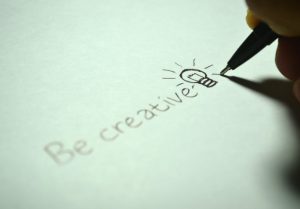 Write the Blues Away, 2-3pm
Drop in to our mental health awareness creative writing workshop from 2-3pm on the Bridge Seating Area in Augustine House , Floor 2. Help us create a collaborative poem about the topsy turvy world of being young or simply enjoy time to creatively explore your feelings.
And check out both our Library and our Bookshop for displays of books on Mental Health.
Sidney Cooper Gallery
Come to the mesmerising exhibition of Gerrard Caris, who is displaying his work in the UK for the first time. Take part in 'slow looking' a mindfulness way of appreciating art.
Lecture: Institutional Racism in Mental Health System, Og46, 5.30pm – 8.00pm
Suman Fernando talks about the deep roots of racism in the mental health system, drawing on histories of racial discourse and clinical practice, analysing power, knowledge, and black suffering in an ostensibly progressive and scientifically grounded system.
Pop Up Wellbeing and Safety Hub, 6.00-9.00pm, Canterbury High Street
Join the Street Marshals, Chaplains and Nightline to find out what wellbeing support is available from both CCCU and UOK..
Dance with Confidence, Performing Art Students' Showcase, Anslem Studio, 7.00pm
Take time out and enjoy our students' dance performances. Research shows that whether you take part or just enjoy watching dance, it is a great way to feel good. To book please click here
SU Final Whistle, The Lounge, 8pm
SU sports teams will get together to celebrate their latest results, compete in the Mental Health Quiz and raise money for Rethink. There may be fancy dress involved as well!
Wellbeing Walks
Get some fresh air and stretch your legs with some short self-direct walks around campus, to the Sports Centre and through the city to the Sidney Cooper Gallery. Go to Touchdown for details.
Friday 12 October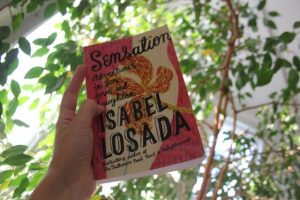 Isabel Losada on Life, Happiness and Everything, Waterstones, 6pm
Canterbury Christ Church University and University of Kent are delighted to be working with Waterstones to host the author Isabel Losada who will share her journey on how to live life completely, abundantly, joyfully and stupidly! Using humour to take a serious look at finding enlightenment we hope this will be a lovely evening to bring both the universities and wider city communities together on the important topic of mental health. For more information and to book your free tickets click here
For information on what is happening on Medway Campus please click here.
Remember if you need any support with your Mental Health there is lots of help both inside and outside the University for students and staff. Click here for details.