What's on in October at CCCU?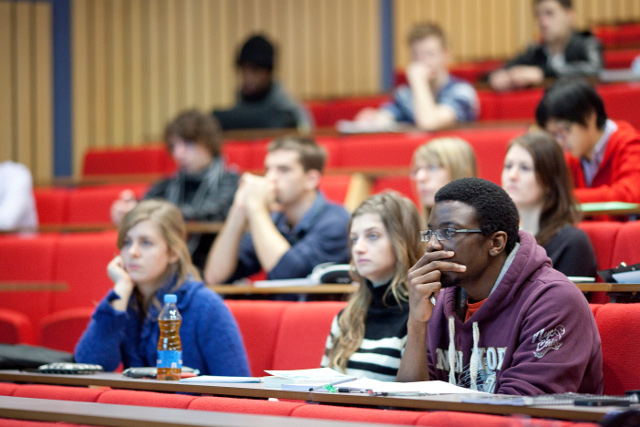 You'll have all started to settle into the 2017/18 academic year with your first few weeks of your new modules under your belts. There's plenty of other events and activities taking place to give you that breathing space away from your studies, including Mental Health Day, the Canterbury Festival and Restart a Heart Day, and finally, remember that the clocks go back 1 hour on Sunday 29 October.
Mental Health Day
World Mental Health Day on 10 October is an opportunity for Canterbury Christ Church University, working with the Students' Union, to demonstrate how it values the mental wellbeing of all its students and staff and to promote a positive environment that supports good mental health for all. There will be activities, workshops, information stalls and an evening debate.
As a CCCU student, you also have access to the free service Big White Wall, which is a safe and anonymous space you can go to if you're feeling down, struggling to cope or just want to talk to people who understand what you're going through. Whether you want to speak to peers or a counsellor, there will be someone there every minute of every day.
Academic Development Week
A new Academic Development week is being introduced on 23-27 October for undergraduates who follow the semester academic calendar.
During the week you can catch up with your Personal Academic Tutors, continue your independent study and access additional learning support. Check with your Programme Team and on your Blackboard for planned activities and opportunities.
For more information, click here…
Canterbury Festival, 14 October – 4 November
This is the largest festival of arts and culture in the area and takes place in Canterbury from 14 October – 4 November. There are other related events already taking place and Canterbury Christ Church University are the main partner and sponsor. Staff and students are staging performances, the majority of which are free to attend. Full details of the events arranged by CCCU are available on our main website at www.canterbury.ac.uk.
More information about the festival and other related events and activities can be found on the festival website at https://www.canterburyfestival.co.uk/.
European Restart a Heart Day
Taking place on 16 October, Restart Your Heart Day is open for all students and includes 30 minute workshops on how to perform CPR and to use a defibrillator.
If you'd like to take part, drop by the Chapel in Anselm during the day, from 9:30am – 4:30pm. All are welcome and no experience is necessary. This event is being run in partnership with the Students' Union and supported by the European Resuscitation Council.
More information about the event is available here…
#Good2CCCU
Thank you for sharing your #Good2CCCU photos over September. We have selected some of the best photos and now it is up to you to vote for the winner – http://good2cccuphotocomp.hscampaigns.com/.
Tune into CSRfm
Tune into CSRfm, your local Community & Student Radio Station. You can tweet any questions you may have about studying in Canterbury to @CSRfm on Twitter to be featured live on-air.
Tune in online at http://www.csrfm.com or on 97.4fm when you're in the Canterbury area.