What's Happening in September at CCCU?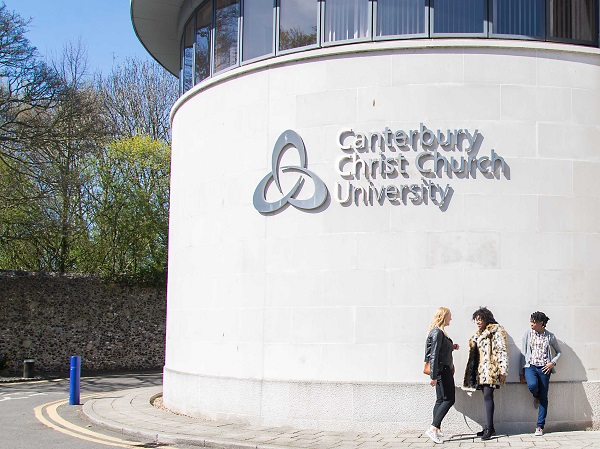 We hope you are all looking forward to the beginning of a new academic year. This a great time of year as we get ready to welcome lots of new students and celebrate graduation with others.
Plus there's a number of events, activities and general updates that will help you to get the year off to a good start!
And please remember if you are a current student to re-register on the Student Portal or if you a joining us for the first time to attend a registration event – as we need to know that you are coming!
Your Learning Spaces
We know how important it can be for you to have the right space to study in so we are delighted to announce new learning spaces opening in September.
Over the summer significant work was undertaken in the bookshop area to incorporate exciting informal learning spaces for students – helping you to study on North Holmes campus before, in-between or after your teaching.
The bookshop will enhance the range of services it provides. This will include a new bookshop payment option in-store using the CCCU smartcard. And don't forget the bookshop is also now online.
In addition the previous IT Student Lounge in Laud is moving to a new larger location at Laud LG45 with more PCs and resources.
Digital Campus Map
Have trouble finding your lecture room? Never leave enough time to get between rooms? Well you will never have to be frustrated again with the new online campus digital map which can locate any room, provide directions and plan your route. Click here to have a look.
Student Support Resources
We are always looking at ways to make our student support more accessible.
Student Support and Wellbeing Advisors, in addition to their daily service at Augustine Houses, will be available every Monday during term times at North Holmes Road, from 10am – 4pm in Fg09 for drop-ins and arranged appointments.
The Mental Wellbeing Team will continue to offer their drop ins at Augustine House Mon – Thur 12.00-13.00 and will be introducing a new drop in at North Holmes Road on Friday from 12.00-13.00 Fg08.
The chaplaincy offices have been relocated to behind the Chapel. These can be accessed via the corridor at Fleming. We hope you can pop in and say hello to CCCU's friendly chaplaincy team!
The Mental Wellbeing Team have worked with the NHS to launch new online Self Help User guides covering a range of different topics including anxiety, bereavement, stress, depression and sleeping problems. This is in addition to www.bigwhtewall.com which provided 24 hours online support.
Nightline, the listening service for students run by students, is extending their hours.  During term time you can now call them on 01227 824848 on Monday, Wednesday, Friday, Saturday and Sunday from 8pm – 8am.
Careers
Applications for the Work Experience Fund will be opening soon. If you are you looking for work experience, but finding it financially difficult to take up the opportunity this could be for you.. Also look out for exciting news around The CORE which will be available as Mobile App soon and will have the ability to do your very own employability test.
Student Events
Registrations
We are getting ready to welcome all our new students with key registration events at Augustine House on 8, 15, 16, 17 and 22 September.  This is an exciting time but be warned that, although the Library will be open, it will be busier and livelier than normal.
Freshers' Fayre
Don't miss out on the SU Freshers' Fayre on Wednesday 19 September at Canterbury and Medway – not just for new students, this is open to all, so you can find out about clubs, societies and volunteering as well as bag a few freebies!
Choseday Chill
Also look about for Choseday Chill – a new event lead by the SU starting on 18 September 5-7pm at Augustine House and then every Tuesday afterwards.  Take time out over some tea and toast, relax with friends with some board games, catch a film or try out a sport. Plus you can catch up with our Student Support team for a chat.
MBA Webinar
It's not too late to enrol on one of our range of MBA courses. If you are considering studying for an MBA either now or in the future, join our MBA Webinar on Wednesday 5 September 6:30pm.
Other Events….
In The Snow: Stephanie Quayle, Sat 11 Aug – Sat 22 Sep, Sidney Cooper Gallery, free
Richard Noble OBE, World Land Speed Record Breaker and Director of the Bloodhound Supersonic Car Project, Public Lecture – We Need Inspiration to Supercharge our Education, Thu 27 Sep. 6 – 7pm, Augustine Hall, Augustine House, free
Plus bookings are now open for Canterbury Festival, Kent's International Arts Festival on https://www.canterburyfestival.co.uk
And finally – how to get a free hot drink!
Why not celebrate the start of the academic year with a free hot drink? The Atrium Café in Augustine House is offering a free hot drink to everyone who buys one of their breakfasts during September (look out for their flyers for details).