What's Happening in September at CCCU?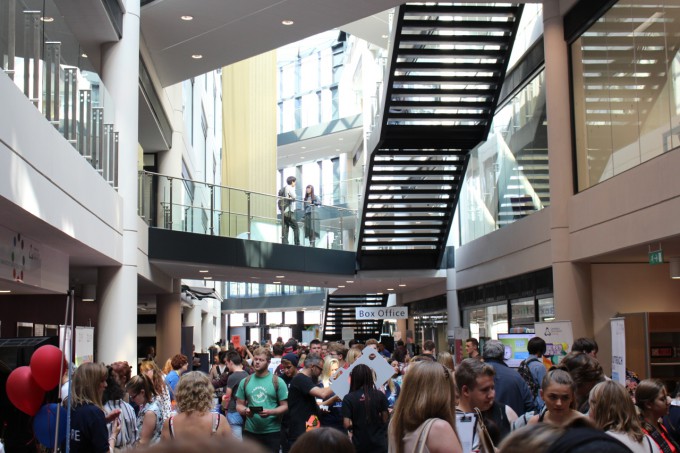 Every month a roundup is posted here to keep you up to date on what's happening at CCCU.
Whether you are returning to study for the new academic year, or a new student starting this month, there's a number of events, activities and general updates you may be interested in that are covered in this month's what's happening at CCCU news roundup.
GoodtoCCCU Photo Competition
We're running the #GoodtoCCCU photo competition for all students throughout September. All students, whether you're new or returning after the summer break are able to take part by simply sharing your photos with #Good2CCCU on Twitter and/or Instagram over September. The best one could win £40 of High Street vouchers.
The Big White Wall
This is free 24/7 online service to help you get anonymous support if you're feeling down, struggling to cope, or anxious about returning to University after such a long break over the summer. It's easy to sign up to use the service and is provided by an external company so you are able to remain anonymous.
Click here to visit and register with The Big White wall…
Returning Student Reminders
Registration events are taking place throughout September for new students, you can still access the library and other services within Augustine House during the events however it can get noisy. If you're looking for somewhere quiet to study you can make use of the study areas on the main campus at North Holmes Road.
In terms of IT services, Print Credits have seen a 20% drop in price across the board, you can find out more here. Alongside this, all of the student workstations have also been upgraded to use Windows 10, If you are not familiar with Windows 10 have a look at the Getting Started Guide. And if you have any specific questions check out our dedicated Windows 10 Frequently Asked Questions which includes a whole range of other users guides.
Also, a quick reminder that it is important that you remember to re-register as a student so we know that you're coming back to carry on with your studies from September. For more details on how to do this, check out the related FAQ on the main website.
New Lockers in Augustine House
There are now 64 lockers available at Augustine House that you can use if you need somewhere safe to keep your property whilst studying. The lockers are located on the ground floor, just outside the security gates at the back and side entrance.
You can apply for a locker key from 7 days for Augustine House Reception. Terms and conditions apply.
For full details on using lockers, click here…
Expect Respect at CCCU
Continuing from last year, we're asking for students and staff to pledge their support to stand up to sexual harassment across the university community as part of the Expect Respect campaign.
Over 400 members of our community have pledged their support for the campaign by agreeing:
To give respect to all,
To take responsibility for helping to create an inclusive and welcoming University,
To take positive action to prevent discrimination by not tolerating, condoning or ignoring harassment of any kind,
To educate myself and others about sexual harassment. What it is, how it makes people feel and challenging sexual harassment when possible.
For more information about Expect Respect and details on how to register your pledge, visit the Expect Respect webpages on the main CCCU website.
Canterbury Anifest – Free to Students
The Canterbury Anifest is celebrating it's tenth year and is taking place on Friday 29th and Saturday 30th September. Come along to learn about animation from industry experts, including Tom Sito who has worked for Disney and Dreamworks, and Aardman Animation's Jim Parkyn, among others.
Although this is a free event, tickets are required.
Visit the main website for more information and to book online.
Arts Extra
The Arts Extra scheme is able to provide you with valuable insights into the worlds of theatre, music, art galleries, and arts marketing. Volunteers are able to help run productions from the School of Music and Performing Arts regardless of the course that you are studying. You don't need to be studying an Arts course to get involved and assist in the day-to-day running of the Sidney Cooper Gallery, and create content for our social media channels.
Arts Extra is recognised at the end of your studies on your Academic Summary, for more details email arts-extra@canterbury.ac.uk.
Tune into CSRfm
Tune into CSRfm, your local Community & Student Radio Station. You can tweet any questions you may have about studying in Canterbury to @CSRfm on Twitter to be featured live on-air.
Tune in online at http://www.csrfm.com or on 97.4fm when you're in the Canterbury area.