What's Happening at CCCU this March?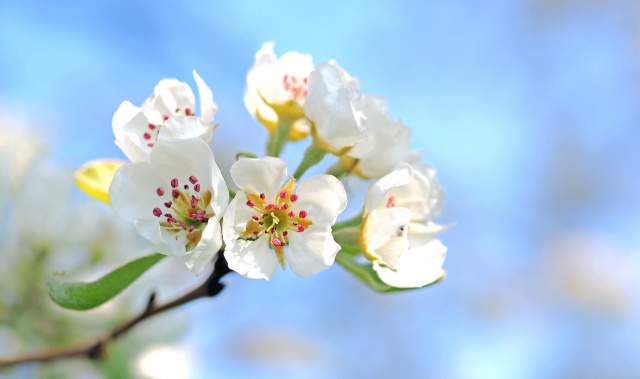 With sunnier days, it feels like Spring is on the way! This March there's lots happening at CCCU including #StressLess, Women's History Month Events, UV Sport & Fitness Week, University World Mental Health Day, LAUNCH, Creative Careers Festival and much more! Here's what you have to look forward to this month…
Student Surveys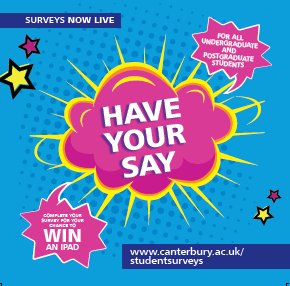 Have you completed your Student Survey yet? If not, now's the perfect opportunity! Have your say today… Click here to go to your Student Survey.
This is your chance to tell us about your time at Canterbury Christ Church University and shape your future. Tell us about what works and how we can build on our successes as well as areas where we can improve. The results will help the University decide what changes need to be made both in general and for your programme. Click here to see the impact the surveys made last year to your student experience.
For more information, click here.
Join our Mental Health & Wellbeing Conversation
Canterbury Christ Church University and the Christ Church Students' Union have made the mental health of students and staff a strategic priority. Taking a whole University approach, we have developed with students and staff, an ambitious and aspirational Mental Health and Wellbeing Framework, which we are looking forward to sharing as part of University Mental Health Day on 7 March. This is just the start of the journey, with us committed to delivering the Framework in line with the principles of co-design and co-production. We passionately believe everyone has a role to play in making it happen and we want to encourage all staff and students to engage with, and play an active part in, the Framework.
Join the conversation on:
Friday 15 March, 9.00am – 12.00pm, Augustine Hall, Canterbury
Friday, 29 March, 9.00am – 12.00pm, CCf13, Medway
For more information, click here.
On 7 March for University Mental Health Day the theme is use your voice, so our Mental Wellbeing Team and Student Minds will be in Augustine House and Anselm, 10.00am to 4.00pm and in Medway (Cathedral Court 10.00am – 1.00pm and Rowen Williams 2.00pm- 4.00pm) for you to share your stories in the listening booths and find out what support is available. There will also be mindfulness workshops running during the day- for more information, click here.
Augustine House Library is opening 24/7!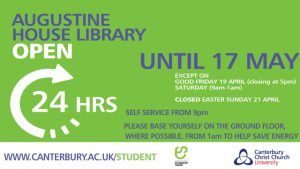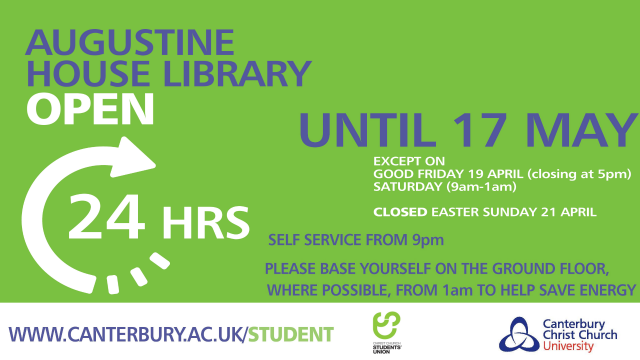 Augustine House Library will be opening 24/7 from 4 March until 17 May in order to support you in the lead up to your end of semester examinations and assessments. The only exception to these dates are:
Good Friday, 19 April, where the Library will close at 5pm.
Saturday 20 April, where the Library will be open 9am-1am.
Easter Sunday, 1 April, where it will be closed.
For more information, check out our blog post.
#StressLess
#StressLess is back on 18 March! With the return of the #StressLess area on the second floor of Augustine House, plenty of activities to help you unwind and relieve stress, lots of helpful hints and tips for writing essays, revising and exam techniques… Plus loads more! Keep an eye out for more information coming soon…
LAUNCH 2019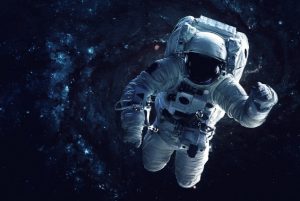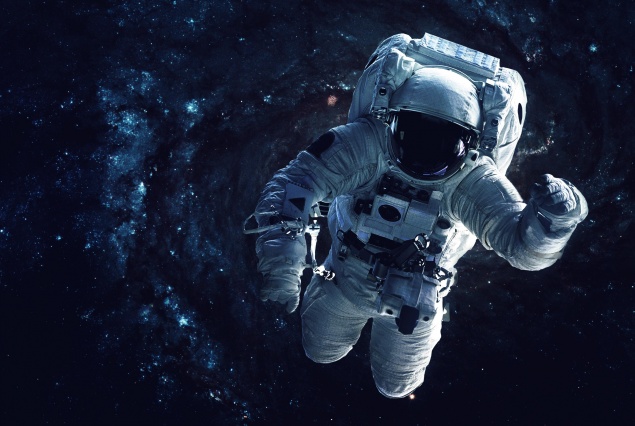 The CORE will be helping you LAUNCH your career and prepare you for the world of work with an all day event on 20 March! It will be full of networking, workshops and plenty of big employers- including Google, LinkedIn, HSBC and Kent Foundation! You can also attend an Employer Fair where you can find out more about some great companies and what kind of graduate roles could be available, as well as have your professional photo taken! Sound good? We think so! To find out more, and to book onto sessions, click here.
International Women's Day & Women's History Month Events
There's lots happening for IWD2019 and WHM2019, including:
Canterbury Christ Church Creatives and Secret Projects: Tues 05 March at 12pm in the Chapel- Join the Canterbury Christ Church Creatives and CCCU Women's Network for an opportunity to connect women across the globe through the shared experience of stitching and making.
Women's Self Defence Event: Thurs 07 March at 7:30pm in the CCCU Sports Centre- CCCU Jui Jitsu club is holding a self defence event for International Women's Day and welcomes all abilities to come along and join in the free event.
IWD Flag Raising: Friday 08 March at 10am outside Augustine House- there will be an International Women's Day Flag at Augustine House on International Women's day 2019 at 10:00.
How am I as a Woman in Higher Education: Friday 08 March at 1pm in Mg18. This session is open to staff and students who want to explore their position within the institution.
For more information, and the full event listing, please click here.
Academic Book Week & World Book Day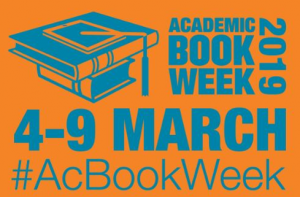 Academic Book Week is taking place from Monday 4 – Friday 8 March and we're celebrating our CCCU Authors! The CCCU Bookshop will also be hosting a book launch for Diane Heath's Gender in Medieval Places, Spaces and Thresholds at 5pm on 7 March, as well as celebrations from 1pm to mark the refurbishment of the CCCU Bookshop… So come along and join in the fun! Read more about Academic Book Week celebrations by clicking here.
Student Elections
The SU Student Elections are well underway with the full list of candidates now available … click here to see them all. Here are the next key dates to keep in mind:
Voting opens on 4 March at 10am and closes on 7 March at 5pm
Results night is 8 March at 7pm in the SU Lounge
For more details, click here.
Creative Careers Festival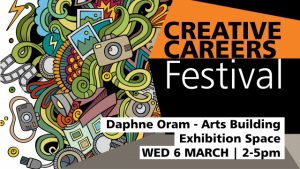 The CCCU Creative Careers Festival 2019 is taking place on 6 March 2019, in the Daphne Oram Building, 2-5pm. There will be a group of exciting local creative businesses, entrepreneurs and alumni who are looking forward to networking with you and sharing their knowledge and experience of the creative sector. A number of them have also got work experience opportunities available, so please do come with your CV so that you can leave your details and make a good impression.
UV Sport & Fitness Week
Christ Church Sport UV week is back & better than ever! It's your chance to switch off the lights and play sports or do an exercise class in the dark, under UV light. Taking place from 18 March- come join in the fun with spin, zumba, basketball, netball, climbing and much more! All UV sessions will cost £1 and no experience is necessary- just find a white t-shirt and come along! Click here to find out more…
Study Fit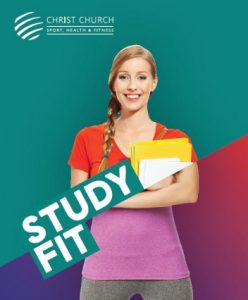 Are you feeling low or anxious? Check out StudyFit… A new programme launched by Christ Church Sport for students to reduce stress, low self-esteem and anxiety and improve your mood. The introductory 6 week StudyFit programme will help students to take part in a range free of activities to help them develop an active lifestyle, with the aim of improving their mental wellbeing. To find out more, click here.
Module Choice
Don't forget that for those of you who are completing module choice that the deadline is 5pm on Friday 8 March. This is your opportunity to focus on the specific topics and themes that are of interest to you, supporting you to build the knowledge and skills that you need for your chosen pathway of study. So don't miss out! Click here for more information.
Events for the Diary
#ShapeOurLibrary: Tuesday 5 March, 12-2pm on Ground Floor of Augustine House Library. #ShapeOurLibrary with the Library & Learning Resources Team is back! This is your opportunity to drop by and have a chat about what you like, don't like and how they can improve things! There will also be some snacks available to thank you for your time!
Christ Church University Big Band Concert: Wednesday 6 March, St Gregory's Centre for Music. For more information and booking, click here.
An open discussion with Gurminder Bhambra on Sociology, Modernity, and Colonialism: Or, Why the Haitian Revolution Matters: Wednesday 13 March, 2pm, Pg06.
Chad McCail: Compulsory Education Exhibition: Opening on 16 March, Sidney Cooper Gallery. For more information, including details on the opening talk given by the artist, click here.
Music Society Showcase: Wednesday 20 March, St Gregory's Centre for Music.For more information and booking, click here.
Bumblebee Conservation in Kent: Wednesday 27 March, 1pm in Mg18.Lauren Kennedy will look at the conservation effort to bring the Shrill carder bee, the UK's rarest bumblebee, back from the brink and how Kent is home to the world's first bumblebee reintroduction.
And finally, keep an eye out for Easter teasers throughout the month for a fun event with Christ Church Sport!