What is the Safezone App?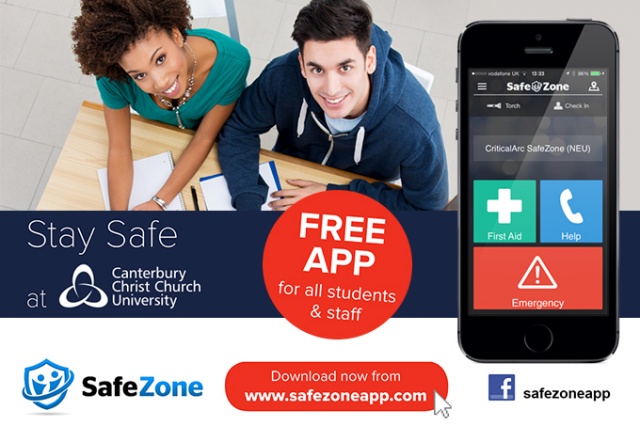 CCCU is a safe University but you never know when you or a friend might need the help of security – whether it is because someone has an accident, needs first aid or there is an unexpected emergency.
SafeZone is a safety app which gives you peace of mind when on campus. It means whatever the situation you don't have to panic – all you have to do is press a button and Security will be there to assist.
What does it do?
The app allows you to alert University Security if you ever need urgent assistance, first aid or if you have an emergency while on campus via your mobile phone.
The system is privacy protected, so will never share your location unless you summon assistance or if you use the check-in function. This also means the app will not drain your mobile phone battery.
How does it work?
SafeZone has 3 main buttons that can be used to request assistance from Security
First Aid
Enquiries
Emergency
If a button is pressed in error, the alert can be cancelled by tapping the button again, whilst the timer is winding down.
The Check In function allows you to let Security know where you are if you are working alone or outside of normal working hours.
SafeZone does not track your location. You only become visible on the system once you have raised an alert or checked in. Read about SafeZone's privacy provisions.
How can you download it?
SafeZone is simple-to-use and free to download
Once you have downloaded the SafeZone app you need to sign up using your University email.