Blog by Katie, third year drama student.
Being kind to people has never felt more important whilst in lockdown, but what about being kind to yourself?
This year's Mental Health Awareness Week theme is 'kindness'. With everyone being kind to each other, I think it's important to now think of ourselves. I want you to consider 'How kind have I been to myself?' and to practise self-kindness with me!
Wondering where to begin with self-kindness?
You may be feeling down whilst stuck indoors – which is no surprise with everyone posting their adjusted lives online about how productive, proactive and motivated they have been in lockdown. And that is good for them! No doubt about it, but we can't help comparing our current situation with others – which I am so guilty for doing! It can feel draining constantly thinking of others in a time that affects your life massively. Everyone is so busy trying to make sure others are doing okay that you forget to think of yourself.
When it comes to self-kindness you might be wondering where to start…
Should you be setting rules throughout the day to stick to
or
should you be allowing yourself to live freely with no self-judgement?
I have done both and still feel guilty either way. I can't stand waking up early, but I feel bad if I don't make the most of the day. But if I sleep in, I feel awful for wasting the morning! (Hopefully I'm not the only one with this first world problem…).
How I've practised self-kindness
Here's some of the ways I've challenged myself to be kind to myself for Mental Health Awareness Week. Hopefully these changes will inspire and support you, if you've been feeling the same as me!
Finding what feels natural for me
I guess when it comes to self-kindness, it is all about balance, like being kind in moderation.
I won't set an alarm, but I will also make an attempt to not lie-in and feel worse for it. So, if I wanted a lie in, I should make sure that for the rest of the day I am still proactive or productive.
I want to skip doing work or assignments for the day then I should put in something more mindful to compensate for this loss, such as exercise or reading.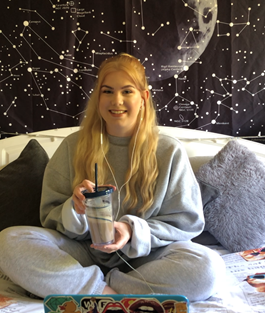 I think self-kindness is all about compromise and moderation, otherwise you can self-indulge and not find the appreciative meanings of treating yourself.
Trying to take a break from binge watching!
Lately, I have been consuming a lot of Netflix, which can be unhealthy for my mental health – staying in for days on end and finishing 2 seasons of Doctor Foster in one sitting… Not always the best solution!
It may seem like you are being kind to yourself by doing something you like, such as binging tv shows, but binging itself is bad for you.
Starting the day positively by being active
To start practising self-kindness in a more positive and productive way, I will try something more active and healthier for my mind and body to start my day.
Something along the lines of short workouts, yoga or meditation can be great for starting your way, helping you wake up, recharge your batteries and feel more focused and ready for the day ahead.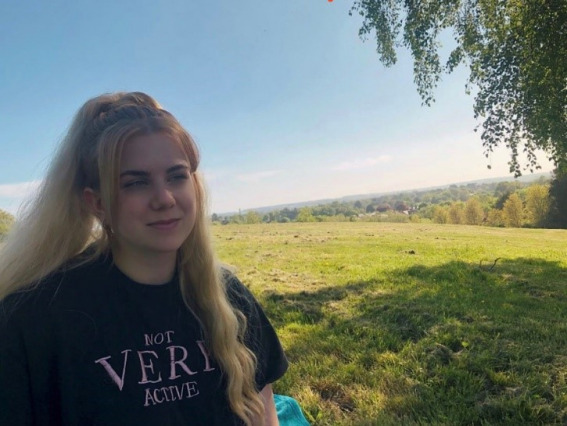 I'm not a mindful enthusiast but some simple yoga tutorial on YouTube can only do some good these days! So, in light of practising self-kindness, I will be revisiting old yoga sessions I attempted weeks ago and give it another try, this time thinking of all the goodness it will be doing for my body and mind for the start of my day.
If this doesn't work out, don't punish yourself because you should feel good for giving it a go.
When it comes to practising self-kindness, there is no right way to do it as it's an individual experience, but if the outcome is still being kind to yourself then it's working for you!
Here's a short workout video I turn to when I am feeling a bit more motivated and determined…
Applying self-kindness to my eating habits
I haven't been the healthiest of people during lockdown and I must admit, I do feel guilty about it. This is a big area that I need to practise self-kindness on, and I am sure there are many of others that need to as well.
I think when it comes to being kind to yourself with food, it's about balance again.
If you are optioning for something on the unhealthier side, consider next time going for something healthy. For example, having pancakes for breakfast but salad for lunch. Or if you've had a day of eating junk food then consider going for a longer amount of daily exercise.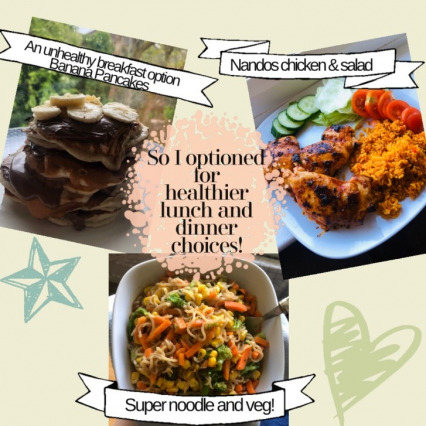 It is so easy to become fixated on trying to constantly 'be' healthy or eating the 'right' things, which is SO restricting and not kind to your body or your mind. Enjoy the treats and foods you love but also give something back to your body that it will thank you for, like drinking more water or going for a longer walk.
Little things like this can have a big impact on your mental health and outlook on being healthy overall.
How will you be more kind to yourself?
This post has mainly been about how I will practise self-kindness, but hopefully you will have taken something away from this challenge to help with your own application self-kindness. I will be continuing to challenge myself with being kinder and balancing out areas to work on.
Share with us your self-kindness challenges and any tips of what are working for you!
REMEMBER: If you are feeling low during lockdown, the university is here to provide support through the trained staff support teams. Read this blog to see full details of the support teams here at the uni.