TV Licensing in University Halls of Residence – 2017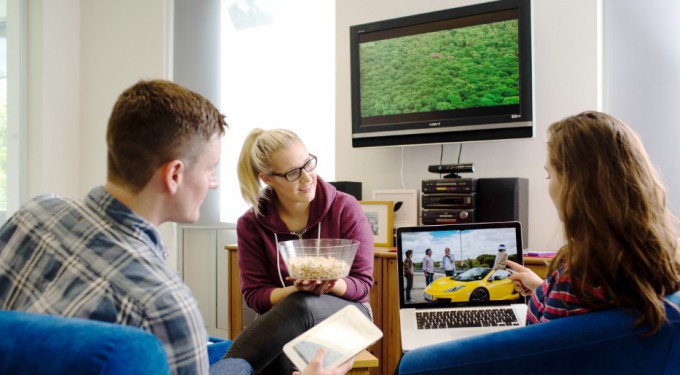 We've put together this blog to help you around the terms of a TV Licence if you're a student and you are moving into either University Halls of Residence or private accommodation.
Do students need a TV License?
You will need to purchase a TV License if you:
Watch or record programmes as they're being shown on TV or live on an online TV Service.
Download or watch BBC programmes on iPlayer live, on catch up, or on demand.
*It is important to remember this will apply to you no matter what kind of device you use, whether it's a TV, desktop computer, laptop, mobile phone, tablet, games console, digital box or Blu-ray/DVD/VHS recorder.
To find out more, go to tvlicensing.co.uk/studentinfo
Are students covered by a halls' of residence license or a parents' licence?
Some accommodation that the University provide have TV's setup in student communal areas. These TV sets are covered by the University, so if you find you have a TV in your halls' of residence communal areas, you are free to use these without having to purchase an additional license.
However, it is important to remember, if there is a TV in your halls' with a TV Licence, this will not cover you watching TV on another device in your room.
A halls' licence doesn't cover students in their rooms. You also won't be covered by your parents' licence either, unless you only ever use devices that are powered solely by their own internal batteries, and aren't plugged into an aerial or the mains.
How much does it cost?
A TV Licence costs £147 a year. You can pay it all in one go, or spread the cost weekly, monthly or quarterly. Once it's set up, the easiest way to manage your licence is online.
There is no discount or shorter length TV Licences available to students unfortunately. But you can get refunds. Find out if you are eligible for a refund or get more information about students who go home for the summer.
How can I buy a TV Licence?
There are lots of different ways to buy a TV Licence. Whether that's through weekly cash payments, using your nearest PayPoint outlet, spreading the cost with monthly, quarterly or yearly direct debit, credit/debit card or by post – just choose the one that suits you best.
For more information on the ways to pay, go to tvlicensing.co.uk/payinfo
What if I live in a shared house?
You'll probably only need one licence between you if you have a joint tenancy agreement for the whole house – this is the most common type of shared house arrangement. You might need your own licence if your accommodation is self-contained. That means you have exclusive access to washing facilities, or your own entrance to the property. You will also need your own licence if you have a separate tenancy agreement for your own room. If you're not sure, check our advice for tenants and lodgers.
What if I'm not at uni for the summer?
If you're leaving your halls or rented accommodation and moving back home for the summer, there's a good chance you won't need your TV Licence if there's one at home. You can see our policy and apply for a refund online.
What if I don't need a licence?
If you don't need a TV Licence, you still need to let TV Licensing know.
University Halls' of Residence with TV licenses –
We've put together a list of University accommodation that have TV's in communal areas and are covered by a TV Licence.
Northwood Court
Temple Hall
Lang Hall
Davidson Hall
Petros Court
College Court
Holmes Court
Oaten Hill
St. George's
Dover Street
Lanfranc
Find out more
If you still have questions about TV Licensing, you should take a look at TV Licensing FAQs where you can find all the answers in one place.