Top Tips on getting the most out of your IT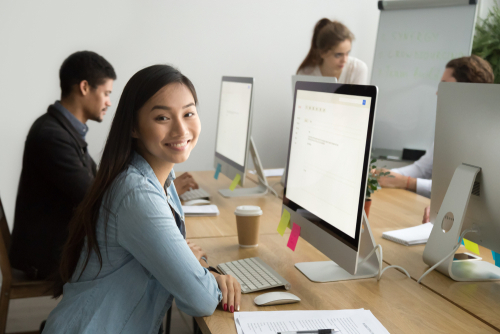 At first all the different IT services may seem a bit confusing but they are actual there to make your life easier!
So to get you started here are a few tips.
Get Connected
You get access to free Wifi when on campus via eduroam. Check out how here.
Download your free software
Everyone likes the idea of free things, that's why we've teamed up with Microsoft. Office 365 provides familiar and up to date tools  including Word, Excel, PowerPoint and much more. For more information on the software that the University provide, please click here.
Set up your email
Your University email will be the main way in which you are contacted so we've made sure that you can access your University email, calendar, tasks and contacts from the comfort of your own home. If you're always on the go, why not link your emails to your phone or tablet device? Visit here for further instructions.
Get to grips with Blackboard
Our Virtual Learning Environment, or VLE, is known as Blackboard. Blackboard is the online place to go to find academic materials for your course. Your programme team will post information, resources and activities on the Blackboard, all relating to your chosen programme of study. Your Blackboard will also be the place to go to submit assignments or essays via Turnitin.
Love your OneDrive
Did you know as a CCCU student, you have access to 1TB of free cloud storage with Microsoft OneDrive?
The great thing about OneDrive is that you can store all of your documents in one place and access your files from anywhere at anytime. You can also share your work with others and collaborate with easy-to-use sharing tools. Find out more
Check out the PCs & iBorrows
We are aware that not all students are able to bring in laptops or tablets, so we've made sure that we have plenty of open access areas with computers available for you to use, just to make things a little easier on you. You can access Find a PC via this webpage 
If you don't have access to your own laptop or PC, you can make use of our free iBorrow scheme. iBorrows are small, lightweight laptops available to borrow.
Ask for help
If you would like help with IT, including Microsoft Office, Blackboard and Turnitin, then visit the IT Hub in Augustine House. From 23 September they will be open daily 8.30am- 7.00pm and at weekends 11.00am -5.00pm.
They can also offer specific drop-in sessions and training.
Remember, you can always check out the i-zone FAQ's, Ask the i-zone, an online database of frequently asked questions designed to help you solve your enquiry about the University in an instant.