Time to Talk Day 2019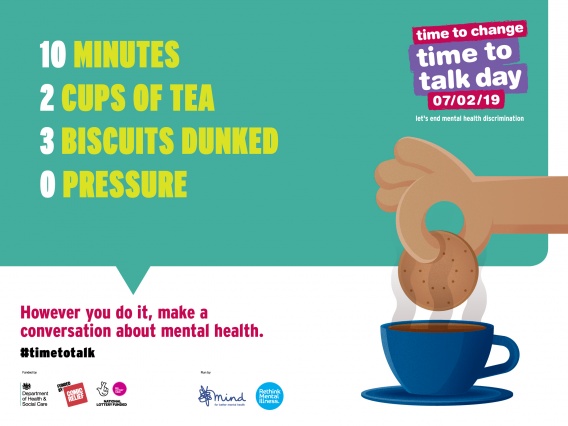 This week, on 7th February, we will taking part in Time to Talk Day 2019. A day to encourage everyone to talk about mental health.
The theme this year is all about bringing together the right ingredients to have a conversation about mental health. As part of the day, our Students' Union Sabbatical Officers will be hosting a drop-in at The Lounge between 11am-1pm where you can have a cup of tea, enjoy a biscuit and have an informal chat.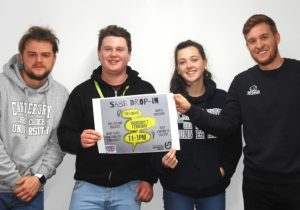 Mental health problems affect one in four of us yet people are still afraid to talk about it. For people with mental health problems not being able to talk about it can be one of the worst parts of the illness. So by getting people talking about mental health we can break down stereotypes, improve relationships, aid recovery and take the stigma out of something that affects us all.
We know talking about mental health is not always easy. But starting a conversation doesn't have to be awkward, and being there for someone can make a huge difference. If you're not sure how to get a conversation started, there are plenty of different ideas you could try. Whether you would like to open up to others about your own mental illness or support someone you know, here are just a few tips.
Need Support?
Our Mental Health Practitioners can help with general mental health-related queries and emotional distress.  They have a range of services they can offer including self-help resources and techniques to help with anxiety, stress and depression.  They can also refer individuals for counselling both within the University and externally.
Our Student Support and Wellbeing Advisers are here should you need someone to talk to. The advisers support students in making informed decisions through one to one conversations, be it related to personal, general wellbeing, financial, housing, or academic matters. For more information, including drop-in times and contact details, click here.
You can also informally meet the Student Support team for a chat and support at Chooseday Chill, every Tuesday in Augustine House Library between 5-7pm.
Our Chaplaincy also offers a safe space to take and discuss your problems in a non-judgemental environment. Never feel that your problem is too small or too large, or that you are alone in dealing it. The University Chaplaincy is there to support you, so get in touch if you need them. You can contact them on chaplaincy@canterbury.ac.uk or for more information, click here.
You can also informally meet the Chaplaincy at their Community Lunches, held every Wednesday in the Chapel between 12:30-2pm.
The Big White Wall  is a free 24/7 online service that allows you to get support, take control and feel better. It's a safe and anonymous space you can go to if you're feeling down, struggling to cope or just want to talk to people who understand what you're going through. Whether you want to speak to peers or a counsellor, there will be someone there every minute of every day.
The Samaritans on 116 123 and 24/7 Mental Health Matters Helpline on 0800 107 0160 both offer confidential emotional support and guidance.