Today current student, Jo, is sharing her top tips for uni packing…
For many people, university is their first time living away from home and, as such, it can be tempting to bring everything you've ever owned with you, even if it does weigh down the car. While the prospect of moving out and into a new place can be intimidating and send you into a packing frenzy, you definitely won't need everything you plan to bring. So, to save both time and strain on your suitcase wheels, I've compiled a short list of uni essentials and items which can be left behind!
DO: Home Comforts
Whether you decide to bring five blankets, a beanbag or your favourite lamp, bringing something from your old home can make the transition to your new home a lot easier. I personally brought far too many homely comforts with me, but it makes my room feel more like mine and definitely made the first few weeks a lot easier.
DON'T: A Printer
While it can be useful to have your own printer, ink can get quite expensive across the year. There are lots of easily accessible printing facilities across campus and dotted throughout Augustine House so you won't have any problems printing when you need.
DO: Photos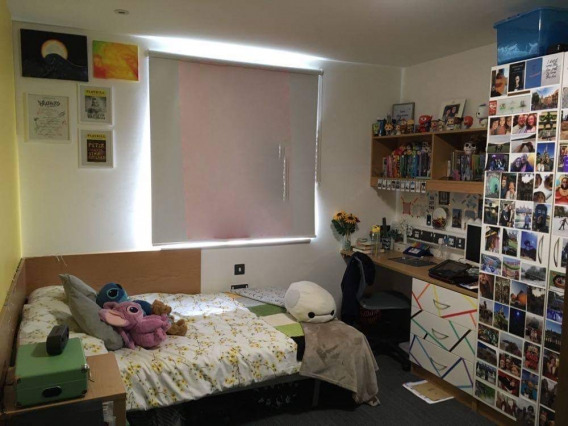 Photos are the easiest way to make a space your own.
Most student rooms have pinboards, but you can also bring photo frames or (if your accommodation allows) photos to stick on your walls and doors. You can get so creative and fill the empty spaces with new memories you make while studying,
DON'T: Your Entire Wardrobe
Socials, nights out, nights in, study sessions, day trips, interviews – with so many occasions, you may feel tempted to bring an outfit (or three) for every possible event. While you'll probably have enough space to fit everything in, consider leaving some of your seasonal wear at home in favour of something more practical and then switching your wardrobe out over Christmas.
DO: Important Documents
Between starting a new job and registering, there's a plethora of situations where you may need your passport, national insurance number or past grades, so it's always better to be covered than to have these panic-posted to you the day before you need them. Also, if you're a partier, remember your ID!
DON'T: Copious Amounts of Stationary
We're looking at the notebook collectors here. I'm so guilty of this one. When I moved in, I brought eight individual notebooks with me which was totally unnecessary – not only was this far too many for my subject (I haven't even made it through one yet!), but we have plenty of amazing shops in the area where you can pick up notebooks throughout the year as and when you need them.