The benefits of volunteering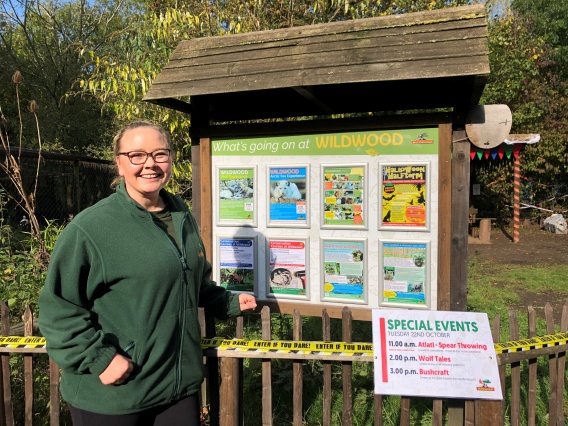 This week is Student Volunteering Week 2020! So one of our Christ Church Volunteers, Bekah, is sharing what she has gained through her experience of volunteering with The Wildwood Trust…
I'm a first year student and I have been volunteering at The Wildwood Trust since September last year.
My volunteering life didn't begin then, it started when I was 22 years old, when I joined up with Kent Army Cadet Force as a Cadet Force Adult Volunteer. I volunteered as an Adult Instructor because I had been a cadet in my teenage years, I knew the impact a positive role model could have on young people. Being an instructor with the Army Cadet Force was some of my favourite moments, I pushed myself completely outside of my comfort zone. I was put into situations where I was training young people, it lit a passion in me. When I was promoted to detachment commander in my volunteer role this added new layers to the skills I was learning.
The young cadets were positively impacted by my volunteering role as I was their port of call when they were having problems which were outside of their cadet life. The parents of cadets spoke with me if they were having problems with their children, and if I could monitor their behaviour.
I started university in 2018, and I found my return to studying hard – most of my time being spent in the library. Throughout last summer I worked at The Wildwood Trust and reignited my passion for educating people and talking to visitors; this is how my volunteering life began at the trust. It has helped my mental health significantly, it's given me something worthwhile to be doing that I want to do, that I do not have to do. It has opened skills to me that I thought I had obtained, it has allowed me to continue learning about subject matters that are not exclusively linked to my studies.
I would recommend volunteering to any student, not only because it adds to your employability but because it can add depth to your life that you did not realise possible.
If you've been inspired by Bekah's story, and want to get involved with volunteering, then head over to the Christ Church Volunteering pages to see what opportunities are currently available! You can also come along to one of the volunteer pop-ups and meet some of the local organisations and charities you can get involved with.