The Benefits of a Smartcard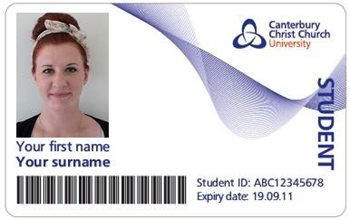 It is vital that you upload a photo as soon as possible, by doing so we can then have a Smartcard ready for you at your face to face Registration. There are many benefits to having a Smartcard.
Your Smartcard can be used for the following:
Mark your attendance at the University by tapping in at each class.
 Gain access to your campus library to borrow books (between your programme start and end date).
Gain access to Augustine House during extended opening hours.
Log in to print, copy or scan on University campuses.
Use it as a cashless card at catering outlets on campus.
Use your card for visual identification
Receive discounts on purchases at various high street stores.
Meeting the Smartcard Photo Criteria
Your Smartcard photo is your ID so needs to meet certain criteria (similar to Passport photos).  So when uploading your photo please make sure the following criteria is met:
In colour, and taken against a light background;
Taken recently;
Taken of you facing forward with your eyes open and clearly visible (with no sunglasses, tinted glasses or hair across your eyes);
Free from reflection or excessive shadows;
Of you on your own (no other people or objects in the photo);
Taken of the full head, without any covering, unless it is worn for religious beliefs or medical reasons;
Taken with nothing covering your face.
Student Attendance
Tap in every time with your Smartcard when you are in a seminar or lecture to let us know that you are here.
We want to help you make the best of your time with us by helping you achieve the best result you can get. Research has shown that good attendance leads to good outcomes. As a responsible institution, the University believes it has a duty to follow-up promptly on matters of non-attendance so that students can be supported and given every opportunity to succeed.
Way2Pay
Way2Pay is a cashless and secure payment system for food and drink using your Smartcard. You can load funds to your Way2Pay from any smartphone, tablet or PC using your login details and these will be automatically uploaded to your Smartcard. For further details contact way2pay@canterbury.ac.uk.
Printing
Across the University Campus we have many multi-functional devices (MFD). This is a combined printer, photocopier and scanner. Printing can be collected by swiping your Smartcard or by logging in with a CCCU username and password using the touchscreen. You will also need to login to use the photocopier and scanning functions.
The Library
Our print and audio visual items can be borrowed by anyone with a University Smartcard. Exceptions are journals and items marked as Reference, which can't be borrowed, and Special Collections, including theses, which are not available on open shelves. To borrow items you will need your Smartcard. Self-service machines are available at the Canterbury campuses.
Further Information
If your smartcard is lost or stolen, please contact the i-zone as soon as possible. Tel: 01227 922222. You will be asked to confirm that your delivery address (permanent or term-time) is up-to-date in our records. There is an £8 charge for lost smartcards and if payment is not received within 30 days the order will be cancelled. Once a lost card is reported to the i-zone it will be permanently deactivated. If your smartcard is stolen and you can provide a crime reference number, there is no charge for a new smartcard.