Take-Home Exams during Covid-19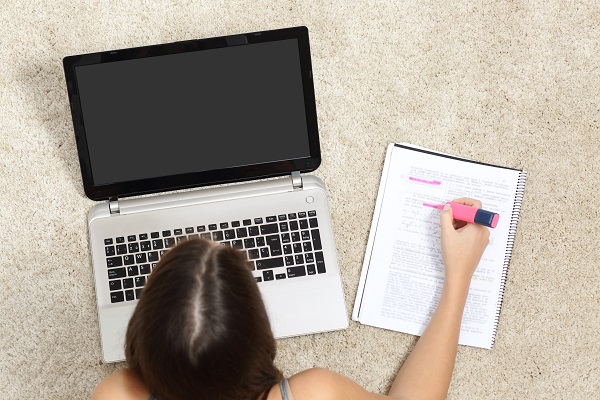 As part of our commitment to supporting our Level 5, 6 and 7 students through their assessments in these challenging times we are putting in place alternative forms of assessment.
Most formal exams that were due to take place as face to face exams will now take place as a Take-Home Online Exams.
What is a Take-Home Exam?
The exam will be similar to the formal exam you would have taken in-person and designed to be completed within the 2-hour or 3-hour time constraint normally given.
In most cases, you will have a 48-hour window within which to complete the Take-Home Examination and submit it. This will involve:
the examination paper being made available to you through your Module Blackboard
downloading the examination paper
completing the examination on your own computer
submitting your completed examination paper through Turnitin
We hope the additional time will support all students to complete the assessment on time, allowing flexibility to fit the exams in around other commitments and responsibilities and enable all of you to demonstrate your full potential.
There will be some shorter duration take-home exams where PSRB requirements apply; the exam timetable and exam coversheet will confirm the duration of your exam so it is important you check these.
What are the dates for Take-Home Exams?
For the examinations due to take place in the semester assessment weeks at the beginning of May, a timetable of the Take-Home Examinations will be made available to students on Monday 6 April.
For examinations due to take place outside of these assessment weeks, the Take-Home Examination date will be communicated to you by your Programme Team.
Where can I access resources and support?
We know that many of you are concerned about completing your assessment without access to the Library. The setting of your assessments has taken this into account and considered what resources you can access online.
Our digital library has thousands of e-books and online journals as well as databases and multimedia tools to cater for your study needs. These can be accessed via LibrarySearch and if you have any questions about finding online resources your Learning and Research Librarian can be emailed on learning.research.support@canterbury.ac.uk. The Library Team are also available to support you, if you have any queries, please do not hesitate to contact them via library.canterbury@canterbury.ac.uk.
In addition to your Personal Academic Tutor, the Learning Developers are on hand to provide remote study support, tutorials and advice via email: learner@canterbury.ac.uk. You can also request a peer mentor, as an online study buddy, by emailing: peermentoring@canterbury.ac.uk
There is a new revised Extenuating Circumstances process, in acknowledgement of the unprecedented times we are all working in, making it easier for you to apply for the number of extensions you might need – this covers Take Home exams.
Where can I find out more information?
For full details on Take Home Exams including FAQs and details for student on Learning Support Plans please click here.
Look out for tips and advice on Take Home Exams from next week…
---