We're ending Academic Development Week with some final study advice from our lovely student peer mentors…
Study advice from Jenna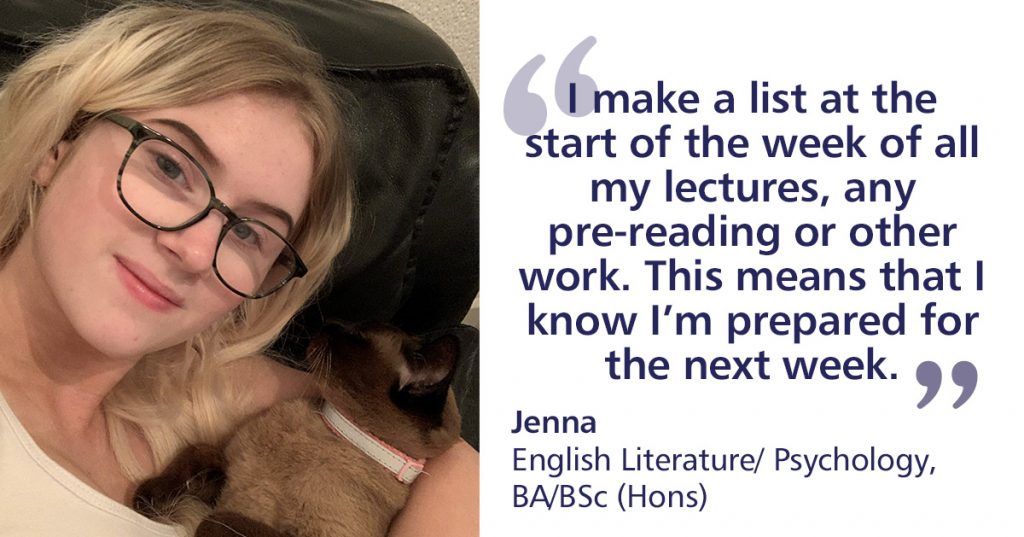 "A tip that I would have for students is to stay on top of work, I make a list at the start of the week of all my lectures, any pre-reading or other work. This means that I know I'm prepared for the next week."
"Working in a blended environment (online/in person) is difficult, even as a third year student! A tip that I would give is to have a work space, wake up, have breakfast and get dressed so that you're mentally prepared for the day."
Study tips & tricks from Anastasia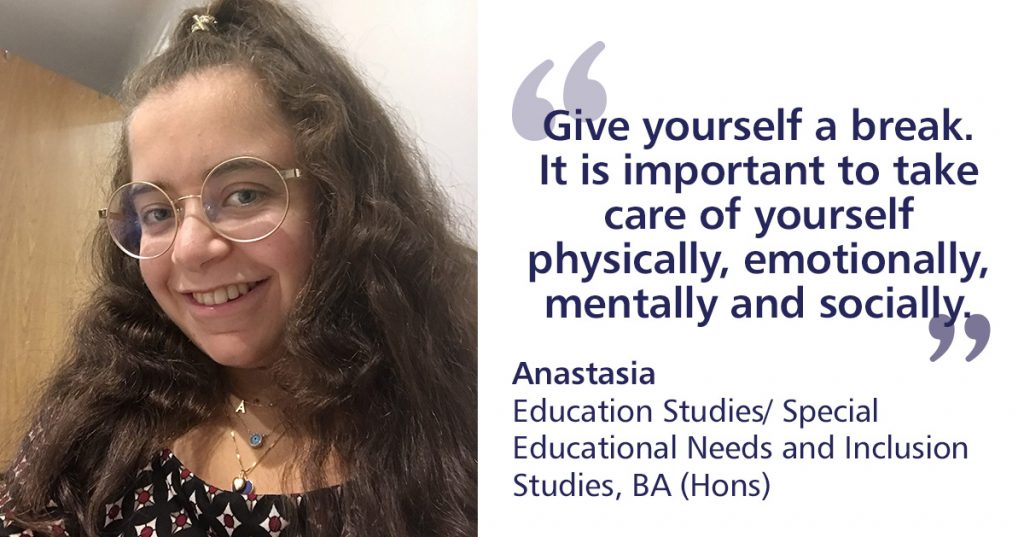 Read Anastasia's full blog post here – covering her 7 tips & tricks… From developing your own way of organisation to always asking questions- make sure you check out her study advice!
Emmanuela's study advice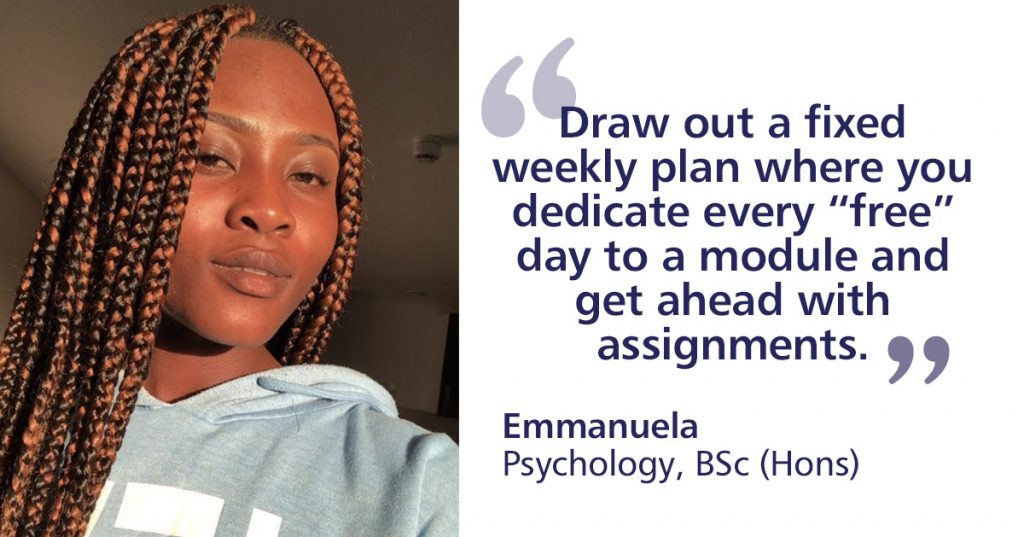 "Be "friends" with your lecturers. Don't let their positions intimidate you, they are just as humans as you. Let them know you by name, stand out!"
"For the blended learning, draw out a fixed weekly plan where you dedicate every "free" day to a module and get ahead with assignments."
Laura's blended learning thoughts & advice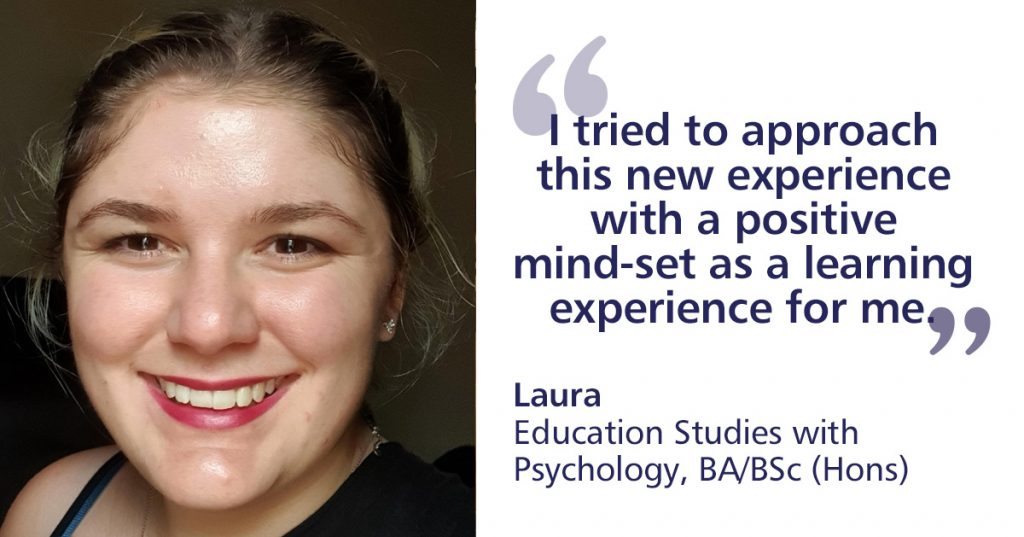 Read Laura's full blog post here – and find out what she has learnt from blended learning so far, and what skills are beneficial for successfully learning in a blended environment.
Advice from PhD student, Akila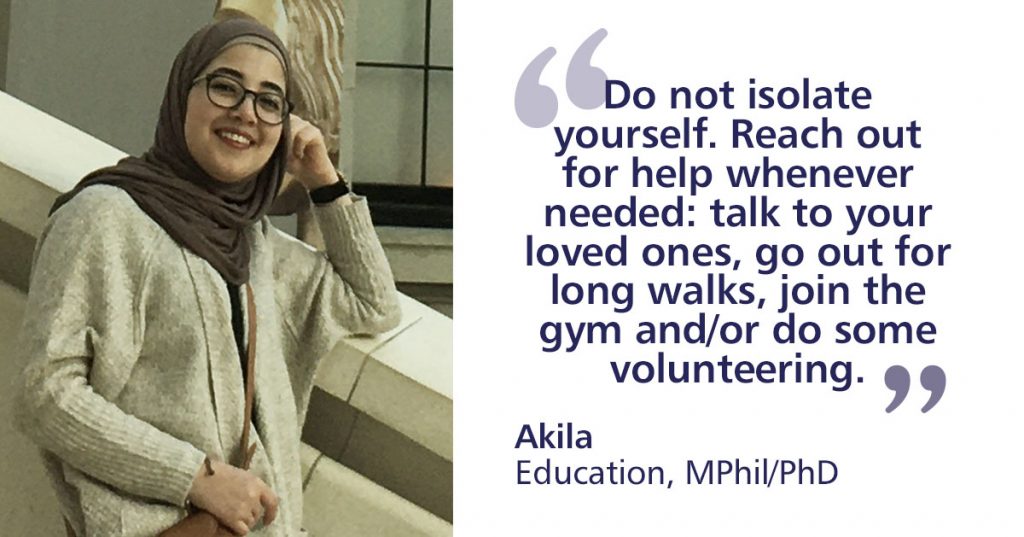 "Be kind and share what you have learned! I genuinely believe that being kind and caring for others is a key advice. In a highly competitive world, we tend to forget to look out for each other, and see if anybody needs a helping hand. Caring for colleagues has never diminished my ability to do well in my PhD."
"Constantly engaging in discussions with colleagues about research has been the best help I could ever get during my PhD."
"Time management is key. Working with a timeline and dividing the work into small chunks helps reduce the stress over not finishing assignments on time."
"Looking after yourself is as important as succeeding in your course."
"Do not isolate yourself. Reach out for help whenever needed: talk to your loved ones, go out for long walks, join the gym and/or do some volunteering. There are loads of opportunities out there for you to take… just take the first step!"
Remember that there's support available all year round for Christ Church students. From connecting with a peer mentor to talking to a Student Wellbeing Adviser and discovering online resources to accessing your Learning Skills Hub… Find out more.