Student Volunteering Week 2020!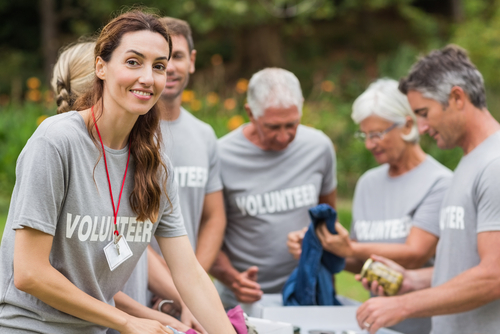 This week is Student Volunteering Week 2020, and we're showcasing the positive impact of volunteering, and giving you ways that you can get involved!
Why not come along to one of the volunteer pop-ups happening in Touchdown, Laud, during SVW2020? Meet local organisations & charities and find out what they do, and how you can volunteer with them:
10 February – Hestia and Imago (also in Medway)
11 February – Buster's Book Club (part of The KM Charity) and SNAAP
12 February – The Horsebridge Centre
13 February – Home Start Ashford and Kent, Surrey and Sussex Rehabilitation Company (KSS CRC)
14 February – Pilgrims Hospices
And the great news is that these pop-ups will continue throughout February & March!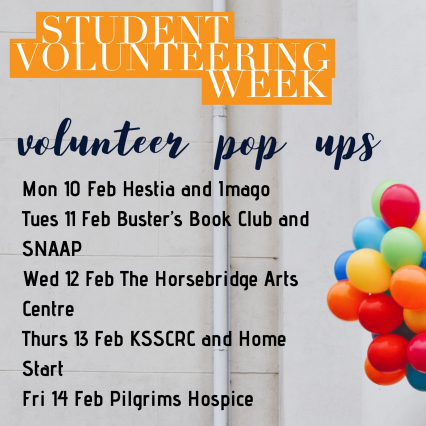 If you're over in Medway, you can attend the GKUnion SVW Social! Happening in the Deep End Social Space between 12pm-1pm on 10 February. There will be free food! Email volunteering@gkunions.co.uk so they know what numbers to expect.
You can also check out the Christ Church Volunteering webpages for the latest volunteering opportunities! And if you already volunteer, remember to log your hours via the Christ Church Volunteering site…
And if you want to volunteer within the University, why not help with the Christ Church Sport Row Britannia Challenge! For Sport Relief 2020, we have committed to row 2020 Miles by Friday 13th March. Rowing Machines will be moved around the University from Thursday 13th February… And they need your help in engaging with participants on the days! Volunteers do not need any previous experience in Sport or Physical Activity.
Interested? Apply here.
Finally, make sure you keep an eye out on social media for blog posts & videos throughout the week from our wonderful Christ Church Volunteers about why they enjoy volunteering!