Student Surveys for All Undergraduate and Postgraduate Now Live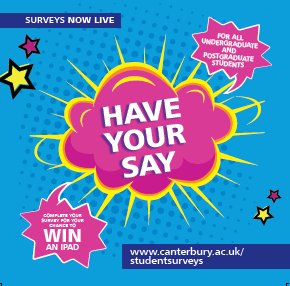 The official main Student Surveys are now live. If you are an undergraduate or a postgraduate student, then please take part.
This is your chance to tell us about your time at Canterbury Christ Church University and shape your future. Tell us about what works and how we can build on our successes as well as areas where we can improve. The results will help the University decide what changes need to be made both in general and for your programme. Click here to see the impact the surveys made last year to your student experience.
Some of the results are also used nationally to compile university league tables, and are published on the Unistats website to help future students decide on their choice of University.
And if that is not reason enough to fill in the survey there is a chance to win an iPad for those who participate.
So don't delay and have your say today.  Click here to go to your Student Survey