#StressLess Winter 2019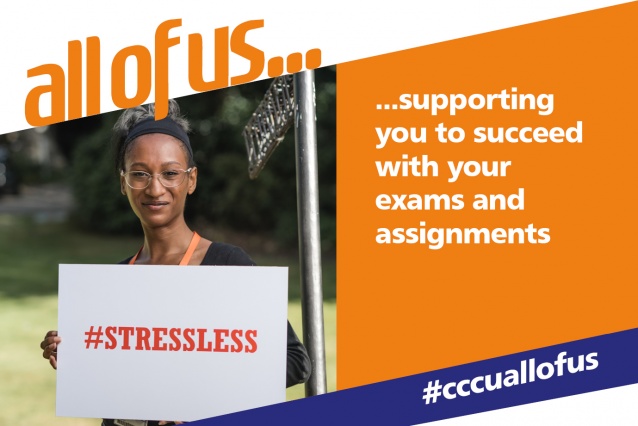 #CCCUAllofUs are here to support you to reach your potential in your exams and assessments.
The Library is now open 24/7. You have been given your first main assignment of the year and are starting to think about your exams, but don't panic – we are here to help you #StressLess and achieve more!
Below is just a taster of what's on offer during #StressLess – so make sure you follow us on social media for more updates on what's going on.
Events for your Diary: 18 November – 13 December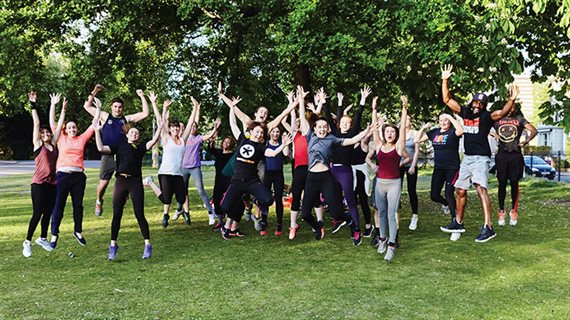 Mondays
Neck and Shoulder Massages 12.30 – 2.pm
When studying for exams, it's common to suffer from tension in your neck and shoulders; posture and carrying heavy bags can also combine to make the problem worse. However, you can ease the pain with a remedy available literally where you study. Our express neck and shoulder massage will get to the core of your tension and ease it gently. Simply visit our masseur in the Augustine House Atrium space on the 2nd floor of the Library for your free #StressLess massage.
Bootcampus, 1.15pm-1.45pm Daphne Oram Building
Refresh with this free fitness Boot Camp style class, involving an outdoor workout designed to build strength and fitness through a variety of exercises that mix traditional calisthenic and bodyweight exercises, with interval and strength training.
Tuesdays
Chooseday Chill 5-7pm, Augustine House
What better way to relax and take a break from studying than chatting with friends over tea and toast and board games. Look out for our therapy dogs who make guest appearances!
Wednesdays
Wellbeing WorkshopsThe Wellbeing Workshops have a range of workshops to help you manage stress, balance your wellbeing and calm your busy mind. On every Wednesday between 2.- 4.pm and held at Augustine House, AHg.56.
Lunchtime Concerts, 1.10pm – 2.pm, St Gregory's
It is generally accepted that listening to music can have a positive effect on your mood and motivation! So what better way to take a break than enjoying some music at St Gregory's Centre for Music. With a varied programme, there is something to suit everyone's tastes:
Community Lunches 12.30pm – 2pm, Chaplaincy
Come along for some soup and a chat anytime between 12.30-2pm, in the Chapel in Anselm, for just £1.
Thursdays
Bootcampus, 12.15pm – 12.45pm, round the back of Augustine House
Another chance to enjoy this free fitness Boot Camp style class this time at Augustine House – so why not take a break from the Library. 
Other Events not to be Missed…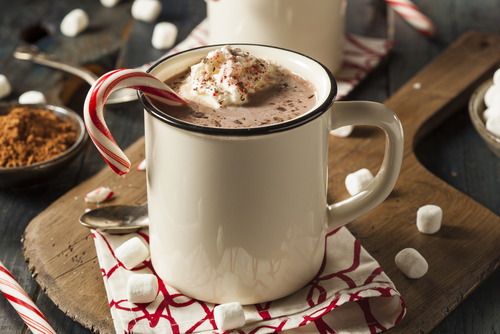 Nightline Bird of Prey Display, 18 November, Anslem Lawn
Nightline is bringing the Birds of Prey back on campus to promote their amazing student listening service who are there to support students when they are feeling anxious or worried and just need someone to talk to. The symbol of Nightline is an owl, so what better way to raise awareness than through these feathered friends.
StressLess with the Library Team
The Library Team are putting on a series of events on the second floor of Augustine House in the StressLess Area to give you a break from your studies!
Hot Chocolate: 22 November, 11-12pm
Back by popular demand! Give yourself a hot chocolate pick-me-up with the Library.
Biscuit Decorating: 29 November, 11-12pm
Join the Library Team for some fun biscuit decorating
Sustainable Christmas Craft Workshop:with Student Green Office and Eco Student Society 3 December , 3-5pm
Hot Chocolate: 6 December, 11-12pm
Back by popular demand! Give yourself a hot chocolate pick-me-up with the Library.
Create your own Christmas decorations: 13 December, 11-12pm
Get in the festive mood by creating your own Christmas decorations with the Library.
Career Wellbeing
The Careers and Enterprise Hub are looking to help you #StressLess not just with your assessments but when you think about your future career with a range of workshops:
27 November, 1-2pm: Career Wellbeing in… Interviews
Mandy (Student Support Health and Wellbeing) and Susanna (Careers & Enterprise Hub) will be leading a session thinking about the interview process in the context of your mental health and wellbeing.
6 January, 1-2pm: 2020 Vision
Join us in this discussion-based interactive workshop to refocus your mind for the year to come, and find your own steps to put in place to make this year work for you.
20 January: Practical steps to Enhance your Work Wellbeing, 1pm
Helen Kirk-Brown, Director of Hays Recruitment in Education, will be running a workshop focusing on achieving mental wellbeing when starting your career.
Augustine House Library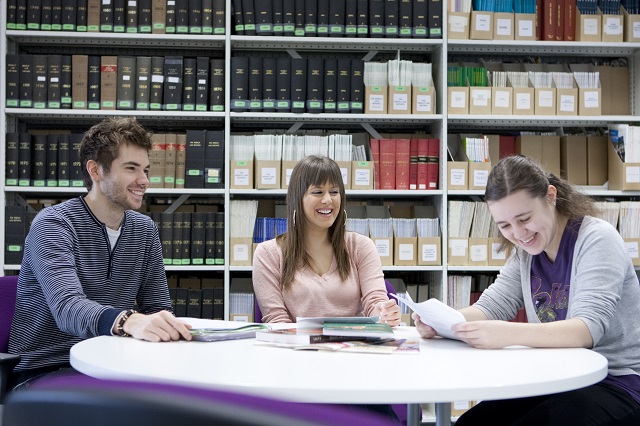 As you know, the Library has gone 24/7 in order to support you in the lead up to your end of semester exams and assessments. The Atrium Café will be open later rom 6.-10.pm (Tuesday- Friday) if you need refuelling during late night studying.
In addition, the space at the back of the Library, on the Second Floor, will have comfy bean bags, board games, crafts, colouring and many more activities for you to enjoy the perfect break from all that studying.
The Get Up and Go area on the First floor at the back of the building, with the exercise bike, will help you keep both your body and mind active. Also check out the virtual yoga classes!
And don't forget the different study zones – from silent to group, there is a space to suit different studying styles and needs.
Drill Hall
Drill Hall Library is open till midnight (except over Christmas) and offers a range of activities and events on Medway Campus to support your learning. From essay writing to critical thinking, from assignment feedback to finding resources, there is extra help with your studies available.
Study Skills Support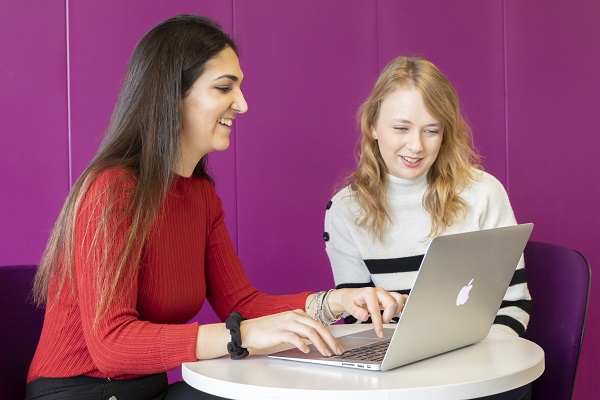 From your Digital Library to online study resources via Skills4Study there is lots of support to help you hone your academic skills and get those grades you need.
Don't forget to make use of the Productivity Software through IT, including free tools, apps and software that can save you time, make your work easier, and increase your productivity. There is information on note-taking, writing, time management and more!
Our Student Learning Developers and Research Librarians offer a range of study skills support at both Canterbury and Medway campuses. And don't forget our Peer Mentors who can provide help with problem-solving, study skills, exam techniques and preparation of coursework, assignments and presentations.
In additions, for Medway students, the Drill Hall Library offers a range of study skills workshops from effective essay writing to referencing, from researching to using databases.
Wellbeing Support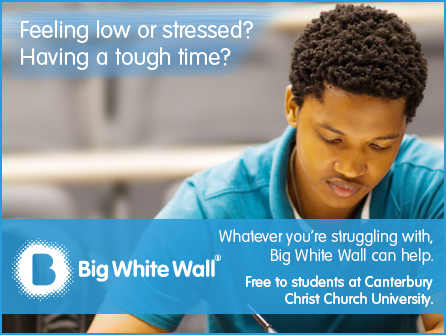 It is only natural to feel anxious during assignment and exam times, but if you think things are getting too much for you or your friends it could be good to talk to someone about it.