#StressLess: From Arts & Crafts to Academic Support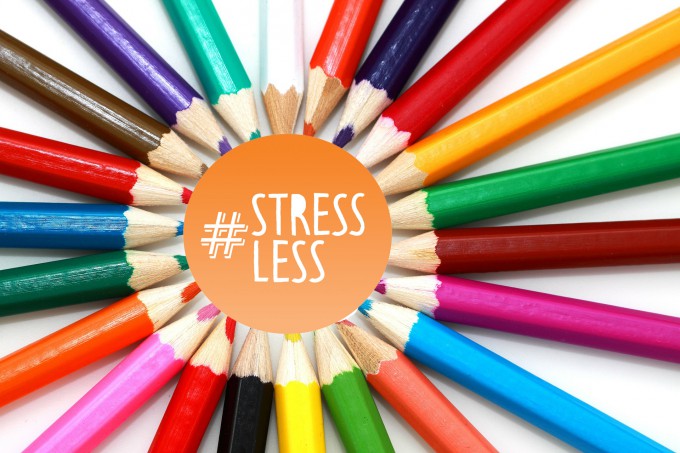 #StressLess is back. The University has been working with the Students' Union to help you do the best you can in your exams and assignments. Together we want to make sure you #StressLess and achieve more. We have lots in store to provide you with extra support, much needed breaks and to share best practice and tips over the coming weeks.
Below is just a taster of what's on offer during #StressLess – so make sure you follow us on social media for more updates on what's going on!
Augustine House Library
As you know the Library has gone 24/7 until 18 May in order to support you in the lead up to your end of semester examinations and assessments.The only exception to these dates are Good Friday, 30 March, where the Library will only be open 9am-5pm, and Easter Sunday, 1 April, where it will be closed. For more information read our blog post.
From Monday, the open area and terrace space on the second floor in AH will offer you the opportunity to take a break and do something fun and different. Back by popular demand there will be plenty of games, puzzles, colouring books and crafts available to use. Bean bags, sofas, relaxing music and an airdome will also provide you with the perfect place to relax. Recreational DVDs, wellbeing and study skills resources will also be at hand as well as display boards highlighting the additional wellbeing and academic support available within the University.
The Library will also be scheduling craft sessions, drawing sessions and biscuit decorating activities – so watch this space!
Broadstairs Learning Centre and Drill Hall Library
–  The Broadstairs Learning Centre will be setting up a small area in the foyer of the Learning Centre with some crafts, colouring books, games and puzzles to help you take a break and relax.
–  Drill Hall Library is also organising a range of activities and events throughout March, including a series of 'Give It A Go' activities- Art Class: Calligraphy, Escape Room, Dance Class: Waltz and Ice Skating. They also have their Medway Wellbeing Festival on 20 March at 12-3pm in the Student Hub. Find out more information by following @drillhalllib on Twitter and looking out for #headspace.
Academic Learning Development
There is plenty of support through Academic Learning Development on offer, including a series of workshops on writing better (see our Student Events Calendar for dates and how to book) and Getting the Grade you Want, some great online resources and more! Also check out Skills4Study a free online resource that can help you hone your academic skills.
Support for Your Wellbeing
Digital Support: Information Hub, Wellbeing App & Productivity Software
Make sure you check out the Information Hub for #StressLess, which will provide you with plenty of information on looking after your mental wellbeing during this time, and in supporting you in your studies.
If you haven't already, now is also the time to download the FREE CCCU Wellbeing App to get support and tips on how to keep healthy and manage stress. To download the app click here

, then click 'Register' and use the code: CCCU1. 

Make use of the Productivity Software through IT including free tools, apps and software that can save you time, make your work easier, and increase your productivity. There is information on note taking, writing, time management and more!
Top Tips!
Finally, we will be sharing YOUR top tips on how to #StressLess each week via our social media channels (Twitter- @CCCUStudents and on Facebook- CCCU Students). Here are some to give you a taster:
Keeping active through sport, going to the gym and walking
Spending time with friends and family
Taking some time out to listen to music
Meditating, doing some yoga and being mindful
Doing some fun activities! Such as baking, playing board games, colouring and painting
Finally make sure yo know the Dos and Don'ts of Exams  – because being prepared will help make things go smoothly!.