Happy New Year! We hope you all had a restful and comfortable Christmas break, but we are aware not everyone may have. Some of you might not have had the best break due to the pandemic or having felt isolated for other reasons. You might be feeling differently about returning to Uni now you have had some time away to think. Not only that, many of you will be completing your end of semester assessments, which can be a stressful time for anyone. Combine all this with the dreary weather and January can sometimes feel a bit oppressive. While we can't change the weather, we can try to help with everything else so, let's warm things up this winter.
Try something new, access support and connect with others…
First, if you're struggling personally, head over to our Connect Hub and you'll find plenty of resources to help. There are links to our Student Wellbeing Service, Christ Church Sport and Active Health and the Chaplaincy who are all ready to provide support however you need it. Or if you want something to do, places to go or people to see, check out the Connect activities calendar where you can keep active and social with Chooseday Chill, Creative Connections or even dog walking. You can also make the most out of Personal Development Week, between 24 – 28 January, which will provide you with the opportunity for personal reflection, to broaden your horizons and look to the future. In addition to all this we wanted to make everyone feel a little more connected while most of us are still off campus or hunkering down away from the cold.
#CCCUWinterWellbeing
#CCCUWinterWellbeing is a hashtag driven by our Connect programme that we'd like you to contribute to and help us all stay connected this month.
We're all on social media throughout the day now so why not use that time to remind yourself why we're all here? Post a picture of something from Uni that keeps you warm (literally or figuratively) during the winter. It might be an old comfy blanket or it might be your friends. What are you looking forward to coming back to in the new semester? What are you glad to leave behind?
There's a huge community of students and staff here at Christ Church and sharing our stories is a great way to help shield against the winter blues. So write a tweet, post a story, shoot a TikTok and show us all what's keeping you warm right now and what you're looking forward to this year. Then, if you're feeling down or having a wobble about what's next, just click on the tag in whichever social site you are on and remind yourself you're not alone.
Be inspired!
Lucy from the Careers & Enterprise Team shares what helps her fight the winter blues…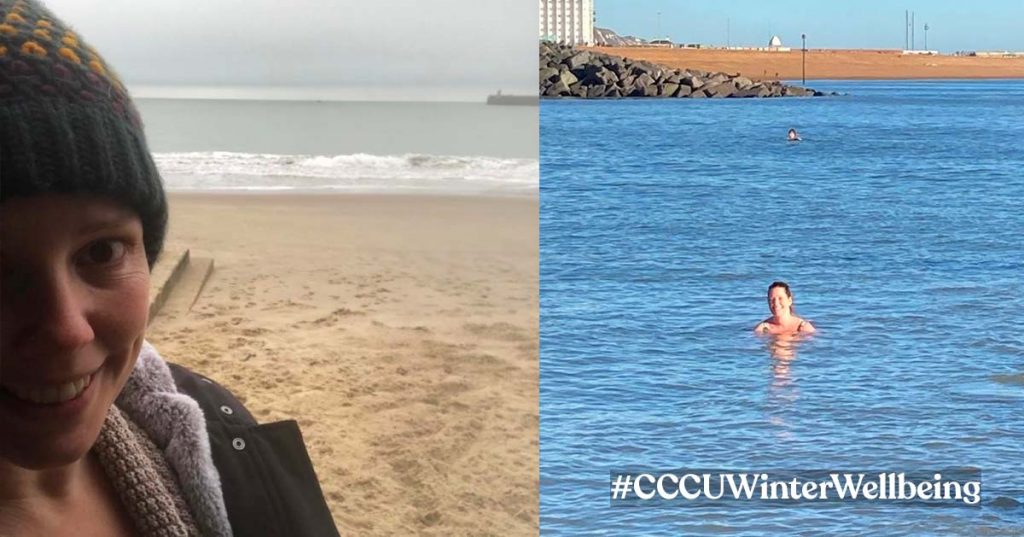 "Since having my second child right in the middle of the pandemic, I've suffered a bit with low energy, mood and some anxiety. I'd heard how great cold water swimming is for mental and physical health, so in October I decided to join my friends for a dip in the sea and now I'm hooked! Something about the icy cold and the amazing views really makes you focus on the moment and I always feel so energised and focused afterwards. It's not a cure-all but it's great to have it as one of the tools in my wellbeing toolkit. I go with a couple of friends once or twice a week, but there are Facebook groups in most coastal towns for anyone who wants to give it a go; it's a lovely community!"
This winter, Stay Warm. Stay Connected. #CCCUWinterWellbeing