Staying Safe at CCCU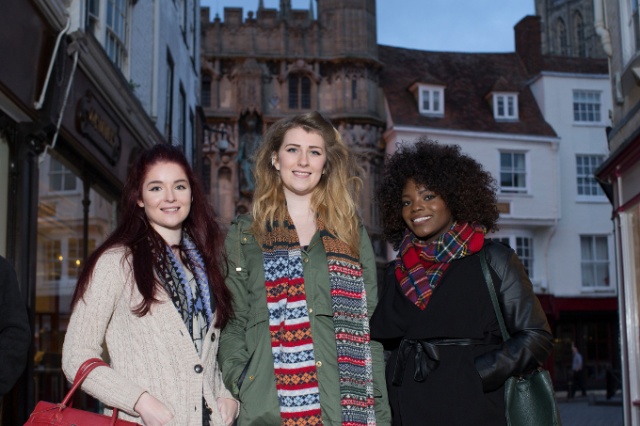 Whether a new or returning student the start of the academic year can be exciting and we want you to enjoy your time safely  – so here are some tips on looking after yourselves and your mates.
Try to think ahead. Make sure someone knows where you are going, who you are meeting and when you expect to return.
Avoid walking home alone at night and stick to well-lit streets and busy areas.
Be alert. At night don't walk listening to music or chatting on the phone.
Stay in pairs. Share a taxi with friends and agree to text or phone each other when home safely.
Always plan how you are going to get home. Check the times of the last train or buses. Carry the telephone number of a trusted, licensed taxi or minicab company with you or have a suitable booking app available on your phone.
For more advice on personal safety as a student visit the Suzy Lamplugh website
Safe Night Out in Canterbury
As a Purple Flag destination, Canterbury prides itself on its vibrant night time scene that is fun and welcoming and to help you enjoy the city safely we have:
Night Time Lit Routes Map
Check out this online map which highlights the well-lit routes in the City. Don't forget that there are CCTV cameras in all the subways which are monitored 24/7 for your safety.
Pop Up Safety Hubs
Pop Up Safety Hubs, co-ordinated by Canterbury City Council, will be set up on the evenings of  Thursday 19 and Friday 20 September outside McDonalds in St George's Street, to welcome new students to the city, provide local information and give advice on how to stay safe on a night out.
Zero Tolerance
This is an accreditation scheme, led by Kent Union and funded by Kent Police. So far 19 premises in Canterbury's night time economy have signed up to the scheme to demonstrate that they have a zero tolerance to sexual harassment. The staff at these premises have had training on how to tackle harassment and unacceptable behaviour. They also operate the Ask Angela Scheme – this encourages people to discreetly ask for help by going to the bar and '

Ask for Angela' – a phrase aimed at alerting bar staff so they can help defuse the situation.

Street Marshals
Say hello to our Street Marshals who here to help you get home safety on your nights out. For more details on the areas and times they cover visit  canterburystreetmarshals.org .
Safe Taxi Scheme
This scheme allows CCCU students who find themselves in a vulnerable situation to reach their student accommodation or another destination, such as a Police Station or local hospital, quickly and safely. Students can request a taxi through the scheme even if they do not have the funds to pay the fare at the time of booking, as fares can be paid later on via  the CCCU Online Shop. You need to register for the scheme here in order to access it later but only  in an emergency and if you really need it.
Safety on Campus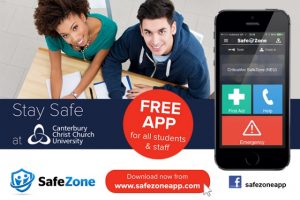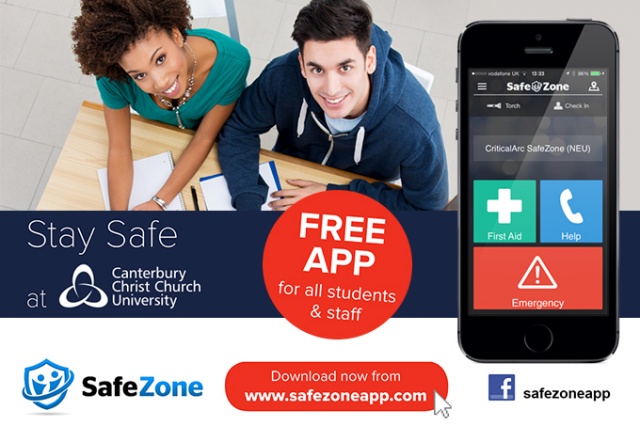 You can download SafeZone, a free  app for students that connects you to the University security team if you or friend ever need urgent help, first aid or if you have an emergency while on any of our campuses. Click here for details .
If you need any extra support or have concerns about your safety while studying at Canterbury Christ Church University, contact our trained specialist Student Support and Wellbeing Advisors on 01227 782675 or by email studentwellbeing@canterbury.ac.uk.