Pride month round-up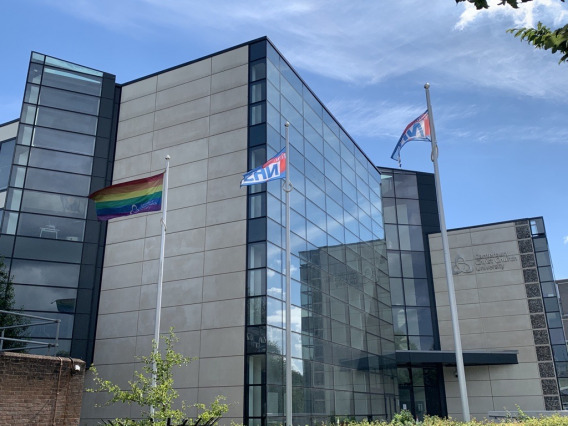 As Pride month comes to an end for another year, it's a great opportunity to reflect on how the Canterbury Christ Church University community has come together virtually to celebrate Pride.
Written by student blogger Jo.
As an inclusive community, part of our duty is to create a fair environment in which everyone is treated with dignity and respect, so it's really exciting to be able to celebrate something so pivotal.
In 2019, the university sponsored Canterbury Pride, and while they were unable to do so this year as the event was cancelled, the uni has been hard at work supporting students and staff, who are now located all around the world.
Here's a roundup of what the Christ Church community has been doing this month:
LGBT+ society
This month, the CCSU LGBT+ Society has been collaborating with other societies to show the impact of the LGBT+ community on every aspect of life, including MidSoc with whom they did a collaboration answering queries about trans parenting and discrimination in hospital, surrogacy and other crucial questions.
For the past week, they have also been sharing content from their members explaining 'what pride means to me'.
Check out their Instagram to see the posts and watch the highlights.
CCCq staff network
Additionally, the CCCq staff network have been sharing inspirational figures in LGBT history, sharing useful and important resources and also celebrated GlobalPride 2020 online on Saturday 27 June.
They also proudly announced that the University would be adopting the Progress Pride flag, showing support for everyone.
Check out their Instagram to see posts and watch highlights.
Support all year round
Representation of the community isn't limited to June – between societies, networks and community efforts, Christ Church offers support all year-round.
In February, LGBT history month celebrations took place in the library around the theme of 'Prose, Poetry and Plays', promoting a series of works by queer authors, poets and playwrights throughout history. Read the library blog.
Additionally, there is year-round support available through the university ensuring equality and fair treatment for all students and staff.
So, while this month's Pride celebrations have been unconventional (to say the least!), the staff and students have been making sure that all groups, especially the LGBT+ and Black communities, are heard and supported in every aspect of life.