Personal Development Week, starting on 25 January, is a great opportunity to get involved with the wider Christ Church community, make new friends and support each other. To help you reconnect and broaden your horizons we are offering you a range of different activities, to suit different interests.
Get involved:
25 & 26 January: Become a Peer Mentor Online Training Session
If you want to become a Student Peer Mentor and help your fellow students, please attend the 2 live sessions which will show you how to be an effective mentor. Once you have completed the 2 live sessions you will be required to complete some self-directed training in your own time to become a peer mentor. For further information and to book a place email peermentoring@canterbury.ac.uk
26 January: Kent Wildlife Trust Volunteer Opportunity
Can you spare one hour to help Kent Wildlife Trust (KWT) develop their website? KWT are keen to ensure their website appeals to a broad range of users, particularly young people, and want to hear from students . Being part of the focus group, your opinions will be valued and heard, and help inform a live communications project. So whether you have an interest in wildlife and conservation, communications and PR or just want to offer your perspective on what makes an online presence engaging, this session will be an opportunity to develop your own communication skills and learn from the professional communication managers. 
27 January: Students' Union Refreshers Fayre
Find out how to get involved through sports, societies, elections and much more with the SU! This event is open to all students, no matter what year you're in, so please come along.
27 January: COVID-19 Community Champions workshop
Would you like to work with NHS and Public Health in Kent and Medway to combat the spread of Covid-19? You can become part of the Community Champions network and find out how you can influence the communities you are part of, the help protect their health and wellbeing. The spread of Covid-19 is affecting us all and with your help we can improve the communication of important information to promote good health. Your studies may be linked to health care, communications or marketing or you may be active on social media or be a social influencer.
31 January – 7 February: Students' Union Among Us Tournament
Join a unique Discord server to meet new people and try your hand at the most popular game of 2020
BAME Student Network Events:
The Canterbury Christ Church BAME Student Network are also hosting events during the week. The network provides a space for Black, Asian and Minority Ethnic students to support each other throughout their studies, network, discuss challenges and promote race equality and diversity.
25 January: Developing Critical Writing Skills 
The workshop will be broken down in to two parts:
Part A: Write before you write: Demonstrating criticality in writing (A Student Perspective)
Part B: Developing critical writing skills: An introduction to your Learning Skills Team
27 January: Surviving through the Pandemic- Home Away From Home
We understand that the current global pandemic has had and will continue to have a significant impact on students' learning, physical, emotional and mental wellbeing. The impact of this can be even greater if you are an international student. During this session you will share our experiences and provide tips on how you can succeed in your studies.
More ways to connect- on demand: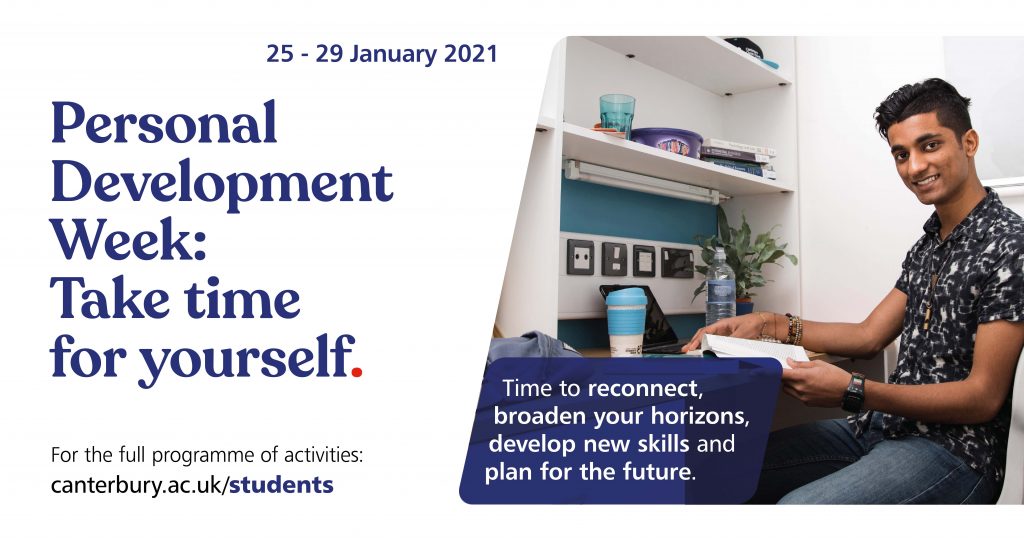 Reflect on your learning so far, try something new, build your confidence, set future goals, and reconnect with the wider Christ Church community.