New Safe Taxi Scheme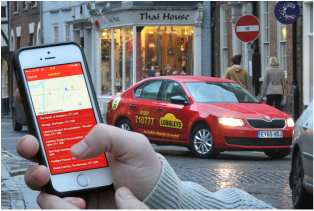 As part of CCCU's commitment to the safety of its students, we are delighted working with the Students' Union, to be launching a Safe Taxi Scheme for Canterbury.
In partnership with Longleys Private Hire, a local taxi firm, the scheme allows CCCU students who find themselves in a vulnerable situation to reach their student accommodation in Canterbury or another destination, such as a Police Station or local hospital, quickly and safely. Students can request a taxi through the scheme even if they do not have the funds to pay the fare at the time of booking, as fares can be paid later via the CCCU Online Store.
All students need to do is sign up to the scheme in advance – so they know that if they ever find themselves in an emergency situation they will be covered.  Registration is free, quick and simple and all students who register will be entitled to discounted taxi fares on all journeys with Longleys – but but you are under no obligation to use them.
If you ever need to use the scheme make sure you ask for the Student Safe Taxi Scheme when you book the taxi.  You will be given 7 days to then pay the fare.
For peace of mind and for discounted taxi fares please register with your name and university email  by clicking here