Megan wins at KUGB Southern Regional Championships!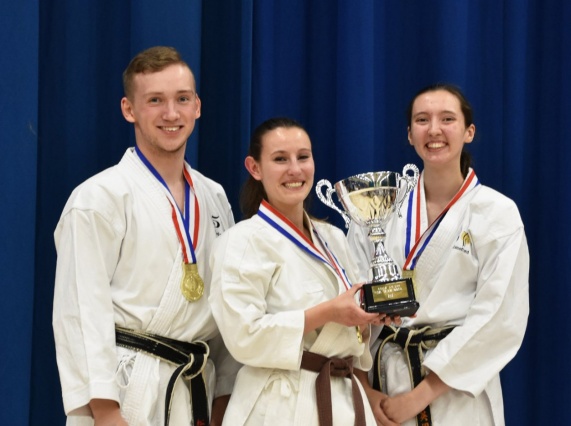 We're sharing a good news student story this Friday! Megan, a CCCU Digital Media student, has recently won a series of medals competing in the Karate Union of Great Britain (KUGB) Southern Regional Championships. Here's her story…
I've been training since I was 10 years old at Chelmsford Shotokan Karate Club, which was founded by my nan and grandad, Dot and Charlie Naylor, and is now run by my parents, Richard and Jane Naylor-Jones. I graded to black belt in 2014 and to my 2nd Dan in 2016. I will hopefully be taking my 3rd Dan next year as I turn 21. I am currently still training at Chelmsford SKC when I am home for the summer, but whilst at university I have been training under Sensei Debbie Robertson and Sensei Bob Rhodes, one of the most senior instructors in the country, at Canterbury Christ Church University Karate Club.
I was the first person in the entire Karate Union of Great Britain (KUGB) to complete Gold, Silver, and Bronze level of the Young Leader Program, which is an initiative to help get people involved in teaching and helping out within the dojo from a younger age, and then go on to become a qualified Assistant Instructor and then Full Instructor.
Saturday the 8th of June was the KUGB Southern Regional Championships, held at the K2 arena, Crawley, with clubs from across the whole southern region. I was lucky enough to come away with the following medals: bronze in Female Team Kumite (fighting), silver in 16-21 Female Kumite, and gold in Adult Team Kata (set form). There was strong competition, including a number of international competitors, including world champions.
Although I was competing under Chelmsford, it was great to see Sensei Rhodes and Sensei Robertson at the championship and to receive support and kind words of encouragement from them.
Congratulations again to Megan! We're #CCCUProud of you. Inspired to give karate a go or looking for a club to join? The Canterbury Christ Church University Shotokan Karate Club meet in Og12 on Tuesdays and Thursdays from 7pm-9pm. They welcome beginners to black belts. To find out more information you can email them at start@canterburykarateclub.co.uk or click here.