Meet Your Student Facebook Ambassadors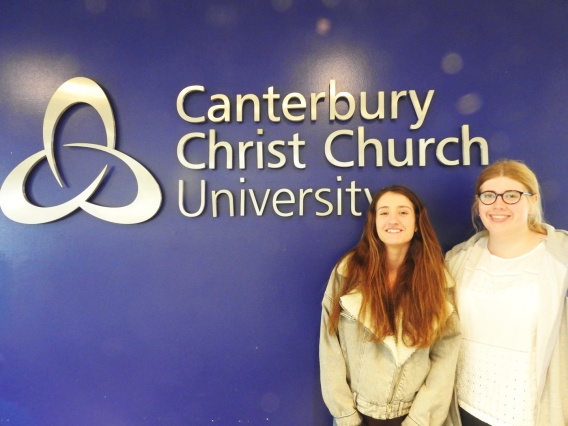 The Facebook Group for those students starting at Christ Church in September 2019-2020 has opened. And every day (Monday – Friday) you will be looked after by one of our Student Social Media Ambassadors who knows exactly what you are going through, can help answer your questions or at least signpost you to someone who will know the answer.
Here is a brief introduction to Olivia and Marta…
Olivia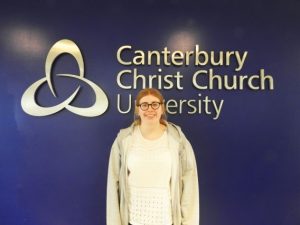 I'm Olivia and I'm studying Commercial Music with an Arts and Humanities Foundation Year.
I love being at Christ Church because my course is amazing and my teachers are so supportive.
My top tip for new students would be to get involved and check out the societies. There is something for everyone and it is a great way to meet people and settle in. I've made great friends through the Show Choir society which has made my university experience even better.
Also if you are looking to earn extra money definitely sign up to Unitemps. I have had the chance to get so much work experience through Unitemps and learn about different departments at the University, while also getting some much needed extra cash!
I decided to be a social media moderator because I found it really helpful last year and want to make all the new students feel as welcome as I did.
Marta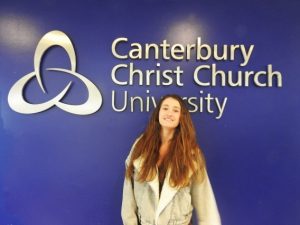 My name is Marta and I will be starting my final year at CCCU this September. At the beginning of my academic journey, I was not very sure about what I wanted to study because I knew I loved filming and editing, but I was also really interested in the use of social media. At CCCU, they offer the opportunity to study both degrees and that is was what I finally decided to do. I am a combined honors and international student of media and communications and film radio & TV. The fact that I was able to get knowledge in both areas, has helped me develop different and essential skills to work in my dream job in the future, a career on social media being involved in not just publishing content, but creating it.
When you are an international student who never lived far from home like me, it is normal to be nervous about how your life is going to be for the next three or four years. I first started living in a CCCU accommodation, where I got the opportunity to make friends from different nationalities, which was a really enriching experience. Also, I did an international foundation year, which helped me improve my English and academic skills and made me feel much more confident and prepared to start my first year.
At CCCU, there is a great variety of societies and sports teams which bring us all together. I am part of the dance and lacrosse team, where I have made good friends and I have had so much fun with along the years. But what I really enjoy the most about this university is that they do not just focus on our academic marks, but our wellbeing as well. So, whilst you are in this university, you will not need to worry about feeling alone because there is always help when you need it and there are plenty of events and activities you can join that will fit your interests and will help you feel at home.
And that is why I am so excited to be part of the welcome team this year and I am looking forward to helping you make the most of the beginning of this new adventure.
Izone
Remember, if there is anything you are uncertain of, you can also contact those lovely folks at i-zone.  i-zone, is your friendly student information hub with all the answers you need  – they  can be contacted on 01227 922222 or if you'd prefer, you could drop them an email at i-zone@canterbury.ac.uk.