We recommend that all our students take regular COVID-19 lateral flow tests. Regular testing is quick and easy to do, and it's a way of helping to keep everyone on campus and your friends and family safe.
Through our work with Medway Council and the universities at Medway we are offering an additional incentive – until 28 January, every time you take a COVID-19 test on Medway campus, you can claim a free tea/coffee on us. Simply take your registration card provided at the test centre on campus to the Deep End and claim your complementary drink.
So how does it work?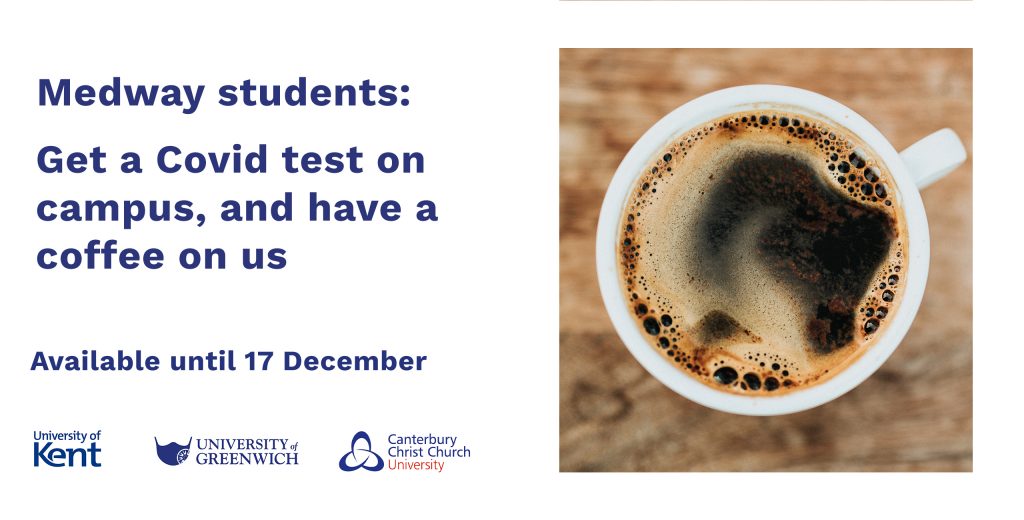 How do I claim my free drink?
Simply take the registration card provided by the test site to the Deep End, and order your drink. The card will be stamped and it can only be used once.
Can I claim a free drink for collecting home test kits?
No, this is only for tests carried out on campus. The home test kit collection service remains available.
How long is this running for?
It opens on 22 November and closes on 17 December.
You can remind yourself here of all the other precautions you can take to protect yourself and the wider university community – together we can help keep COVID out of our campuses.