As lockdown eases we want to do all we can to keep our community safe and ensure that we can keep moving towards a time when we can all be safely together again.
To do this we have to remember there are still guidelines for us all to follow when on campus:
Hands – wash your hands regularly and for at least 20 seconds,
Face – wear a face covering when inside all University buildings,
Space – stay 2 metres apart from people you do not live with where possible, or 1 metre with extra precautions in place (such as wearing face coverings),
Fresh Air – keep indoor rooms well ventilated.
Study Spaces
Bookable computer desks and study spaces in Augustine House and Salomons Institute library are available for those who do not have access to suitable study spaces or resources at home. .
Again, remember hands, face and space. You must wear a face covering while in the libraries at all times (unless exempt).
Please note study spaces are for individual study – there is to be no group studying at the moment, even if you are in the same household.
Getting tested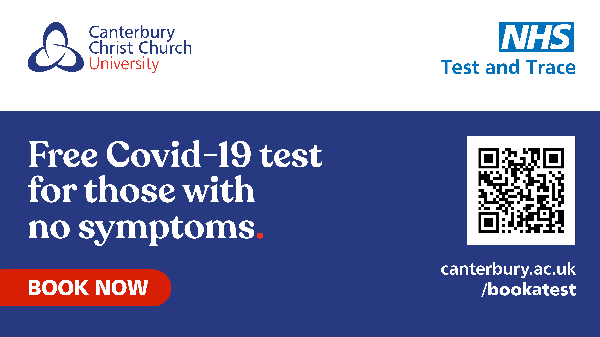 If you are coming on to campus for teaching, to use the library or are living in university accommodation you are expected to take an asymptomatic COVID-019 test twice a week. Regular testing is a key way to stopping the spread of the virus. Book your test here. If you are unable to attend a test centre for any reason, you may also order test kits that you can carry out at home.