Happy New Year! We're kicking off 2022 in style, as at the end of January our Careers & Enterprise Team will be helping you prepare for life after uni and launch your career with a week-long programme of activities. Here's what they have in store during Personal Development Week, 24 – 28 January…
What's happening- an overview
The Careers & Enterprise Team are planning for online and in-person activities (COVID permitting). Here are some of the highlights…
Make Your CV Shine – We'll be giving advice and guidance on targeting your CV to the job/further study opportunity you are applying for.
Making the most of LinkedIn – Do you know your connections from followers? Do you know how to network through the biggest online professional platform? Find out where to start, and how to make the most out of this fantastic tool for your future.
Interview Preparation – Learn the different types of interviews that recruiters use and teaching some top tips on how to prepare for your interview, even in this digital world.
Being Your Best You – What are your strengths? How do you work best? We'll be exploring some practical ideas and solutions to help you get to know yourself better, and whether it be Uni projects or life in the workplace, you'll be able to identify things that might be able to help your efficiency, focus and enjoyment of your to do list…
Pilgrims Hospice Fundraising & Volunteering – Join Canterbury Community Fundraising Manager at Pilgrims Hospices, Leila Ilkhan, for a session on volunteering and fundraising.
And much more! Head over to their Eventbrite booking page for the full listing.
Plus, make sure you join the team for their drop-in Careers Clinic during Launch Your Career Week. This is a 40 minute slot, where you'll be 1:1 with a member of our careers team. Bring along your CV, a cover letter, a current job application you're working on or even your LinkedIn profile – we will focus on you and whatever you have brought, and we guarantee that during the session we will add value, make it better and move your job-hunting forward. Hopefully, you will leave with something that you are proud of and that is ready to submit or use to make applications. To book, email careers@canterbury.ac.uk with your name, whether you'd like Monday or Friday, and in person or online, and we'll get back to you with a confirmation of who you'll see, where and when.
How to get involved…
In person events – no need to book for these! Just turn up at the room on the timetable (Lg25 for Monday, and Lg27 for Tuesday – Friday) and we'll look forward to seeing you there.
Online events – you need to book for these, using this booking link, or click on each session title below to book that session. The morning of the workshop you'll be sent the Microsoft Teams joining link.
Online support & resources
Don't forget there's plenty of online support and resources via the Careers & Enterprise Online Hub. Here you can find career tools such as:
CV 360: CV360 scores your CV against more than 50 checks that commonly trip up an ATS, annoy a hiring manager or get your CV deprioritised. You get instant, detailed feedback so you can optimise your CV and significantly boost your chances of getting to interview.
Cover Letter Builder: Create your cover letter quickly and easily with the Cover Letter Builder. You will also learn more about cover letters, find a selection of examples and gain useful tips and advice.
Interview 360: Interview360 includes a large and comprehensive library of the most commonly asked interview questions along with key points to help you answer every one of them.
And much, much more!
GradForce Get Hired! Programme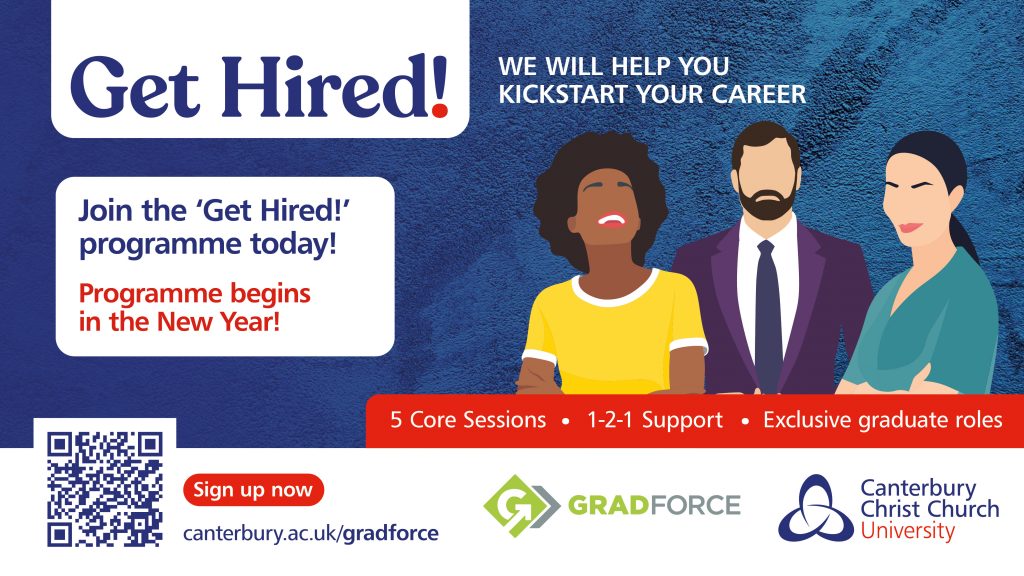 GradForce: Get Hired! is an employability programme exclusively for CCCU final year students and recent graduates. It is designed to increase your skillset, build your confidence, and get you work-ready to help you achieve the graduate job of your dreams.
5 core topics covered in workshops, with access to a dedicated Careers Adviser and an exclusive mentorship platform. We work closely with local employers, matching you to current graduate vacancies at the end of the programme. The programme kickstarts with our induction session on 2 February 2022 at 1pm, in Augustine Hall. Register today.