Do you know your zones so you don't disrupt others?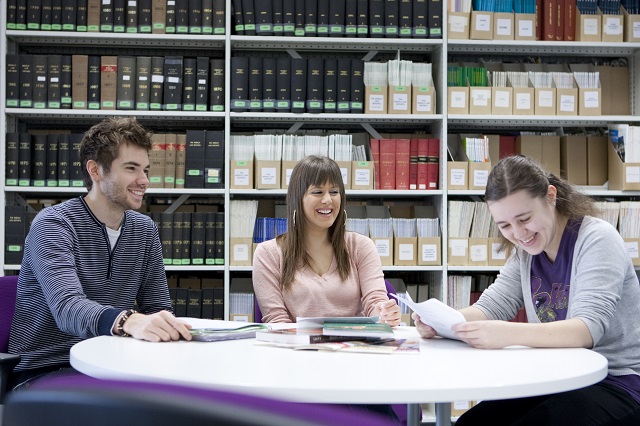 During periods where you have a large amount of work to do for your course, you may find the library becomes your second home.
While sometimes you might want to work in silence by yourself, other times you might benefit from group work, or maybe you just want to socialise with your friends while looking over some notes. The library has created designated zones so that you can study in a way that suits your studying style, and caters to your needs, without disrupting others.

Silent Zone
The Silent Zone can be found on the right hand side on the third floor of the library. This area is for when you need to work on your own in silence, it can help to focus you on your studies without interruptions.
• Work silently- no talking or whispering at all in this area.
• Headphones- keep volume low so other students cannot hear them.
Quiet Zone
The quiet zone covers the majority of spaces on the library floors, and is the areas with books (expect the silent zone). This is the perfect space to work quietly with others or on your own, most PCs and all printers are in this area.
• Work quietly- keep conversations short, and consider using the Group Work Zone or Social Study Zone if you need to discuss your work a lot.
• Headphones- please make sure others cannot hear your music
Group Work Zones
The Group Work Zones are designed for you to be able to work in large groups with other students, whether it is a group assignment or revision, the Groups Study Zones are the perfect environment to share ideas and discuss with your peers.
There are seven bookable group study rooms on each floor, each with a PC and large screen. If you want to book a group study rooms or check availability you need to visit OnTime or go to "My Calendar" from the Portal.
• For focused group work and collaboration- use these areas when working together and discussion is essential.
• No excessive noise- the study rooms are not soundproof! Please make sure your conversation or music stays inside your own room and does not disrupt others.
Social Study Zone
If you want a break from your studies or you just want to do more social and casual work the Social Study Zone, in the middle of each floor, is the perfect place. The Social Study Zone has plenty of desks and PCs as well as an outdoor terrace at the back of the second floor.
As the library is primarily a place to study inside the Silent Zone and the Quite Zone please keep your phone on silent and take any phone calls in the Social Study Zone. Also please make sure that you keep any hot food in the Atrium Café, and only eat cold food in all other work areas.

Noisy Neighbour Service
While we strive to make sure that our library offers the best possible learning and study environment for our users, such as the use of designated study areas, it can only be achieved if all our library users respect the rights of others to work quietly in the library. However, we understand this is not always upheld by everyone, and also you might not feel confident enough to ask a group of strangers to be quieter. Therefore we have introduced a Noisy Neighbour Service.
If you do have any problems to report about a noisy neighbour in Augustine House, during staffed hours, you can email noiseAH@canterbury.ac.uk. Alternatively you can fill out an online form. Upon doing this a member of staff will visit the location where the disruption has been reported and resolve the issue, so you can continue your studies without interruptions.