How to make the most of your University Life …. Start with Personal Development Week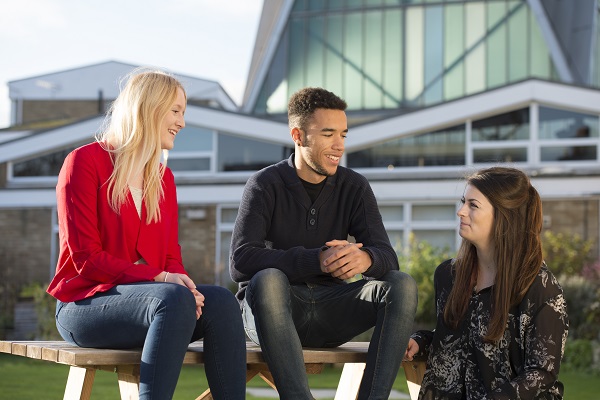 Start 2018 in a positive way with Personal Development Week on 22 – 26 January and make it your resolution to make the most of all that university life can offer.
From joining clubs and societies to volunteering there are so many ways to get involved, learn new skills, improve your employability and have fun: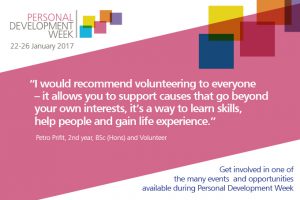 Getting Involved – Students' Union Housing and Opportunities Fayre on 23 January
Whether you want to start a new hobby or discover a new talent there are lots of ways in which you can get involved at the University. Clubs and Societies are a great way to meet new people with a common interest whether that's sport, musical taste, sharing a faith, a mutual love of art, or just a way of life. Come along to the Fayre to be inspired!
Volunteering – Christ Church Christ Church Community Days on 24 and 25 January
Volunteering gives you the opportunity to help others in your community while developing new skills and making new friends. It can even give you an edge when applying for work. The Christ Church Community Days are your chance to find out how you can make a big difference with just a little time, with volunteering taster sessions and micro-opportunities.
Helping others – Become a Peer Mentoring Taster Session 22 and 24 January
Peer Mentors provide a safe and confidential space for new students to talk freely and to ask any questions they may have. Find out how you can share your experiences as a CCCU student to support others who are following in your footsteps.
Going Green – Global Primer on 23 January
Christ Church University is passionate about sustainability and there are lots of ways in which you can get involved whether it is being more conscious about how you recycle at University, tending an allotment on campus or joining the Student Green Office.Global Primer is an opportunity for you to engage with experts from the University on significant global issues and sustainable solutions. And if you want to discover more about sustainability why not take part in the Sustainability Trail around campus using the latest augmented reality technology.
Student Voice – Sabbatical Officer Leadership Elections
Christ Church Students' Union is led by its 17,000 members and as a CCCU student, you are automatically a member of the SU. Your membership to the Union is free and gives you the opportunity to voice your opinions and shape the future at Canterbury Christ Church University. Think you can champion student causes, represent the student body and campaign for change?   Why not consider running for the Students' Union Sabbatical Officer elections with nominations opening this week.
This is just a selection of events and activities that are taking place during Personal Development Week – so don't miss out! Start to plan ahead and tailor your week in a way that meets your specific interests, learning needs and future aspirations. For full details on timings and locations visit our Student Calendar