Check out Chooseday Chill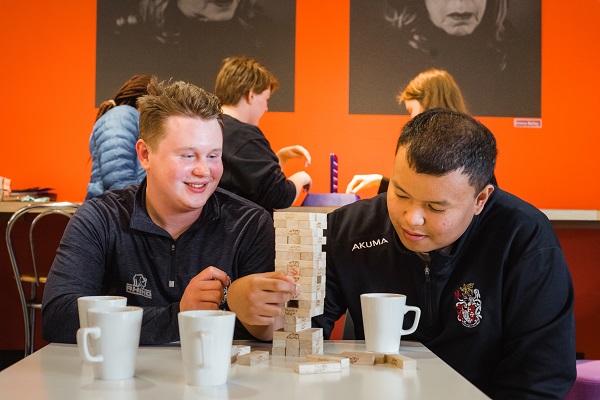 As part of Mental Health Awareness Week we are celebrating some of the great initiatives that have been happening across the University, which help to support our University Mental Health and Wellbeing Framework vision to make Christ Church a positive place for mental health.
Chooseday Chill is a joint initiative between the Students' Union and the University Student Support team working with – Sports, Accommodation, Catering and Chaplaincy as well as Student Minds.
Research shows that a big issue facing many students, particularly when they start University, is a sense of loneliness and isolation. Some students were looking for alternative ways beyond sports and societies to connect with each other and many wanted more non-alcoholic events.
In addition, our students were telling us that they sometimes felt it was too daunting to ask for help or reach out to the Mental Wellbeing Team. And for some students it was difficult to access Student Support Services during normal office working hours.
So Chooseday Chill was all about creating a relaxed and informal setting where students could take time out of their busy uni lives to discuss what is going on over tea and toast, meet other students and have a friendly chat with Student Support.
Held every Tuesday at Augustine House, between 5-7pm, each week there are a range of different activities from board games, music, crafts or sports on offer but students are also welcome to just to come along and chill. Since being launched in September the event has grown in popularity with 40 -60 students attending every week.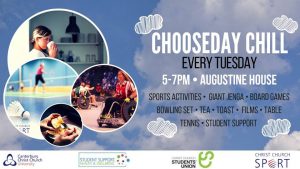 Jamie Harris, Students' Union President for Wellbeing explains "We set up Chooseday Chill to create a relaxed space for students to make friends and feel comfortable to chat about what is on their mind. We hope to build on its success and look at other ways to create opportunities for students to connect with each other and find the support they need."
Neli, a first year Creative Writing student, has been coming along to Chooseday Chill from the start and now offers peer support at the event. When she started University in September, she was struggling to settle in and was experiencing depression. It was her tutor who recommended she give Chooseday Chill a try. She explains that "Chooseday Chill has been great at making me feel part of a community. It makes you feel supported not only by the University but also by other students. It is good to know that at least once a week there is a place you can go to, to relax and to connect with others. It is a place where you feel a sense of belonging – it is a sanctuary."
The University Mental Health and Wellbeing Framework wants to enable all students and staff to thrive and realise their potential in a mentally healthy environment. By sharing some of the stories behind current projects already taking place, we hope to generate discussion about what is working and what more together we need to do. So please join our conversation, share your story – www.canterbury.ac.uk/mentalhealthframework