Harrison's advice on transitioning between years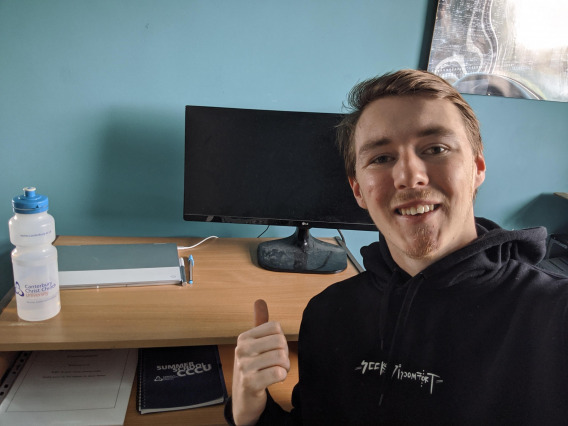 University is full of transitioning, whether that be moving to a new city, trying new things, and furthering your career prospects. However, not many people think of the transition between each year and the new challenges involved in that process.  
First year is all about settling into university life, getting used to the work and having a good base level of understanding. Lots of students enjoy extra curricular activities whilst the workload is not overly demanding. This year can still be stressful, students do get homesick, so don't be afraid to reach out to the many support systems at the university.
Second year, however, is more demanding. The workload and difficulty increases and you may find yourself with less free time as your focus narrows towards your course. There is also added pressure as your grades count towards your final overall degree. The stress of not only passing but having to get the best grade you can does affect students.
Getting support is always possible whether it be a quick chat to your lecturer or PAT or using one of the many other support services.
For me and my friends, second year was also a lot more practical, which can be more time demanding. Courses will vary with this so make sure to check with your lecturers and the website to see what each year involves. 
Third year increases the workload once more. Most students embark upon a dissertation. This requires lots of self discipline to make sure you hit the deadlines, your lecturers will be available for support as always. Usually students are more than prepared for third year after the experience of the first two years. It can help to get on top of your assignments in first and second year (don't leave it to the last minute), this way you'll have the self discipline needed for your dissertation.
How can I prepare for the next year?
Personally I didn't struggle too much with adjusting. I put this down to pushing myself in first year to learn what it takes to get the grades I wanted. However, some of my friends did struggle as their main aim for first year was to pass.
So my first tip would be learn what you need to do, to do well.
After an assignment take note of the feedback, meet with your lecturer to clarify the feedback if necessary. This will really help you to adjust to the higher demands of the following year. 
Read! Reading is important in giving you a solid foundation to build on.
Take advantage of the long summer break and get some reading done.
It doesn't have to be much, you won't need to read a novel a day, but maybe a couple of journal articles a week. This will help a lot when it comes to assignments, if you want to get the top grades you need to be well read and ensure you use the right references. I say this as I once wrote an essay on sustainable events and a piece of my feedback was that I failed to include one of the key academics from that field. Reading is important! 
Prioritise! You're at university to get a degree so that should be pretty high on your list of priorities.
However, it's important to take time to relax and have fun. It's a careful balancing act, but it can be helped with knowing your priorities. As you progress through the years the workload will take up more of your time so organise your time well as to work hard and play hard as the saying goes.