Give Couch to 5K a go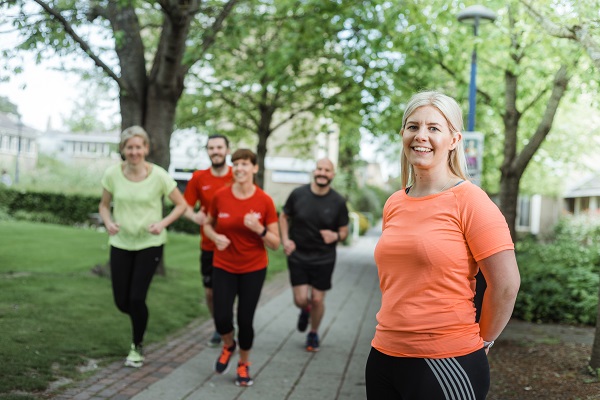 As part of Mental Health Awareness week we are celebrating some of the great initiatives that have been happening across the University, which help to support our University Mental Health and Wellbeing Framework vision of a making Christ Church a positive mental place for all.
Couch to 5K is a free programme that Christ Church Sport have been offering to both students and staff to help encourage beginners to get into running. Led by a qualified run leader, the programme is comprised of three runs a week with a rest day in between each. Two of the runs are a group activity, and one run is self-directed. The programme lasts 10 week and ends with a 5K event.
Laura Ackerley from Christ Church Sport explains "Through our Couch to 5K programme we have inspired students and staff to get active – not only helping them to become fitter but also boosting their confidence and self-belief.  I am particularly proud that so many continue to run and become part of a supportive community of Uni Runners. This means the physical and social benefits are really long lasting beyond the programme itself."
When Ellie Martin, the Advice and Project Co-ordinator for the Students' Union, began Couch to 5K in January 2018 she had never run a day in her life – she did not even own a pair of trainers! As the weeks went by she suddenly realised that she could not only run but that she enjoyed it.  Having recently just completed a half marathon Ellie is now looking to do a full marathon next year.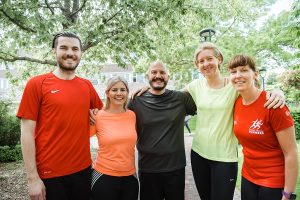 She shares how her lunchtime runs have benefited her "Suddenly I felt that I was doing something with my time, using my break, looking after myself and in the afternoons I felt better about myself, healthier, fitter and more energised. Running had some brilliant side effects, number one was no more bingo wings! I never knew that running could tone up your arms so much, I have never felt more toned and healthy before. Second was pride! Being able to beat your last time, get a PB or run further than before gives you an enormous sense of pride. As adults we don't often do things that fill us with pride but my running became so fulfilling that I was brimming with pride. That gave me a sense of self-worth that has been so unbelievable good for my mental wellbeing."
"Before running I was often feeling overwhelmed, unfulfilled and dissatisfied with myself and what I perceived to be my lack of self-worth. Now I am happier healthier and more proud of my achievements which in turn has allowed me to stop trying to find fulfilment in other areas of my life and just enjoy being me and getting that self-gratification that comes from a bit of hard work paying off."
The University Mental Health and Wellbeing Framework recognises the importance of leisure and social activities in supporting good mental health. By sharing some of the stories behind current  projects already taking place, we hope to generate discussion about what is currently working and what more together we need to do. So please join our conversation, share your story – www.canterbury.ac.uk/mentalhealthframework