Getting Ready for your registration in Canterbury and Medway 2019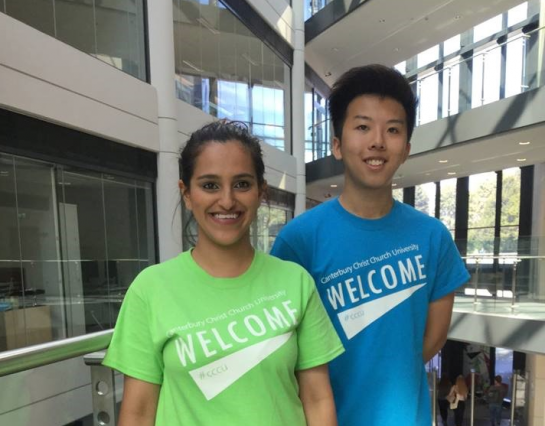 We look forward to welcoming new students to Christ Church during forthcoming Welcome and Registration events.
Registration is an important event that all students must attend to ensure that you are a fully registered Christ Church Student.  This enables you to start your course, receive your Student Smartcard, have access to all our services and release your Student Loan or Bursary (if you are entitled to one).
When to arrive?
Check your Welcome Schedule. In blue at the top of your Welcome Schedule will be a link to your registration date and time.
It is important that you stick to your time slot so we know when to expect you and ensure your registration goes smoothly.
Registration arrival slots are usually arranged alphabetically by your surname depending on the event you are attending and your programme.
If you are moving into Canterbury based University managed accommodation, on the weekend of 15-16 September, registration time slots will be based on your Hall of Residence and then alphabetically by surname.
If you need help finding any rooms you can use our online Campus Map.
How to get ready?
Step 1 – Complete your online registration in your Student Portal
You need to have completed the following essential online registration tasks in your Student Portal (if you have not done so already):
Upload your photo via the 'Get your Smartcard' tile. This will enable us to prepare your Smartcard (your University Student ID) for your arrival and allow you from the start to access a range of key services from registering your attendance to accessing the library and much more besides.
You will also need to check and confirm your personal details and payment information via the 'Confirm Your Details' tile.
To access your Student Portal, please go to:  www.canterbury.ac.uk/getstarted.
Step 2 – Check you have the right documents to bring
The key purpose of your registration event is to check your original documentation to enable you to start your programme.
In order to fully register at the University, you must bring identification and original qualifications. For identification you need to bring a passport.  If you do not have a passport you need a birth certificate and a form of photo ID, such as a driving licence – a provisional licence is acceptable.
Some programmes will also require DBS Checks (even if you have already had one during previous study or job) and Occupational Health Clearance.
Please refer to the registration event section of  your Welcome Schedule for specific 'what to bring to registration' guidance for your programme.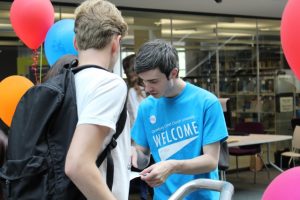 How long will registration take?
Registration is always busy and there may be some waiting involved but we estimate that the process will take between 45 minutes to an hour.   At our larger Welcome and Registrations events you may also want to spend some time exploring the other stalls including the Students' Union, Student Support and Careers.
We recommend that if you plan to drive to your registration event that you consider the cost-effective all day parking options available in Canterbury and Medway so you know you have ample time (see below).
Check your Travel
Details of how to get to all our campus locations  by car or public transport are available on our website.
Whichever campus you will be travelling to, it's always worth checking if there are any roadworks, traffic issues or disruption to public transport routes before you set off.
Travelling to Canterbury Campus
Please note that parking in Canterbury city centre is limited and you may wish to use public transport or one of the city's three Park and Ride services – it is only £3.50 to park there all day.
If you are registering on either 14 & 15 September 2019, remember that it is likely to be busy in Canterbury as it is University of Kent's registration weekend too – so leave plenty of time to get to us and plan your journey in advance.
Travelling to Medway Campus
Please note on Welcome and Registration events, students are not allowed to park on campus. We recommend they park at the Historic Dockyard, the entrance to which is directly opposite the entrance to Campus, just beyond the Travel Lodge Hotel on left hand side.  There is a daily charge of £3 to park there.  Please do not park in the Dockside Outlet Shopping Centre as you may incur a penalty charge.  After the first week, parking at Medway Campus is for permit holders only.
Settling In
Your programme has an exciting induction and orientation planned so you can settle into university life quickly.
Please go back to your Welcome Schedule and check the details for your welcome activities as there have been a number of updates and changes. These activities provide you with a great chance to meet your tutors and fellow students, get to know your campus and facilities as well as find out more about your programme.
If you need help finding any rooms you can use our online Campus Map.
Need more help or have questions?
It is very important that you attend your Welcome and Registration event. However, we appreciate that due to unforeseen or personnel circumstance that for a few students it may not be possible to attend your allocated registration. In these instances, you will be given an opportunity to attend a 'late registration' event in September. Please note that attending a late registration will delay your full registration status, access to student services and funding, therefore we strongly encourage you to make every effort to attend your scheduled registration event.
For any questions please get in touch with the i-zone on 01227 922222 or email: i-zone@canterbury.ac.uk.