Movember is all about making a difference in men's mental health and suicide prevention, prostate cancer and testicular cancer. And we are encouraging all of us at CCCU to talk about men's mental wellbeing as part of Movember.
Research conducted by Movember showed that nearly half of British men (46 per cent) said no one asked how they're coping during the COVID-19 pandemic. 22% of men said their mental health had worsened with the pandemic, with 29% noting increased feelings of loneliness.
So, we are encouraging everyone to check in with their mates, ask if they are OK, be there to listen and help them find support if they need it. If you think someone is struggling with their mental health don't be afraid to ask them if there's anything you can do to better support them – this will not make things worse.
Movember Conversations
Movember Conversations gives practical guidance on how to support men who might be struggling. Friends, family, team mates or housemates can all use this interactive tool to gain the skills and confidence to approach challenging conversations with the men in their lives. Learn more here .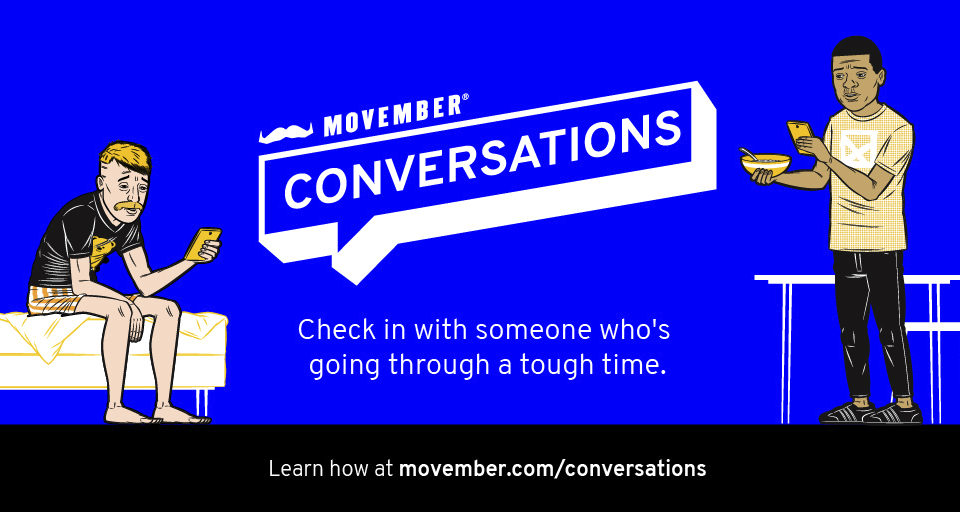 Movember fundraising
Whether it is growing a moustache or running 60km in a month (That's 60km for the 60 men we lose to suicide each hour, every hour across the world) there are lots of fundraising opportunities to show your support via the CCCU Movember fundraising webpage. And make sure you let us know so we can support your fundraising!
Don't forget Christ Church Sport and Active Health are on hand to support you move for Movember .
Get Support
The university offers a range of support if you or you now someone who is feeling low and overwhelmed.
Mental Wellbeing Team
Whether you are feeling depressed or anxious or struggling to cope with a long term mental health illness, our Mental Health Team can help.  A good way to get in contact and get support is through their Virtual Drop-ins, available Monday- Friday,  between 12 noon and 1pm, via Blackboard
Chaplaincy
The University Chaplains at Canterbury and Medway offer a confidential listening service in a safe space where you can talk through any problems in a non-judgmental environment.
Study Fit
Christ Church Sport are offering a free six week fitness programme to help with low self-esteem, stress, anxiety or a low mood
Togetherall
A free 24/7 online service that allows you to get support. It's a safe and anonymous space you can go to if you're feeling down, struggling to cope or just want to talk to people who understand what you're going through. Whether you want to speak to peers or a counsellor, there will be someone there every minute of every day.
Self Help Guides
Working with the NHS, Canterbury Christ Church University, offer a range of online self-help guides covering different topics including Anxiety, Bereavement, Stress, Depression and Sleeping Problems.