#Stressless. Getting ready for your exams and assignments!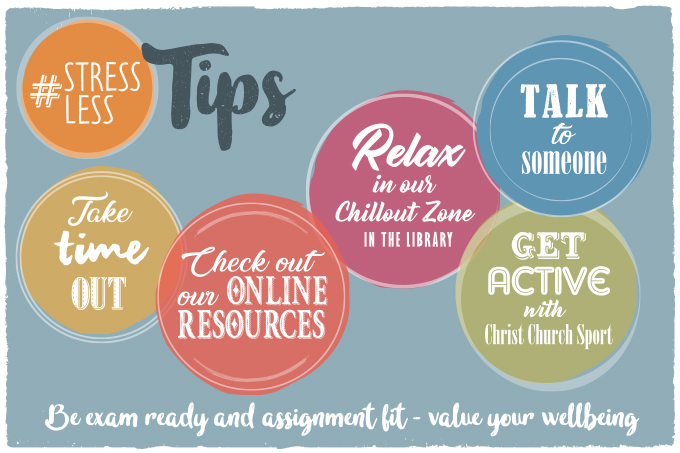 The build up to exams and assignment deadlines can make this time of year stressful for students. However, it doesn't have to be! The University and Student's Union are here to help you #Stressless from workshops to improve you academic skills, to the #Stressless zone coming to the library from the 20 November.  We have even created a dedicated webpage so you can easily access all the resources you may need to succeed – check out www.canterbury.ac.uk/stressless.   
Plan your revision…
This sounds like such an obvious point that it's not even worth mentioning, but it is an important first step that many may miss out. So…
Check when your exams are! Knowing which exam is first and last is key when it comes to revision timetable…
On that note, revision timetable! Planning out your day and week is a great way to make sure you cover all topics in the amount of time available, we have a useful Revision Planner here for you.
Think about what Study Zone to use. Sometimes group revision can be a great way to learn, testing each other on key points. But other times you might just need to get your head down and work in silence. Check out all the different study zones in the library to find the one that best suits you.
Know the library opening times…. This is an easy one! Augustine House is open 24 hours until the 19 January, meaning you can always fit revision around your busy schedules. Drill Hall in Medway is open until midnight and will be open 24 hours from Friday 5 January until Friday 12 January.
Make the most of Academic Learning Development resources to help get you through your exams and assignments.
Take a break…
While studying hard and getting through all your tasks for the day is important, it is also important to take regular breaks to help keep your motivation levels up. Exam season is a marathon not a sprint! To help you complete this marathon CCCU has created a #Stressless Zone, for those of you in second or third year you will remember the stressless zone from last year! On the second floor of the library loads of different activities are available to help you relax at this stressful time of year. Here are just a few of the activities included…
Craft activities– from origami, to bracelet making and knitting (watch this space for more details about dates and times)
Air dome– the perfect place to chill out, meditate and have a mindful break.
Massage chair– all the stress from exams can really make those muscles tense, so come and unwind and relax.
Games– from snakes & ladders and twister, to Jenga and giant ten pin bowling, come with friends and play a game or two.
Comfy and cosy beanbags are back! Arguably the most comfy place to sit, but be careful you don't get too cosy you still need to get back to work!
Also look out for activities and support at the Drill Hall Library and the Broadstairs Learning Centre.
Look after your wellbeing…
Amongst all the time spent in the library or sleeping you might find it hard to stay healthy. But keeping hydrated, eating healthily and having regular exercise can help you to concentrate better! So take an hour out of your studies and go to the CCCU gym or exercise class, stock up with healthy snacks for those long library days, and make sure you always have a bottle of water to hand. These simple steps can make your revision time much more bearable and productive.
Christ Church sport are also offering activities at Augustine House over the stress less period. This includes…
Stretch, Flex and Relax- this is the perfect opportunity to unwind and stretch out after being sat at a desk all day! Stretch, Flex and Relax, will work on a first-come-first-serve basis with students getting priority, there are 20 spaces for each session so make sure you get down there early! It will be running every Tuesday 5.15pm-6pm from the 21 November- 18 December in Augustine Hall (apart from the 12 December in AH2.23). Then the 2 January in Augustine Hall, and the 9 January-16 January in AH2.23.
Relax room– studying can be really tiring, and the long hours in the library won't help. So to help you combat that we've got a relax room with 20 mats in for some sleeping/relax time, from 6pm-7pm every Wednesday in Augustine Hall (apart from 13 December and the 10 & 17 January where it will be in AH2.23).
Move More– If you are still stuck for ideas on how to stay healthy, there will be a portable TV displaying some walking routes, and other physical and stress less activities. The TV will also display information about the Wellbeing Zone.
You can also download the free CCCU Wellbeing App to get tips on how to stay healthy and #Stressless. Click here and register using the code: CCCU1.
Need a bit more extra support?
Peer Mentors can help you by sharing their experiences and help you through your time at Uni. To be put in touch with either a pastoral or academic peer mentor, email peermentoring@canterbury.ac.uk
Big White Wall is also available if you want to talk to those who are going through the same experiences. It is a free online 24/7 service where you can anonymously talk to peers or a counsellor, to help you if you are feeling down, struggling to cope, or just want someone to talk to
Exams are a stressful period for everyone, and if you feel like it is getting too much and you would like to speak to someone Student Support and Wellbeing Advisers have drop in sessions Monday-Friday, 10:30-4:30. Or you can email studentwellbeing@canterbury.ac.uk
For further information visit www.canterbury.ac.uk/stressless