Five Ways to Mental Wellbeing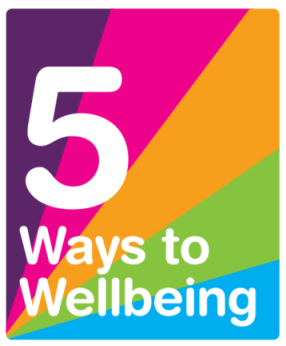 We all have mental health and we all need to look at ways of looking after it. Following World Mental Health Day we wanted to share with you the Five Ways to Wellbeing.
Evidence suggests there are five steps we can all take to improve our mental wellbeing. If you give them a try, you may feel happier, more positive and able to get the most out of Uni and out of life!
Connect – whether you come along to the regular Chooseday Chill every Tuesday at Augustine house or join a society – finding ways to link up with friends and build networks will support and enrich you every day.
Be Active – try a new sport or join the CCCU gym, give the Get Up and Go area in the Library a try or simply take a walk around campus – looking after your physical wellbeing will help with you mental wellbeing too.
Take Notice – savour the moment whether you are walking to Uni, eating lunch or chatting to friends. Reflecting on your experiences will help you appreciate what matters to you.
Keep Learning – take up a hobby, join a society, learn a new language or try something new – broadening your horizons will help you grow in confidence.
Give – think of volunteering or just a random act of kindness. Doing something nice is so rewarding in lots of ways.
But if things do get too overwhelming then the most important thing to do is talk to someone. There is lots of different support available so you can access the help you feel comfortable with and when you need it:
Our Mental Wellbeing Team
Our Mental Health Practitioners can help with general mental health-related queries and emotional distress.  They have a range of services they can offer including self-help resources and techniques to help with anxiety, stress and depression.  They can also refer individuals for counselling both within the University and externally.
The Big White Wall  is a free 24/7 online service that allows you to get support, take control and feel better. It's a safe and anonymous space you can go to if you're feeling down, struggling to cope or just want to talk to people who understand what you're going through. Whether you want to speak to peers or a counsellor, there will be someone there every minute of every day.  
Working with the NHS, Canterbury Christ Church University, has a range of online self-help guides covering different topics including Anxiety, Bereavement, Stress, Depression and Sleeping Problems. To explore the Self Help Online Library please click here.
A student-run listening and information service offering a safe, non-judgemental environment for students to talk about their feelings and gain emotional-support and information. Call 01227 824848 between 8pm-8am Monday, Wednesday, Friday,  Saturday and Sunday.