Expect Respect Training – How to Become an Active Bystander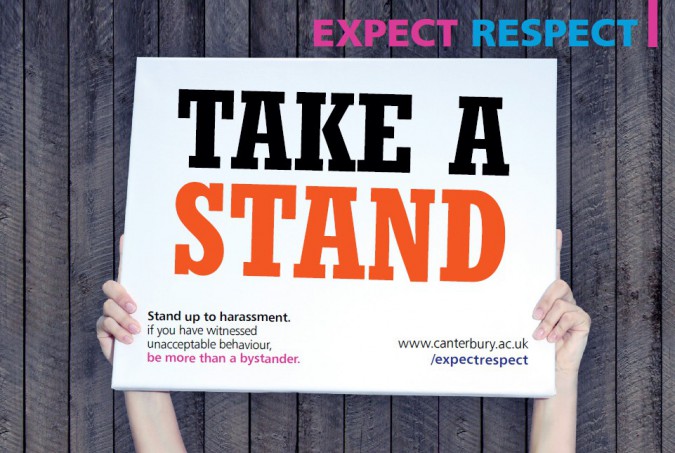 A new Expect Respect Training programme is being launched to empower students to take a stand against sexual harassment.
Canterbury Christ Church University and the Students' Union believe all staff and students have the right to live, study and work in a safe and supportive environment. By coming together we have the power to stand up for our University values and say no to sexual harassment.
Expect Respect Training
It can be awkward to call out inappropriate behaviour or know what to do to in a difficult situation particularly if it involves your friends:
What would you say if a friend made inappropriate sexual comments about someone?
How would you respond if you saw your mate was being harassed on social media?
What would you do if you saw someone making sexual advances toward someone who was drunk?
Through attending the Expect Respect Training Programme, you will become an active bystander equipped with the skills and knowledge that you need to safely and effectively intervene to prevent problematic situations such as the above.
The training will be run by representatives from Rising Sun, the local domestic violence charity and over the three sessions you will learn what sexual and domestic violence is, how to spot the warning signs and what steps to take to safely intervene.
As part of Personal Development Week there is an introductory session on 25 January at 2-3pm,  AH2.23
And you can chose from three training sessions, each made up of 3 x 1 ½  hours on :
The training sessions will contribute to the Christ Church Extra Award.
For further information email hannah.sherbrock-cox@canterbury.ac.uk and play your part in creating an inclusive and welcoming campus free from harassment.